This article first appeared in The Edge Financial Daily, on September 21, 2018.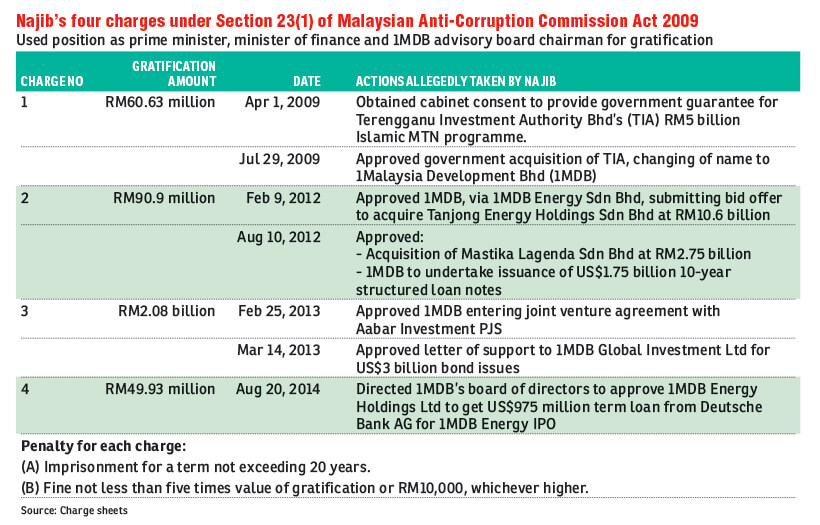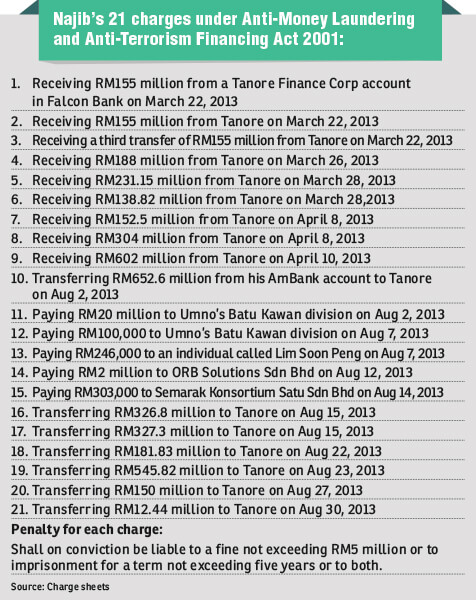 KUALA LUMPUR: Former prime minister Datuk Seri Najib Razak, who was slapped with 25 new charges yesterday, said he welcomes the trial as it will give him a chance to clear his name in relation to the RM2.6 billion in his bank account that was allegedly transferred from 1Malaysia Development Bhd (1MDB).
The issue of the RM2.6 billion has been widely used to tarnish his name, Najib told reporters after pleading not guilty to all the charges at the Sessions Court.
"These charges will give me an opportunity to clear my name, prove to the public that I am not a thief, and hopefully put an end to the issue," he said.
Najib was charged with four counts of power abuse and 21 counts of money laundering over nearly RM2.3 billion of the funds, received in his personal account with AmIslamic Bank Bhd. (Details of charges in accompanying report).
He was released on bail of RM3.5 million in two sureties. The court agreed to a request from his lawyer for the bail to be paid in instalments, with the first payment of RM1 million to be paid today, followed by RM500,000 per day from Monday to Friday next week.
The case will be mentioned in court next on Nov 16.
Najib told reporters that the number of money laundering charges is not "shocking" as they cover three phases — when the funds were received, when they were spent, and when they were returned.
He claimed that he had returned most of the funds to the same account that gave the money to him after the general election in 2013.
"Based on the 21 charges of money laundering, one can understand that I have returned a big sum of money shortly after the 13th general election," he said.
Najib thanked the police and the Malaysian Anti-Corruption Commission (MACC) for the treatment he received during the investigation period.
He said he was not placed in a lock-up on Wednesday night after being summoned by the MACC.
"I was not in a lock-up, I was just inside the MACC premises. I want to thank the police and MACC for treating me well. I have no issue going through the legal process as long as justice is being done. I want justice so that I am given chance to clear my name," he said.
The former Umno president said he hopes the outcome of the trial will show that the rule of law is upheld in this country.
MACC Deputy Chief Commissioner Datuk Seri Azam Baki, meanwhile, said there are more 1MDB-related charges in the pipeline, but declined to identify the parties that would be charged.
"Probably there will be some more charges. But I cannot comment on who will be charged," he told reporters.
Najib's lead defence lawyer, Tan Sri Muhammad Shafee Abdullah, also spoke to the press, saying he was "surprised while delighted" with the charges against his client.
"It clearly shows that the authorities are desperate [and] simply bringing charges in relation to 1MDB," he said.
"These charges are not well thought of because they show that the money transferred into Datuk Seri Najib's account was later transferred back into the same account that he received from.
"This money was brought in because he (Najib) thought it was the promised donation from Saudi Arabia's royal family. So after he was done using it, he returned the money," claimed the counsel.
Muhammad Shafee also claimed that it is "bizarre" to allege Najib had abused his power as a public service officer when he was also chairing the 1MDB advisory board.
"The role of the advisory board was merely to advice, and any final decision has to go through the board of directors. The charges are not only incomplete, they are bizarre, and non-comprehensible. We are looking forward to a good fight," he claimed.
Leading the prosecution yesterday was retired Federal Court judge Datuk Seri Gopal Sri Ram, who is now in private practice. Attorney-General Tommy Thomas recently said Gopal will act as senior deputy public prosecutor to lead the prosecution in 1MDB-linked cases.
Yesterday's charges were on top of Najib's earlier charges over a sum of RM42 million belonging to 1MDB's former subsidiary, SRC International Sdn Bhd.
He pleaded not guilty on July 4 to three counts of criminal breach of trust and one count of power abuse in relation to the RM42 million funds.