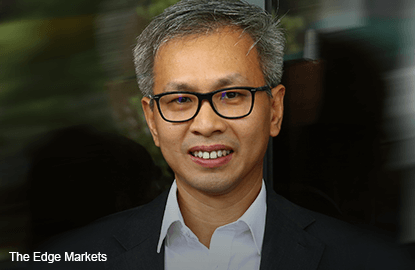 KUALA LUMPUR (July 27):  The DAP's Tony Pua said the new 1Malaysia Development Bhd (1MDB) Board of Directors had failed its first test of integrity and accountability after it announced yesterday that "its 2013 and 2014 audited financial statements should no longer be relied on until allegations made by the United States (US) Department of Justice (DOJ) are determined in court".
The announcement further added that 1MDB is in the midst of seeking a new auditor after Deloitte notified of its intention to resign on Feb 26.
In a statement today, Pua who is DAP national publicity secretary and MP for Petaling Jaya Utara said that it was clear from the announcement coming hot on the trails of the DOJ exposé was a result of Deloitte finally telling 1MDB that they no longer stand by the March 2013 and 2014 financial statements which they signed off on 28 March 2014 and 5 November 2014 respectively.
He said added that the evidence presented by the DOJ clearly showed that Deloitte had made a complete mess of 1MDB's audit for the two financial years. 
"The auditors were made complete fools by 1MDB's executives who repeatedly embezzled billions of dollars from the company. 
"They were hoodwinked, perhaps too readily, by fictitious documents and outrageous lies presented by the company's management,"he said.
Pua said Deloitte had failed to discover in its audit that 1MDB had made more than US$3.5 billion of payments over the course of 2012 t0 2014 to a fraudulent Aabar Investment PJS Limited, incorporated in the British Virgin Islands (BVI).
"Deloitte found nothing suspicious in 1MDB Global Investment Limited's US$1.56 billion investment in several dodgy and obscure investment funds, including the Devonshire Growth, Enterprise Emerging Markets and Cistenique investment funds.  The US DOJ had determined that these funds had acted as conduits in the money laundering scam, including US$681 million which had ended up in the Prime Minister, Datuk Seri Najib Razak's personal bank account," he said.
Pua said that Deloitte's gullibility had allowed 1MDB executives and the Najib administration to cite and abuse the international audit firm's international "reputation" to lend credibility to 1MDB. 
"They helped mask the multi-billion dollar shenanigans which were taking place in the state-owned enterprise for the past few years.
"With the DOJ's exposé, it has finally come to a stage where it is no longer tenable for Deloitte to standby the financial statements it audited for 2013 and 2014.
"Hence 1MDB was forced into making this queer announcement to deny the veracity of its own financial report," said Pua.
He said despite the overwhelming evidence which had publicly surfaced, the newly appointed Directors led by Treasury-General Tan Sri Irwan Serigar is persisting with a massive cover up of the crimes which have allegedly taken place within 1MDB.
"It is now obviously that Tan Sri Irwan Serigar is only interested in carrying on the "stellar" work of the previous Board of Directors who had resigned en mass in absolute disgrace in April," he said.
Pua said that when the Treasury-General had testified before the Parliamentary Public Accounts Committee in June 2014, he had absolved himself from all blame by claiming that he had no control or supervisory powers over 1MDB. 
"In fact, he blamed Clause 117 of 1MDB's Memorandum and Articles of Association which grated all such powers directly to the Prime Minister.
"However, despite the abolition of the above Clause and his appointment as the new Chairman, Tan Sri Irwan Serigar has shown that he is cut from the same cloth. 
"His loyalty is to Datuk Seri Najib Razak and he has little care for integrity and accountability," said Pua.