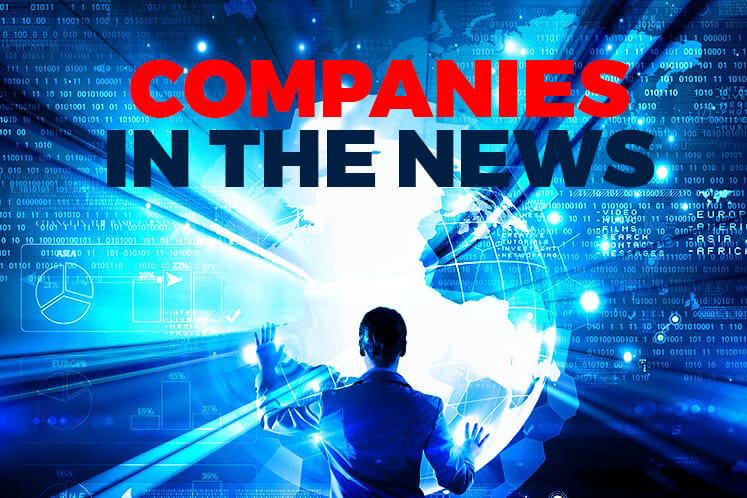 KUALA LUMPUR (April 23): Based on corporate announcements and news flow today, stocks in focus for Wednesday (April 24) may include the following: Nestlé (Malaysia) Bhd, Kerjaya Prospek Group Bhd, Sime Darby Bhd, Frontken Corp Bhd, Salcon Bhd, United Plantations Bhd, MSM Malaysia Holdings Bhd, Cycle & Carriage Bintang Bhd, Ekovest Bhd and Sinotop Holdings Bhd.
Nestlé (Malaysia) Bhd's net profit for the first quarter ended March 31, 2019 rose 1.7% to RM235.22 million from RM231.22 million a year earlier, on the back of lower operating expenses.
The group said revenue for the quarter rose 1.6% to RM1.45 billion from RM1.43 billion a year earlier. This represents a growth increase of 3.2% year-on-year if taking into account the divestment of its chilled dairy business on Jan 1.
Earnings per share was up at RM1 versus 98.6 sen previously.
Group CEO Juan Aranols said the group's revenue was driven by robust domestic sales of 4.9% for the quarter, fuelled by strong sales momentum during the Chinese New Year festive period.
Kerjaya Prospek Group Bhd has secured a contract worth RM438.8 million for construction of main building works for a proposed development project.
Its unit Kerjaya Prospek (M) Sdn Bhd secured the job from Kerjaya Prospek Property Sdn Bhd, a related party.
It said the contract covers the construction of main building for the proposed mixed development comprising a 25-storey block of offices and hotel and two 53-storey blocks of serviced apartments on top of an 11-storey podium and four levels of basement at Jalan Puchong, Kuala Lumpur.
Sime Darby Bhd said Emirates International Energy Services (EMAS) has filed an application at the Abu Dhabi Court of Appeal, seeking the annulment of an arbitration tribunal award.
This refers to the rejected arbitration claim by EMAS against Sime Darby Energy Sdn Bhd (SDE) worth 41.05 million UAE dirham (RM46.47 million), which was issued on Dec 23, 2018, along with a supplementary award issued on March 4, 2019.
Sime Darby said SDE is seeking advice from its external lawyers to contest the EMAS application.
In January, Sime Darby said the Dubai International Arbitration Centre had rejected the claim by the Abu Dhabi-based energy firm against SDE.
Frontken Corp Bhd's net profit more than doubled to RM15.4 million in its first quarter ended March 31, 2019 from RM6.3 million a year ago, on the back of improved revenue and foreign exchange gain.
Earnings per share grew to 1.47 sen from 0.6 sen in the previous year's corresponding quarter.
Revenue for the quarter rose 18.2% to RM83.83 million from RM70.92 million a year ago. This was supported by higher contributions from its subsidiaries in Malaysia, Singapore, Taiwan and Philippines, particularly in its semiconductor as well and oil and gas businesses, Frontken said.
Salcon Bhd's wholly-owned unit Salcon Engineering Bhd has secured a RM39.8 million works package from Pengurusan Aset Air Bhd (PAAB) to supply and install mild steel pipes for the Langat 2 Water Treatment Plant and Water Reticulation System.
The 12-month contract is scheduled for completion on May 15, 2020, and the installation will start from the AU3 reservoir to the existing reticulation system at Jalan Jelatek and Jalan Enggang, Salcon said.
United Plantations Bhd's net profit declined 33.4% in the first quarter ended March 31, 2019 to RM66.92 million from RM100.5 million in the previous corresponding quarter, dragged by lower average selling prices of crude palm oil and palm kernel.
Its weaker quarterly earnings was also because the previous corresponding period had recorded a gain of RM19.6 million due to the fair valuation of its commodity contracts. United Plantations said that there was no such gain in the current quarter since the group started applying hedge accounting on the relevant commodity contracts since October 2018.    
Quarterly revenue stood at RM322.26 million, relatively flat when compared with last year's first quarter revenue of RM325.54 million.
MSM Malaysia Holdings Bhd has appointed its executive director Datuk Khairil Anuar Aziz as group CEO effective immediately.
With this appointment, Mohd Shaffie Said will cease to be the acting CEO and will instead assume the role of group chief operating officer.
Cycle & Carriage Bintang Bhd recorded a wider net loss of RM4.36 million in its first quarter ended March 31, 2019, compared with a net loss of RM3.19 million a year ago on the back of lower sales and weaker margins.
Revenue for the quarter declined 24.5% to RM293.19 million versus RM388.58 million in the previous year's corresponding quarter, as vehicle unit sales fell 30%.
Ekovest Bhd has proposed to raise up to RM202.59 million via a private placement to third party investors, to repay bank borrowings, fund its property development projects and for working capital.
Assuming the placement shares are issued at an indicative issue price of 79 sen per placement share, a discount to the five-day volume-weighted average market price of 79.37 sen per Ekovest share up to April 22, the proposed exercise is expected to raise gross proceeds of between RM169.06 million and RM202.59 million.
Of this, RM100 million has been earmarked to repay bank borrowings, between RM64 million and RM97 million to fund property development projects and another RM4.82 million to RM5.35 million for working capital.
Sinotop Holdings Bhd's major shareholder Datuk Justin Soo Sze Ching plans to inject his construction company into the group in line with its strategic plan to expand and strengthen its infrastructure construction business to further enhance the group's earnings.
Sinotop said it has today entered into a conditional share sale agreement with Soo for the proposed acquisition of Asianmax Corp Sdn Bhd for RM96 million.