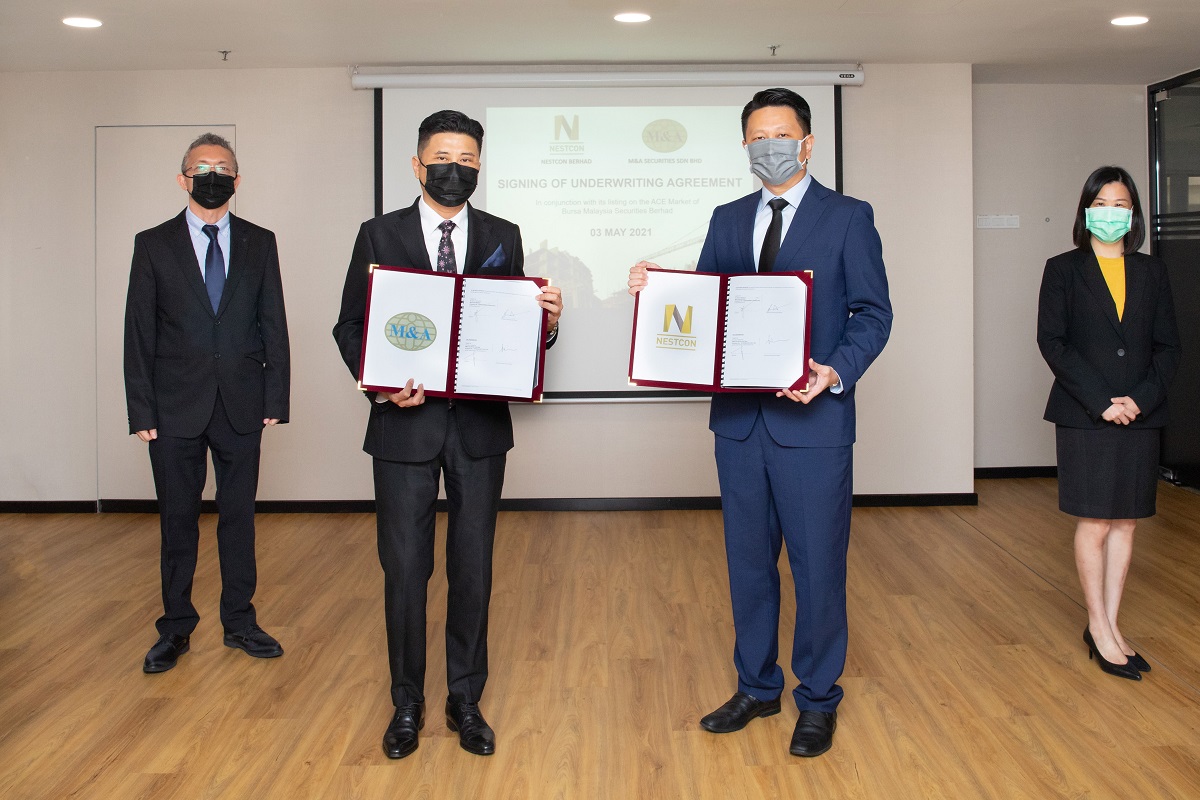 KUALA LUMPUR (May 3): In conjunction with its upcoming initial public offering (IPO) on the ACE Market of Bursa Securities, building and infrastructure construction services provider Nestcon Bhd has signed an underwriting agreement with M&A Securities Sdn Bhd.
The company's IPO exercise entails a public issue of 161 million new shares and an offer for sale of 32.2 million existing shares by way of private placement, according to its statement today.
Under the agreement, M&A Securities will underwrite 64.4 million of the 161 million new shares, comprising portions to be made available for the Malaysian public as well as eligible directors, employees and persons who have contributed to the success of the group.
Of the total 161 million new shares which represent approximately 25% of the group's enlarged total number of shares, 32.2 million will be allocated to the Malaysian public via balloting and 32.2 million shares under its eligible directors and employees as well as persons who have contributed to the success of Nestcon.
Meanwhile, 16.1 million shares will be offered via private placement to selected investors and the remaining 80.5 million new shares will be placed out to bumiputera investors approved by the Ministry of International Trade and Industry (MITI).
Nestcon managing director Datuk Dr Lim Jee Gin said the IPO exercise will not only bring capital funding but also other indirect benefits, such as an enhanced brand presence as well as the flexibility to tap into the capital market in the future.
"We believe it is an opportune time for us to strengthen our position, operationally and financially, to ride on the upward trajectory of the industry. One of our strategies is to embrace mass production principles via the adoption of the Industrialised Building System or IBS.
"With part of the IPO proceeds, we plan to establish our own on-site IBS facility that will expedite project delivery time and reduce reliance on foreign workers while simultaneously improving the quality of work," he said.
Besides that, the company is also eyeing larger civil engineering and infrastructure projects, such as highways, transportation infrastructure and various renewable energy projects, among others.
"To do so, we intend to strengthen our machinery and equipment count as well as readying a sizeable sum of working capital as performance bonds in anticipation for these large-scale projects," Lim added.
Nestcon is scheduled to be listed on the ACE Market by June 2021.