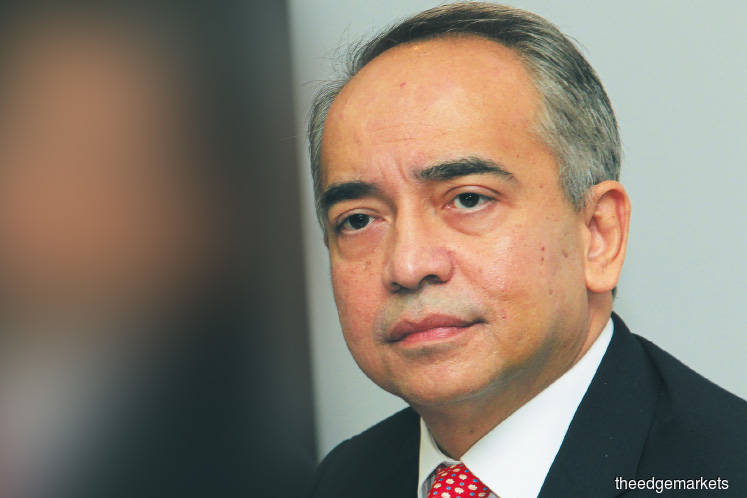 CIMB Group chairman Datuk Seri Nazir Razak penned a personal message of farewell to his staff, which was sent out earlier today before the official announcement of his impending departure from the group came out in the evening.
He touched on the group's accomplishments, some of his best memories during his 29-year journey with CIMB since he started with the group in 1989, what he intends to do before he leaves, and that to him, "It is time for my next mission, the next stage of my career."
A personal message from Datuk Seri Nazir Razak
Sept 24, 2018
Dear Fellow CIMBians,
It is with a heavy heart that I write to inform you that I will be stepping down from my position as Chairman of CIMB Group and all other positions within the CIMB Group of companies, by Dec 31, 2018. I notified the CIMB Group Board earlier this afternoon and a public announcement will be made shortly. The Board will now activate its succession plan to decide on the next Chairman and the exact date of handover.
It has been my enormous privilege to have spent over 29 years with CIMB since 1989, including 15 years as Group CEO, and the last four as Group Chairman. I have been a CIMBian all my working life, so much so that Azlina, my wife, thinks that I have also been wedded to the firm. For more evidence, my son's first three coherent words were A for apple, B for ball and C for CIMB.
I joined Commerce International Merchant Bankers Berhad (the original "CIMB") on Sept 11, 1989 as "Officer, Corporate Finance" and employee number 69. Since then, I have had a front row seat on CIMB's amazing journey; from a fledgling corporate finance franchise to a top Malaysian investment bank, and later transformed to the leading ASEAN universal bank we see today.
In this short letter, I will not be able to do justice to my list of personal highlights. I may need to write a book one day. However, the historic IPO of Tenaga Nasional (1992), the buzz of the equities sales-desk during the 1990s crazy bull market, CIMB's own IPO (2003), the CIMB-Bumiputra Commerce merger (2005), CIMB's hostile take-over of Southern Bank (2006), the mega merger that created a new Sime Darby (2007), the Niaga-Lippo merger (2008), launching the new CIMB Singapore (2009), buying Bank Thai (2009) and our CEO transition (2014) will all be on the list. I will never forget those vocal doubters who said it is impossible to make a success of Bank Bumiputra, the single largest component of CIMB today. And, I will always be grateful that the CIMB platform enabled me to be internationally recognised as a banker and leading advocate of ASEAN integration, and make a difference to many people's lives, especially through the work of CIMB Foundation.
I am incredibly proud of the financial results that we have achieved together. CIMB has been profitable every year of my tenure as CEO and Chairman. Shareholders who invested in CIMB's IPO in 2003 and stayed until end 2017 enjoyed a robust 22% per annum return on their investment, in dividend and capital appreciation. In 2003, we listed with a market capitalisation of just RM1.5 billion and total assets of RM9.6 billion, and by the end of June 2018, we had RM515 billion in assets and our current market capitalisation is RM58 billion.
Our many achievements have been recognised often and by many different publications and bodies, but for me it will always be about the whole story. An audacious transformation story of a small Malaysian merchant bank becoming one of ASEAN's most respected institutions. A story of exciting deals, but also mundane integration of businesses and people; all while keeping a high performance engine running at the same time. It is also a story of our corporate values system that demanded success, but by doing business with integrity and giving back to communities that we served. Most of all, it is a story about lots of wonderful people.
At one point, CIMB had about 45,000 staff across ASEAN, so I have had the privilege of calling a huge number of people colleagues. I have seen so many people's lives — staff and their families — enriched by the experience. Being surrounded by CIMBians is what I will miss the most; some of you have been with me for so long the #CIMBfamily is almost literal for us. I hope that my bonds of friendship with all of you and all of #CIMBalumni will stay forever. Thank you for working with me.
We and I, have not always got it right of course, and regrets I do have a few. But I think of them as important parts of our successful journey too. The mistakes that made us better, the criticisms that made us stronger and the failures that made us humbler.
It was always going to be hard to find the perfect moment for me to leave CIMB — not too soon, not too late but always with the firm's best interest in mind. Over the past few weeks, I have spent a lot of time thinking about it and decided that it would be most appropriate for me to leave upon the completion of T18, CIMB's four-year recalibration project. After all, my career mission has been to build CIMB into a leading ASEAN financial institution. In 2014, CIMB had its first CEO transition as a universal bank and embarked on T18 to strengthen structures, processes and checks and balances of an organisation built at rapid speed on transformative M&As and regional expansion. As T18 comes to a close, CIMB is now financially strong, organisationally robust and firmly institutionalised. We have an excellent management team led by Tengku Zafrul and an impressive cadre of future leaders lined up behind them. The firm's continued success after my departure will affirm that my CIMB mission was indeed accomplished.
It is time for my next mission, the next stage of my career. I am only 52 years young. As you know, I am very passionate about ASEAN integration, and now I would like to fully commit to pursuing other opportunities in this arena.
Over the next few weeks, I intend to oversee the completion of T18, finalisation of our new strategic blueprint and ensure a smooth handover of the chairmanship to my successor. At the same time, I really hope that I get the opportunity to bid farewell in person to as many of you, although I will never be far away, and CIMB will always have a special place in my heart.
Allow me to end by placing on record my gratitude to others who have also been part of my CIMB career — our millions of customers across ASEAN, Board members of all CIMB companies, our shareholders, the Malaysian and other ASEAN governments, our regulators, our business partners, my genuine friends, and most of all, Azlina, Arman and Marissa.
Yours sincerely
Nazir