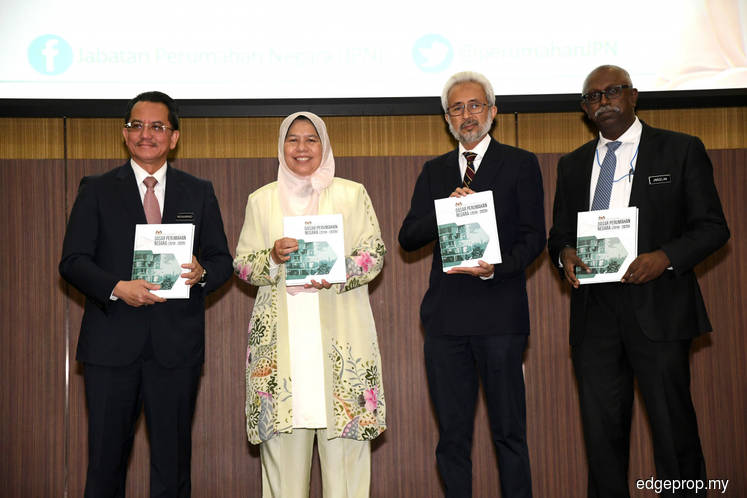 KUALA LUMPUR (Jan 28): After working for four months, the Housing and Local Government Ministry (KPKT) has finally unveiled the National Housing Policy (Dasar Perumahan Negara/DRN) 2018–2025 today, with the objective of gathering public and private sector resources to solve the demand and supply mismatch problem.
KPKT minister Zuraida Kamaruddin who officiated the launching ceremony emphasised that the B40 (bottom 40% income group) will be the main focus of the policy for the next five years.
Hence, there are several programmes and policies under DRN which take a holistic approach in handling the housing issues faced by the low income group, such as the National Home Ownership Campaign, National Community Policy (aimed at improving the living environment of low cost housing residents) and National Affordable Housing Council which is chaired by Prime Minister Tun Dr Mahathir Mohamad.
This is also the first policy announced by Pakatan Harapan government.
Introduced in 1957, the National Housing Policy has been reviewed four times over the years to focus on different challenges from time to time.
The new DRN will focus on solving the country's supply and demand mismatch problem and help low income earners to own a home.
Zuraida said one of the effective ways is the Rent-to-Own (RTO) scheme which offers buyers the option to rent their home for five years and apply for end-financing to purchase it in the sixth year.
"Through RTO, the low income earners could build up their credit scores as they have to pay rental every month. When it comes to the sixth year, the payment record could be one of the supportting documents [to reinforce] their credibility to apply for a mortgage," she said during the press conference after unveiling DRN.
She added that KPKT will also start to research and review the Build-then-sell policy this year, which could reduce the risk to property buyers.
Besides this, DRN also offers a clear guideline under the Affordable Housing Policy for developers to build quality affordable homes for the B40 group.
The specifications include built-ups of not less than 900 sq ft and types of facilities and infrastructure that need to be included in the development.
Zuraida said these guidelines are important to make sure developers build good quality homes with the necessary infrastructure and amenities for the low income group.
To improve the living environment of the residents in low-cost public housing, the DRN also includes the National Community Policy which involves the private sector to create a healthy and vibrant community with various social building programs.
Meanwhile, Zuraida noted that with clear directions under DRN, the Pakatan Harapan government is confident it will achieve its target of offering one million homes to Malaysian over two terms of governing.
"We have broken down the target to 100,000 homes a year. This year we are confident to achieve it, with affordable homes offerings and properties [in the near future] under RTO programme," she said.