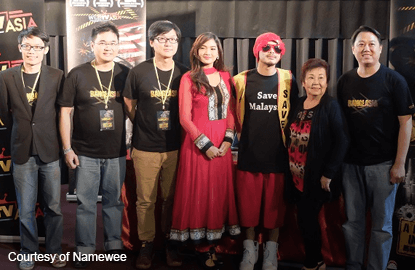 (Dec 4): Controversial YouTube star-turned-director Namewee announced plans for a worldwide release of his banned movie "Banglasia" yesterday, when the 90-minute film was screened for the first time in Southeast Asia at the Singapore International Film Festival.
"Banglasia" was completed in 2013, but was never released after the Malaysian Film Censorship Board ruled that 31 scenes in the movie depicting situations in Malaysia were inaccurate and misleading, adding that they would have to be removed or reshot in order for the film to be approved.
"If you cut 31 scenes, you're left with 10 minutes of a 90-minute film," Namewee, whose real name is Wee Chee Meng, told The Malaysian Insider in an exclusive interview ahead of last night's screening.
Even after editing and renaming the film to "Banglaman", it couldn't get past the censors. The incident was a blow to the usually optimistic director.
"He hasn't shot a film in two years," said the movie's producer Fred Chong.
However, it didn't take long for Namewee and his film crew to get over their disappointment, and work at ways to ensure that the movie would still get airtime.
"Banglasia" gained worldwide attention when it was part of the line-up at the Osaka Asian Film Festival and New York Asian Film Festival earlier this year.
The team also announced last night a crowd-funding project using American platform Kickstarter to raise US$500,000 (RM2.1 million).
The project, the biggest in Asia, will allow the movie to recoup its costs so it can be uploaded on the Internet for a global audience.
Namewee first shot to infamy in 2007 when he uploaded a remixed version of the Malaysian national anthem, Negaraku, on YouTube. Since then, he has garnered both criticism and praise for his uncensored take on Malaysian politics and society.
In 2011, his bad-boy image took on a slightly more popular appeal when his second film, Nasi Lemak 2.0, opened in 60 cinemas nationwide.
Even though the movie, which portrays characters from Malaysia's main ethnic make-up, was received with largely positive reviews, Namewee was accused of being a racist and unpatriotic.
He insisted that "Banglasia", shot in Chinatown, in Kuala Lumpur on a RM2 million budget, was not a movie made to court controversy.
"I didn't know the movie was going to be banned, otherwise we wouldn't have spent so much on it," he told The Malaysian Insider, half in jest.
"Had I known, I would have made it a D-budget movie."
"Banglasia", his fourth film, stars Saiful Apek, Nirab Hossain, Atikah Suhaime, Lao Zha Bo and Namewee himself.
It brings together three characters – a Bangladeshi worker, his love interest and a pro-Malaysian activist – in a comedy of errors set against the backdrop of war. The film touches on issues of migrant workers, nationalism, racism and corruption.
According to Namewee, the censorship board said scenes with gunfights on the streets were not allowed because it portrayed Malaysia as dangerous, while shots of migrant workers filling the street were deemed inaccurate.
Last night's full-house screening at Singapore's Shaw Theatres Lido proved to be a bittersweet moment for the unexpectedly quiet and understated director.
A long line of enthusiastic film-lovers snaked through the theatre as early as an hour before screening time, and the movie ended to rapturous applause.
"This is not the first time the film has been screened... but this has been the closest to home," he added.
While he is grateful the movie was able to be screened and to an appreciative audience at that, his ultimate hope is for "Banglasia" to be aired at home.
For that, he appealed to his supporters and the public to support the Kickstarter project, which kicks off on Dec 9 and will run for 40 days.
"We're throwing the ball back to supporters," said Chong.
"If you want to support Namewee, this is how you do it." – The Malaysian Insider