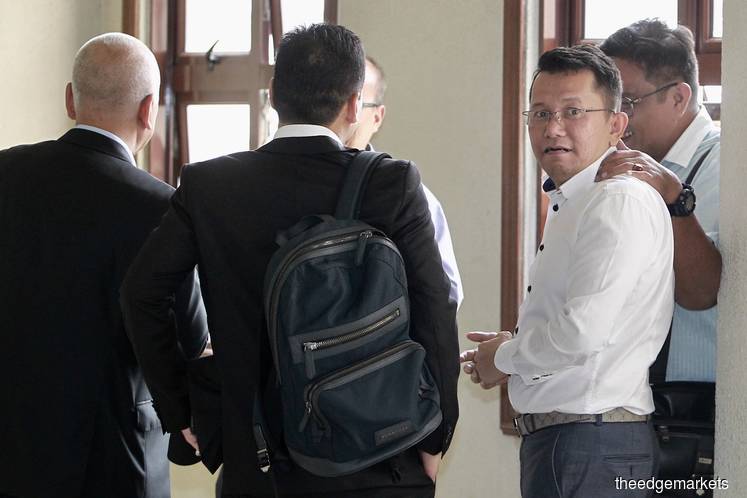 Datuk Asmadi Abu Talib. Photo by Shahrin Yahya
KUALA LUMPUR (April 22): A RM50,000 contribution in 2015 by Datuk Seri Najib Razak under his capacity as then-Umno president to one of the party's Kedah divisions was not channelled using its official bank account in order to avoid tabling the transaction during the party's general meeting, said a witness in the Najib-SRC trial today.
Datuk Asmadi Abu Talib, who is Umno Padang Serai division chief, told the High Court that he received a RM50,000 cheque from Najib by hand soon after he was selected as a Barisan Nasional candidate for the Merbau Pulas state seat in the constituency for the 14th General Election.
"I met with the Umno president [then] to discuss the direction of my division for the election," said Asmadi.
"If the fund is channelled to [the account of] Umno division, [the process] will involve a general meeting… it will be audited with [several] auditors. Through my account the money goes straight to the division's management," he added.
However, it is unclear who gave the instruction to issue the cheque into Asmadi's account, which he banked in on Feb 12, 2015.
Asmadi was among four new prosecution witnesses called up in the court as at this afternoon, all of which obtained cheques from Najib's bank account in 2015.
Umno Johor Bahru division officer Abu Talib Alias also took to the witness stand today, to recall how the division received a RM300,000 cheque from Najib — but through the party's official bank account.
Both Abu Talib and Asmadi said separately that party funds channelled to their respective divisions come from either Umno headquarters, Umno state office, or the party president, and that the funds are usually insufficient to conduct all programmes underlined by the party.
Abu Talib was asked by Deputy Public Prosecutor Mohamad Saifuddin Hashim Musaimi to identify Najib.
The witness was seen looking around the court from the witness stand before turning to the back and acknowledging Najib with a "bossku".
This elicited laughter among those seated in the public gallery.
Another witness, Daud Muhammad of construction firm Syadillah Enterprise which received RM77,300 from Najib, said the company carried out three jobs at Najib's residence in Pekan, Pahang, in 2015, including the construction of a water tower.
Another witness, Abdul Munir Othman, was one of four trustees of charity home Rumah Penyayang Tun Abdul Razak in Pekan, Pahang, which received RM400,000 from Najib for the organisation's operation expenditure.
The organisation is usually funded by its patron — in this case, Najib, said the 53-year-old.
Najib is currently undergoing trial for seven charges related to the alleged siphoning of RM42 million from 1MDB's former subsidiary SRC International Sdn Bhd into his personal bank accounts. The trial resumes at 2pm.