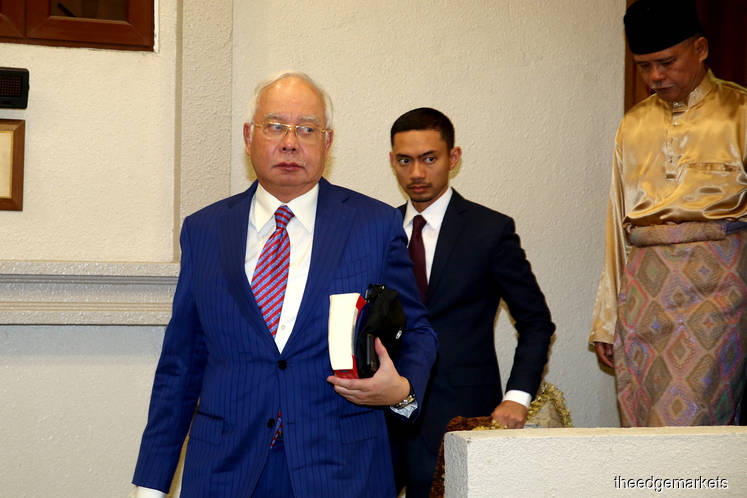 KUALA LUMPUR (June 21): The prosecution in former prime minister Datuk Seri Najib Razak's money laundering case involving RM27 million of SRC International Sdn Bhd funds will call fewer than 30 witnesses to testify during the trial.
Deputy Public Prosecutor Budiman Lutfi Mohamed said this today after the case was called for management before High Court Judge Mohamed Zaini Mazlan today.
Budiman said: "We will rely more on the documentary evidence which had been admitted by the High Court in the former premier's RM42 million SRC trial, without calling all the witnesses."
Earlier, Justice Zaini set the case for further management on April 7 next year.
In the previous proceedings, Justice Zaini fixed June 2 to 4, June 9 to 11, June 15 to 18, June 23 to 25 next year as the trial dates.
Initially, the prosecution in Najib's SRC case wanted the three charges to be tried together with the former premier's seven other charges involving RM42 million in SRC but the plan had to be removed due to a procedural issue.
Najib is charged with three counts of money laundering involving RM27 million, which he is alleged to have received at AmIslamic Bank Bhd's Jalan Raja Chulan branch here on July 8, 2014.
He is accused of committing the offences at AmIslamic Bank Bhd, Bangunan AmBank Group, No 55, Jalan Raja Chulan, on July 8, 2014.
Najib, who is former Barisan Nasional chairman, is also facing trial for seven other charges — three for money laundering, three for criminal breach of trust and one for abuse of power — with regard to the RM42 million of SRC funds.