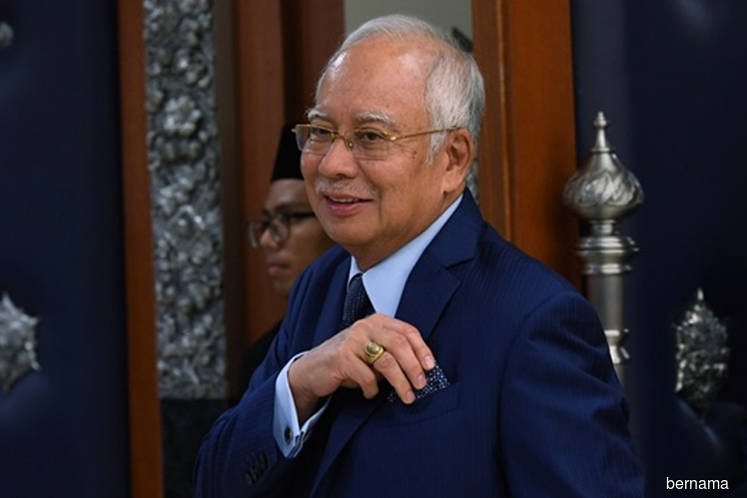 PUTRAJAYA (March 15): The hearing of Datuk Seri Najib Abdul Razak's appeal that is linked to the charges he faces involving funds from SRC International Sdn Bhd was abruptly adjourned for 20 minutes at the Court of Appeal here today, after the former prime minister suddenly went missing during court proceedings.
Najib, who is facing seven counts of criminal breach of trust and abuse of power involving RM42 million belonging to SRC International — a subsidiary of 1Malaysia Development Bhd — was seen leaving the court room when his lawyer Havinderjit Singh was in the midst of making submissions.
In criminal cases, an accused is required to be present at all times during court proceedings. He or she has to seek the court's permission if he or she wants to be excused.
But Najib, who was seated in front of the accused dock, did not seek permission from the three-member bench led by Judge Datuk Zabariah Mohd Yusof. 
He is believed to have walked off to the washroom when the court was hearing submissions in the case, which went on for over two hours, after his lead counsel Tan Sri Muhammad Shafee Abdullah made his submissions.
Najib was not seated in the accused dock, as this was a hearing of his appeal in an interlocutory matter, and not the proper appeal of the case. 
Najib is appealing against a decision allowing the prosecution to withdraw a certificate to transfer his seven charges related to SRC International, to the High Court.
When Zabariah noticed Najib was missing, she asked his lawyers to look for him and allowed a short break.
Outside the court room, Shafee was seen having a discussion with Najib.
As court resumed after the short break, Shafee apologised to the court and the bench for his client's conduct.
Hearing then continued for another hour and a half.