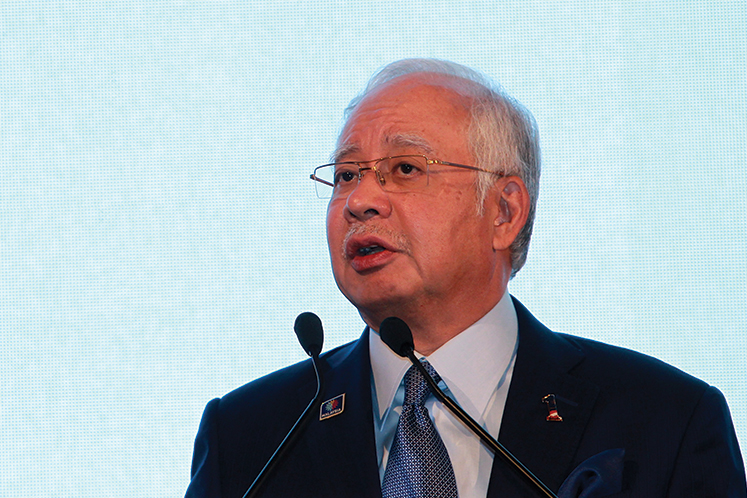 (Sept 13): For the first time, former Prime Minister Datuk Seri Najib Razak has said that the source of the RM2.6 billion in his personal Ambank account could have been Tanore Finance Corp.
In a Facebook post this evening, Najib said Prince Abdulaziz Al-Saud from Saudi Arabia had informed him that US$800 million would be sent to him from the prince's bank account or from his other sources, including Tanore Finance Corp.
Najib had previously maintained that the RM2.6 billion was a donation from the Saudi royal family without naming the company or account holder that the money was sent from.
However, the US Department of Justice's investigations revealed a different story.
According to the DOJ, the US$681 million that ended up in Najib's account (amounting to RM2.6 billion at the exchange rate then) had come from Tanore Finance Corporation, whose source of funds was 1MDB's third bond raised in 2013 supposedly for a joint venture between 1MDB and Abu Dhabi Malaysia Investment Company. The so-called 'Tanore Phase' of the 1MDB deals took place in March and April 2013.
Najib wrote in his post that Prince Abdulaziz Al-Saud wrote to him on March 1, 2013 informing that the US$800 million fund would be channeled to him in stages for that year. But what he received was not the full sum of US$800 million.
"In the letter, Prince Abdulaziz Al-Saud stated that the funds would be channeled either from his bank account or from his other sources, including Tanore.
"According to the DOJ and WSJ claims, the money from Tanore was improper and was (in) layered (transactions) and was from 1MDB.
"But Prince Abdulaziz Al-Saud has been representing King Abdullah for the transfer of funds to my account including in 2011 and 2012 when funds were sent from the accounts of the Ministry of Finance of Saudi Arabia and Prince Faisal bin Turkey bin Al Saud.
"There was no reason at that time for me or the beneficiary banks to question or investigate deeper into identifying whether the source of the money was from anywhere else and there was a letter from King Abdullah's representative attached," Najib wrote.
Copies of these letters were also attached to the funds transfered to his account at Ambank which was used exclusively for political purposes for several years. BNM or the bank never questioned or expressed concern over these funds, Najib wrote.
The ex-PM explained that what was meant by 'RM2.6 billion' actually referred to the US$681 million fund he received in his personal account at the end of March 2013 which was about a month before the GE13 on May 5, 2013.
"As I have said several times before, I have been entrusted with the party's constitution to seek contributions and manage its funds. Like most others, I have several personal accounts in different banks and the personal accounts that received these funds were not accounts for personal use everyday but for political activity.
"Analysis before GE13 showed that BN may lose more Parliamentary seats than PRU12. I faced a fairly challenging and worrying election. I also received several reports that after administering Selangor and Penang since GE12, Pakatan had raised substantial funds from domestic and foreign sources.
"Therefore, I was worried that the '916' (September 16, 2008) event was likely to be repeated in GE13.
"The 916 event was a failed Pakatan attempt shortly after GE12 to buy and influence dozens of BN Parliamentarians to hop over to Pakatan to bring down the BN government.
"Although the Arab Spring turmoil ended in December 2012, in early 2013 I again asked the King of Saudi Arabia to assist with 'contingency' funds.
"He agreed. I decided not to ask for funds from local businessmen and tycoons as the fourth PM did as (I) knew that if this was done, they would have asked for projects of much higher value. I do not agree with cronyism.
"I received the amount of US$681 million in two transactions on March 21 and March 25, 2013 — about a month before GE13 on May 5, 2013. The funds were all converted to ringgit when received in my account.
"After GE13, I saw that 916 would not be repeated and I decided in July to return all the money I received because there was no more requirement for it.
"So after Ambank converted the ringgit in my account back to US dollars, all of these funds were returned to the source which was Tanore.
"Since the exchange rate differed due to the 10% decline from March to August, only US$620 million was refunded against US$681 million received.
"The conclusion is that I did not keep this RM2.6b. If somebody wants to steal the money, it does not make sense to keep it in a bank account in his own name and we know it's not from 1MDB funds where we all know the funds are from loans. The borrowed money must be repaid and if you want to steal from there it will be problematic if it is time to pay the debt.
"Actually, Pakatan leaders know this fact but do not want to admit that I did not keep RM2.6 billion in my pocket to buy rings or handbags."
As to why he did not reveal all these for so long, he wrote: "As I have said before, it was King Abdullah's request to keep it a secret but the main concern was that being the Prime Minister at that time should I expose to the world that there was the buying of Parliamentarians in Malaysian democracy?"