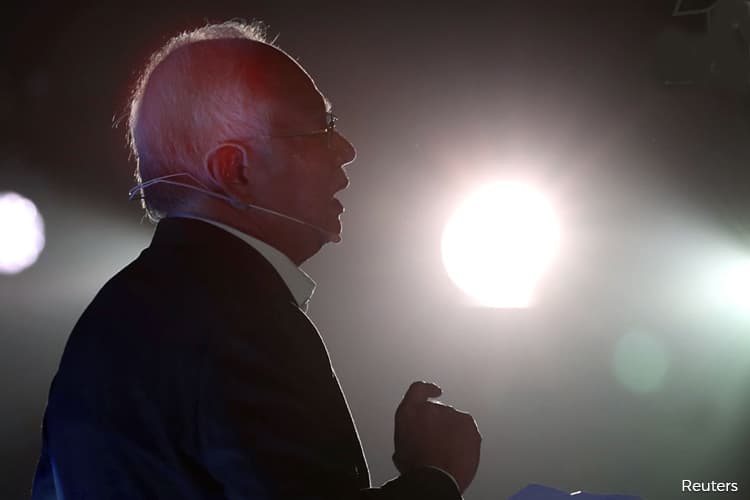 KUALA LUMPUR (May 27): Former prime minister and finance minister Datuk Seri Najib Razak must be held responsible and accountable for the 1Malaysia Development Bhd (1MDB) corruption scandal, Finance Minister Lim Guan Eng said today.
Najib was the chairman of 1MDB's board of advisors until it was dissolved in May 2016 and the Ministry of Finance (MoF) took over its remaining assets.
In a statement today, Guan Eng asked Najib how is it that payments made by MoF on behalf of 1MDB amounting to RM6.98 billion since April 2017 not tantamount to a bailout.
"Why should the MoF compensate 1MDB to the tune of tens of billions of ringgit as asserted by Datuk Seri Najib Razak, when 1MDB has hardly carried out any development on the land?" Guan Eng said, referring to the Tun Razak Exchange (TRX) and Bandar Malaysia lands here.
On May 22, Guan Eng revealed that the MoF had since April 2017 made payments on behalf of 1MDB amounting to RM6.98 billion. He said the RM6.98 billion figure had yet to include another RM954 million payment that needs to be paid by MoF before the end of this year. All these payments tantamount to a major bailout of 1MDB, he added.
In response, Najib wrote on his Facebook on May 25 that it was "wrong to call it a bail out of 1MDB".
"Essentially, he (Najib) argued that 1MDB had transferred all of its real estate assets including TRX and Bandar Malaysia to the MoF as recommended by the Public Accounts Committee (PAC). Hence, he claimed these payments should be rightly construed as 'compensation' to 1MDB," said Guan Eng.
"Datuk Seri Najib Razak could not be more wrong in making the presumption," he added.
Guan Eng explained that the transfer of these assets back to the MoF in April 2017 was not a sale and purchase transaction, nor should it be.
"MoF officials have confirmed that no such sale and purchase agreement was executed to the effect. This is consistent with PAC recommendation.
"The PAC had found that 1MDB had neither the financial means, nor the ability to develop, or even to sell these parcels of land. Hence, the MoF needed to take over these projects in order to ensure their continued viability," he said.
Guan Eng pointed out that Najib should not forget that these parcels of land were originally sold by the government to 1MDB at bargain basement prices between 2010 and 2012.
"The 70-acre TRX plot was sold to 1MDB for RM230 million, or approximately RM74 per sq ft, while the 486-acre Bandar Malaysia was sold to 1MDB for RM1.6 billion, or approximately RM72 per sq ft.
"Let me also remind the former prime minister that the MoF did not take over these entities for free. When MoF took over TRX City Sdn Bhd, it came attached with a RM800 million loan from the Social Security Organisation Malaysia (SOCSO), which is due in 2020.
"And when MoF took over Bandar Malaysia Sdn Bhd, it came attached with a RM2.4 billion sukuk, to be repaid from 2021 to 2024.
"It should also be noted that the Auditor-General in his report on 1MDB had confirmed the above borrowings were not used for their intended purposes, that is, they were not used for the development of the above projects," he said.
"1MDB president Arul Kanda Kandasamy also confirmed this himself when he testified to the PAC. Hence, if anything, MoF should be claiming compensation from 1MDB for also assuming these liabilities, not the other way around," added Guan Eng.
Guan Eng also noted that the MoF had already made additional payments to, or on behalf of 1MDB with regards to the TRX and Bandar Malaysia projects such as the acquisition of a 2.3-acre piece of land from TRX in September 2015 for RM250 million.
"The MoF had (also) refunded a deposit amounting to RM741 million on behalf of 1MDB to the consortium led by Iskandar Waterfront Holdings Sdn Bhd after the Bandar Malaysia sale and purchase agreement was terminated in May 2017. This was because 1MDB had used up the deposit for other purposes and did not have the money to refund the deposit," added Guan Eng.
In addition to the payments made by the MoF, Guan Eng said 1MDB had sold two additional parcels of TRX land to government-linked entities, making "ludicrous profits" in the process.
Breaking down the transactions, they include the 1.57 acres of land sold to Lembaga Tabung Haji for RM188.5 million, or RM2,750 per sq ft in April 2015, and 1.25 acres of land sold to Affin Bank Bhd, a subsidiary of Lembaga Tabung Angkatan Tentera (LTAT) for RM255 million, or RM4,680 per sq ft, in August 2015.
"Perhaps most importantly, the RM6.98 billion paid by MoF on behalf of 1MDB were in relation to borrowings completely unrelated to the above real estate projects. The payments were instead made for servicing the coupon interest of RM5 billion 30-year bond issued in 2009. This was mainly used for 1MDB's failed investment with PetroSaudi International Ltd," said Guan Eng.
"(The payments were also used for) servicing the coupon interest for US$3.5 billion worth of 10-year bonds issued in May and October 2012. These were intended for the acquisition of power plant assets. These assets have since been disposed and their proceeds have been completely utilised. However, the bonds remain outstanding in 1MDB," he added.
Parts of the RM6.98 billion were also used to service the coupon interest for US$3 billion of 10-year bond issued in March 2013. "The bond was intended to fund the development of TRX. However, the funds raised were never utilised to develop TRX, as reported by the Auditor-General," said Guan Eng.
Fourthly, it was used to  repay in full the US$1.2 billion of advance from Abu Dhabi's International Petroleum Investment Corp. The advance was taken in April 2015 to repay US$975 million of borrowings from a Deutsche Bank-led consortium, he added.
"Therefore, why should any returns from the real estate projects – land which were originally acquired cheap from the Government – be used to cover up the financial holes created by all of 1MDB's other financial misadventures and shenanigans?" said Guan Eng.
"Given all of the above facts and figures, there could be no other description for the RM6.98 billion worth of payments by MoF on behalf of 1MDB to date, other than to describe it as the single largest bailout in history carried out by the government of Malaysia."
Instead of debating whether the above payments were a bailout by the MoF, Guan Eng called for Najib to account for the following transactions:
i. Where has the US$1.83 billion invested with Petrosaudi International Ltd between 2009 and 2011 gone to?
ii. Where has the US$3.5 billion raised in 2012 for the purposes of acquiring power plants in Malaysia gone to?
iii. Where has the US$3 billion raised in 2013 for the purposes of investing n TRX gone to?
On its part, Guan Eng said the MoF will work hand-in-glove with the 1MDB Special Committee to "recover as much of the lost and stolen funds as possible to plug the debts and deficits created by the Najib administration, and punish those responsible for the worst corruption scandal ever in Malaysian history".