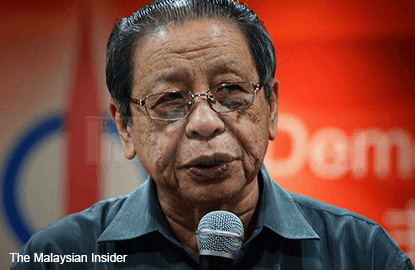 KUALA LUMPUR (Feb 4):  DAP today said Prime Minister Datuk Seri Najib Razak appeared to be getting stronger, despite the scandals he was embroiled in, the latest being the removal of Datuk Seri Mukhriz Mahathir as Kedah menteri besar.
The party's parliamentary leader Lim Kit Siang said Najib had just won another victory with Mukhriz's ouster, which ended with Datuk Seri Ahmad Bashah Md Hanipah being sworn in today as Kedah MB.
He said it was indeed a "great paradox" in Malaysian politics that Najib seemed to be getting stronger and stronger, despite "scandal after scandal".
He cited the previous "victories" achieved by Najib over the last six months, which would have given him a "10 versus 0" score against his adversaries, such as the sackings of Tan Sri Muhyiddin Yassin as deputy prime minister, Datuk Seri Shafie Apdal as rural and regional development minister, and Tan Sri Abdul Gani Patail as attorney-general (A-G).
As the authorities investigated the debt-ridden 1Malaysia Development Berhad (1MDB), the special task force investigating the state investor was scuttled and key officials in the A-G's Chambers, Bank Negara and the Malaysian Anti-Corruption Commission were intimidated and transferred.
The Gelang Patah MP also cited the "sabotage" of the Public Accounts Committee (PAC) investigations into 1MDB. While the probe was ongoing, four BN MPs were promoted into Najib's Cabinet and had to relinquish their positions in PAC, including its former head Datuk Nur Jazlan Mohamed.
Another "victory", Lim said, were the sidestepping of the Malay rulers' statement of Oct 6 last year, which urged the government to complete the 1MDB investigations "as soon as possible" and to take  "appropriate stern action" against all found to be implicated.
Lim added that Najib survived a move to topple him as prime minister by way of statutory declarations by MPs, and his broken promise that his "twin mega scandals" would be resolved by the end of last year.
"In fact, both these scandals had become even bigger and more international in 2016.
"The attorney-general just recently exonerated Najib of any wrongdoing or crime and no charges would be brought against him in both the RM2.6 billion donation and RM42 million SRC International scandals.
"Is Najib getting stronger and stronger with scandal after scandal?" he asked.