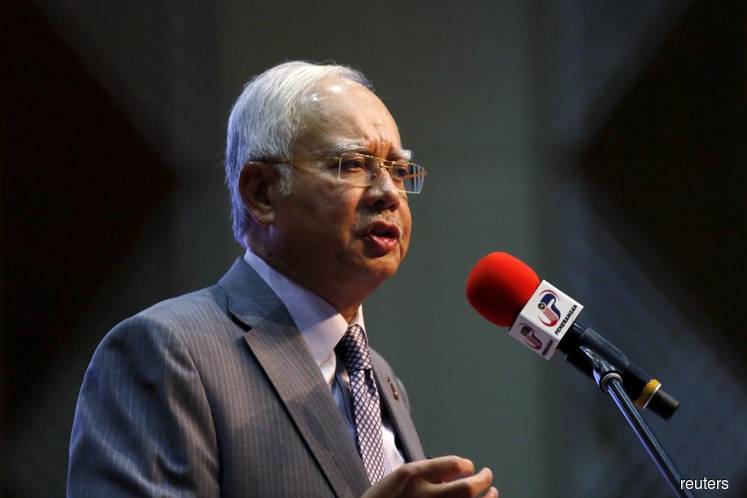 KUALA LUMPUR (Nov 2): Former Prime Minister Datuk Seri Najib Razak said the wider fiscal deficit projected in Budget 2019 is mainly due to the abolishment of the Goods and Services Tax by the Pakatan Harapan (PH) government.
"The root cause of the increase in fiscal deficit is because they abolished GST and the three-month tax holiday. It were these shortfalls that have been haunting the finance minister, forcing him to put all the fiscal constraint blame on 1MDB," he told reporters at the Parliament lobby today.
"It is obvious that they want to put all the blames on the BN government and 1MDB. But they did not mention about 1MDB's assets. 1MDB has many assets. If we monetise them at the right price, the proceeds can offset the company's debt," he added.
Najib also accused the PH government of breaking more promises made, before the 14th general election.
"They have broken their promise. They had been propagating that when they take over Putrajaya, petrol prices will drop. But today, they are saying that RON95 will be floated according to the automatic price mechanism.
"Although there are some subsidies for smaller cars, this does not match what they promised to the people in their election promises.
"Same goes for toll. They wanted to freeze all toll rates, and abolish motorcycle toll for bridges at Penang and the Second Link at Johor to Singapore.
"During the Barisan Nasional government's days, they had laughed about this, and said if they win, they will abolish all tolls," Najib said.
He also said the country's debt had been on a downtrend during his administration.
"During BN government, our debt has been reducing gradually, and we were targeting 2.8% of budget deficit for 2019. But Budget 2019 projected our budget deficit to jump to 3.7%.
"This is a big jump. There is a possibility that international rating agencies will downgrade our credit rating," he said.