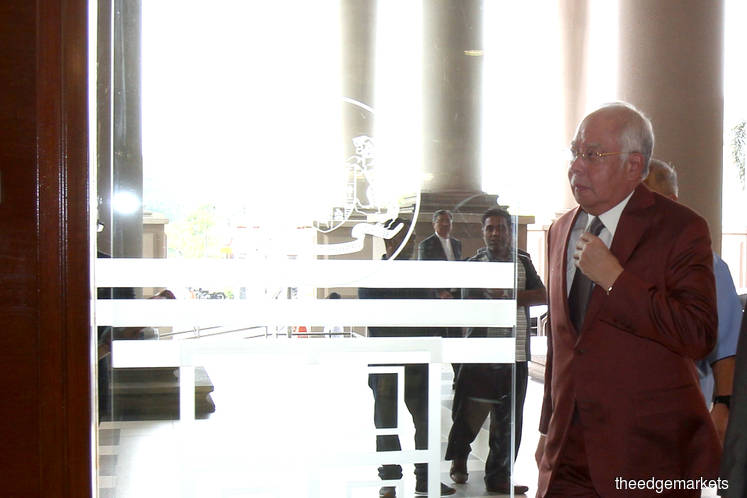 KUALA LUMPUR (July 3): Datuk Seri Najib Razak's counsel Tan Sri Muhammad Shafee Abdullah told the High Court here today that a motion will be filed at the Court of Appeal to allow Najib to attend parliament proceedings to fulfill his statutory duty as Pekan MP.
Muhammad Shafee said this today after High Cout Judge Mohd Nazlan Mohd Ghazali refused on Monday (July 1), Najib's application to attend the first day of parliament proceedings on that day.
Today, Muhammad Shafee said: "We are going to the Court of Appeal and perhaps the Federal Court, to argue the fact that an MP must be able to do his statutory duty".
According to Muhammad Shafee, Mohd Nazlan had earlier provided a short explanation on his decision. Shafee, however, said Mohd Nazlan may want to elaborate on his decision, so that Shafee and his team can include the details in an affidavit. 
On Monday, the High Court refused to give Najib leave to attend parliament proceedings, on grounds that while he is an MP, he is also facing seven criminal charges.
Muhammad Shafee had applied for a day off for former premier Najib, as he wanted to participate in the debate on the bill compelling MPs to declare their assets.
However, Mohd Nazlan refused the application, saying the parliamentary session is proceeding for a number of weeks and that it is not certain as to when voting on any particular important issue will take place.
"This is not a question of the court obstructing the accused from attending parliament, as he is not prevented from attending parliament whenever court is not in session," the judge said.