This article first appeared in The Edge Financial Daily, on May 8, 2019.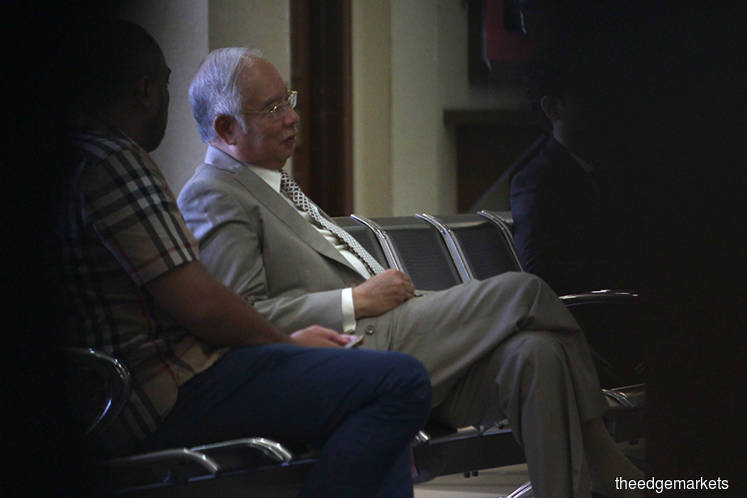 PUTRAJAYA: Datuk Seri Najib Razak has failed in his second bid to remove former Federal Court judge Datuk Seri Gopal Sri Ram as the lead prosecutor in his 1Malaysia Development Bhd (1MDB) cases.
The Court of Appeal yesterday dismissed the former premier's appeal to disqualify Sri Ram. A three-member panel unanimously ruled that Najib's appeal has no merit.
The panel was chaired by Justice Datuk Zabariah Mohd Yusof, with Justice Datuk Rhodzariah Bujang and Justice Datuk Lau Bee Lan as the other two members.
Justice Zabariah said the panel agreed with the prosecution that High Court Judge Collin Lawrence Sequerah's March 1 decision did not amount to a "decision" under Section 50 (1) of the Courts of Judicature Act 1954, therefore the matter is not appealable.
She said the Court of Appeal found Justice Sequerah's dismissal of Najib's application to have Sri Ram's letter of appointment produced, and to disqualify him from acting as a senior deputy public prosecutor (DPP), was a decision made in the course of the trial which does not dispose of the parties' rights. Based on this alone, the appeal ought to be struck out, she said.
However, Justice Zabariah said the court also proceeded to consider the merits of Najib's appeal on the High Court's decision to dismiss his application.
The court found Sri Ram's appointment under Section 376(3) of the Criminal Procedure Code was never in doubt as Najib's counsel had sighted the letter when it was shown to him, she said.
The section does not require the appointment be made in writing, produced upon demand or gazetted, Justice Zabariah added.
On whether Sri Ram was involved in the 1MDB investigations, the Court of Appeal ruled that apart from Najib's bare allegations, there is no evidence showing he was involved.
Further, Sri Ram has denied the allegations via an affidavit, Justice Zabariah said.
She stressed that Sri Ram, just like other DPPs, is entitled to supervise and oversee an investigation but not to investigate the case himself.
"There's nothing before the court, for now, to show there's a danger of bias by Sri Ram if he continues to act as the prosecutor in this case," she said.
What Najib had alleged, she added, was a mere general suspicion, not based on specific facts to disqualify a prosecutor.
Justice Zabariah said the burden was on Najib to show cogent evidence and with certainty of such biasness, not merely bare allegations.
"We viewed that whatever had happened, it has never [been] shown that Sri Ram had been found of misconduct by any authority. We therefore found the learned judge (Justice Sequerah) did not err when he held that the allegations of perjury are mere allegations unsupported by any evidence," she said.
"The appeal, in our view, has no merit. We therefore dismiss the appeal by the appellant. The High Court judge's decision is therefore affirmed," she ruled.
She further said the decision does not prevent Najib from making similar applications in future if there were facts to substantiate his stand.
On Sept 20, 2018, Najib was charged with four counts of abuse of power under the Malaysian Anti-Corruption Commission (MACC) Act and 21 counts of money laundering involving 1MDB funds amounting to RM2.28 billion.
He was charged with committing the offences at AmIslamic Bank Bhd, No 55, Jalan Raja Chulan, Bukit Ceylon between 2011 and 2014.
After Justice Sequerah dismissed Najib's application to challenge Sri Ram's appointment, Najib filed an appeal to the Court of Appeal and requested for a stay of the trial.
The Court of Appeal yesterday did not make any order for a stay of the High Court trial, ordering the defence to make a formal application.
Najib's lawyer, Tan Sri Muhammad Shafee Abdullah, told the appellate court that he had received an instruction to appeal yesterday's decision to the Federal Court. "We will also be seeking a full quorum, at least a seven-member bench to hear the appeal," he said.
Muhammad Shafee said the case's trial is scheduled to begin on Aug 19 in the High Court. An adjournment will not be allowed by Justice Sequerah.