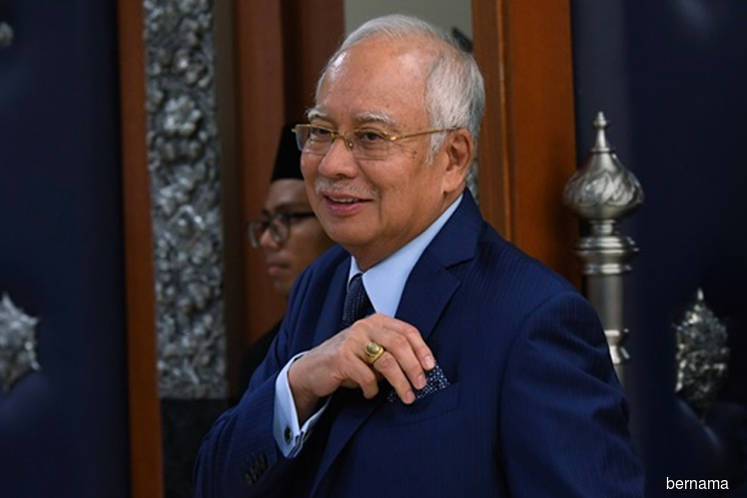 PUTRAJAYA (March 18): A police officer had to wake ex-premier Datuk Seri Najib Abdul Razak after he was seen sleeping in front of a three-member Court of Appeal bench during the hearing of his appeal that is linked to the charges he faces involving funds from SRC International Sdn Bhd, a former subsidiary of 1Malaysia Development Bhd.
This happened when his counsel Havinderjit Singh was submitting a reply to Attorney General Tommy Thomas submissions earlier this morning.
Najib, who was seated in front of the accused dock, was seen catching 40 winks, when this came to the police officer's attention.
The police officer, who was seated on the right side of the court room, was seen walking over to Najib, touching the former premier on his shoulder, and saying some words.
This awoke the ex-prime minister, who was seen nodding to the police officer as he remained vigilant throughout the rest of the proceedings.
During court proceedings, an accused person or those in the public gallery are not allowed to be asleep during the hearing.
Last Friday (March 15), Najib was seen leaving the court room without the court's permission, also when Havinderjit was in the midst of submission, resulting in Justice Datuk Zabariah Mohd Yusoff calling for a short adjournment for 20 minutes for lawyers to look for the former premier.
Apparently, Najib went to the washroom. As the court resumed, his lead counsel Tan Sri Muhammad Shafee Abdullah apologised to the bench.
It was previously reported by some media that Najib at the Kuala Lumpur Sessions Court in one of his three cases had refused to go into the dock when his case was called up.