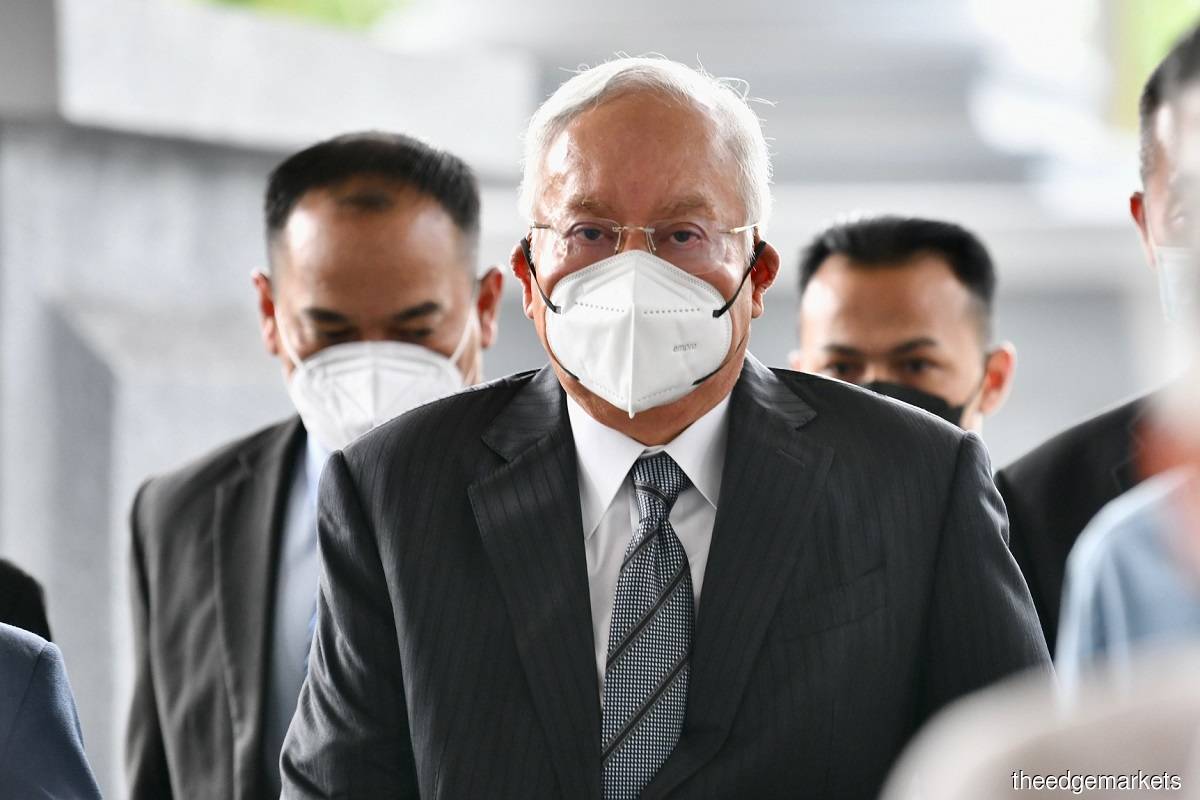 KUALA LUMPUR (June 24): Former 1Malaysia Development Bhd (1MDB) president and chief executive officer (CEO) Arul Kanda Kandasamy told the High Court on Friday (June 24) that former premier Datuk Seri Najib Razak was concerned that the audit report on 1MDB would be "spun politically" to his detriment.
Testifying as the prosecution's 15th witness in the ongoing 1MDB audit report tampering trial, Arul Kanda said he received a call from Najib the day before he met the National Audit Department (NAD) on Feb 24, 2016, and that among the matters discussed was that Najib was concerned that the contents of the audited report would be "spun from a political perspective".
Arul Kanda testified that during the conversation, Najib explained the former had to attend the meeting for several key reasons, which included defending the interest of the company, to ensure that the NAD stayed within the scope to verify the accounts of the company, and because Najib was concerned if the report could potentially be spun "politically".
When asked by lead prosecutor Datuk Seri Gopal Sri Ram if he was influenced by the phone conversation with Najib when he attended the meeting later, he answered he did have what was discussed in mind.
If not for Feb 24 meeting, original audit report would have been tabled to PAC
Former auditor general Tan Sri Ambrin Buang and NAD officers conducted the audit on 1MDB between March 9, 2015 and March 4, 2016, following which they were scheduled to present the audit findings to the Public Accounts Committee (PAC) on Feb 24, 2016.
This, however, did not materialise. Instead, Arul Kanda was alleged to have met Ambrin and the NAD officers involved on Feb 24 and 25.
Subsequently, several items were removed from the 1MDB audit report after the meeting with Najib and Arul Kanda. These included fugitive financier Low Taek Jho's presence at 1MDB board meetings, and portions of 1MDB's 2014 financial statements.
Testifying in court on Friday, Arul Kanda, 46, confirmed that he attended the meetings on Feb 24 and 25, and that the second day was a "smaller, targeted" follow-up meeting. After the meetings, he said he met with Najib to discuss what had transpired.
He was then asked about the original audited report and he agreed with Sri Ram that if it were not for the meeting on Feb 24, the original report would have been tabled to the PAC.
Sri Ram: We have had evidence from witnesses from NAD [who have testified] that if not for the meeting on Feb 24, [the audit report] would have gone to the PAC. Do you agree with that evidence?
Arul Kanda: Yes.
Pre-PAC 'meetings'
Arul Kanda also testified that prior to his testimony to the PAC in December 2015, he had several meetings with then PAC chairman Datuk Hasan Arifin. These meetings were held in the residence of Datuk Seri Ahmad Farid Ridzuan, who was then special officer for Najib.
The initial meeting was also attended by Farid, Hasan and former 1MDB chief executive officer Datuk Shahrol Azral Ibrahim Halmi. Other PAC members later joined the subsequent meetings, said Arul Kanda, although he could not recall their specific names.
Arul Kanda said that he did not receive any instructions from anyone during these meetings. Rather, he would be the one sharing information on what he would present to the PAC about 1MDB's affairs.
Sri Ram: If you were going to give evidence, what was the purpose of having the meetings with Hasan Arifin?
Arul Kanda: Again, I too felt it was unusual to have the session but I was asked to do so and I did it.
Both Shahrol and former 1MDB chairman Tan Sri Mohd Bakke Salleh had corroborated that these meetings took place before they testified before the PAC.
'Based on 1MDB's record, Najib was not recipient of monies'
Arul Kanda also testified that he participated in road shows before the 14th general election in 2018 on Najib's instruction, as the latter wanted him to provide information on 1MDB revolving around the rationalisation plan and the US Department of Justice's investigation in 2016.
He said he presented a set of facts during the road show sessions and left it up to the audience to come up with their own conclusions.
He was also asked if he was convinced if Najib received any monies from 1MDB.
Sri Ram: In your own mind, were you convinced that Najib had not received any monies from 1MDB?
Arul Kanda: Based on 1MDB's company records of where monies were paid out to, Najib was not a recepient of those funds.
'Difficulties in getting documents from management'
During cross-examination by Najib's lawyer Tan Sri Muhammad Shafee Abdullah, Arul Kanda said he faced difficulties in getting documents from 1MDB's management.
When asked why, Arul Kanda speculated it could be due to the management not wanting the NAD to find out the full details of what had transpired in the company.
He also said he had suggested to Najib to rope in the NAD to conduct investigation into the company's transactions, due to Arul Kanda's concerns about various difficulties faced by the company.
Najib, according to Arul Kanda, told him his suggestion would be taken into consideration.
"Within a week or two, there was an announcement from a post-cabinet meeting that NAD would be asked to [conduct an audit]... I definitely made the suggestion but I was not sure if that was the reason as I was not part of the [decision-making] process," he said.
Arul Kanda also said the former premier was concerned over 1MDB's financial difficulties mainly because the company could not finance its loans.
The trial before High Court Judge Justice Mohamed Zaini Mazlan will continue on July 4 with the continued cross-examination of Arul Kanda.
Read also:
Arul Kanda can testify as prosecution witness in 1MDB audit tampering trial, rules High Court
Lawyer: Arul Kanda still co-accused in 1MDB audit tapering trial, should have never been charged
Arul Kanda will stand by his MACC witness testimony, says lawyer
1MDB audit report tampering trial: Prosecution applies to call Arul Kanda as witness to testify against Najib
Surin Murugiah & Tan Choe Choe