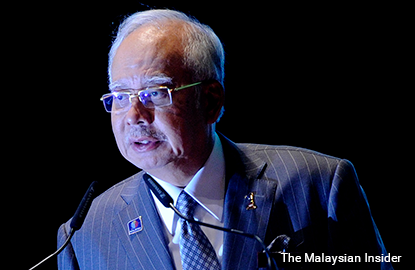 KUALA LUMPUR (Jan 14): Prime Minister Datuk Seri Najib Razak choked back tears as he paid tribute to his late father Tun Abdul Razak Hussein, saying that he was proud to be the son of Malaysia's second prime minister.
"Today, 40 years after his passing, I stand before you and say that I am proud to be his son, and that every day, I work to live up to that lineage.
"He is an example for me and an inspiration to all Malaysians," Najib said, as he spoke at a seminar to commemorate the 40th anniversary of Razak's death in Kuala Lumpur today.
In his speech, Najib outlined many of Razak's achievements, which included steering the country out of the chaos of May 13 1969 racial riots, and restructuring society through the New Economic Policy (NEP).
Najib also said that his father was a great democrat, going by how he quickly wanted to return the country to parliamentary rule, after governing it through the National Operations Council (NOC).
The NOC was instituted after the suspension of Parliament following the May 13 riots, which engulfed Kuala Lumpur.
"Tun Razak was a great democrat. He never wanted to use the powers he wielded. In fact, he seemed fearful of them and as soon as he could he sought to relinquish them."
After peace returned to the country in 1971, Razak re-established parliamentary rule, Najib said.
"That saved Malaysia and it saved Malaysian democracy from the fate that many other developing countries endured."
He said the affirmative action policies Razak introduced through the NEP would even live on at the international stage in the Trans-Pacific Partnership Agreement (TPPA).
This was since the TPPA, a United States-driven trade pact, has allowed Malaysia to continue giving preferential treatment to bumiputera companies after it comes into force.
"We argued for its inclusion in the TPPA and this was accepted, a significant achievement. We have joined this agreement on our terms and with affirmative action policies enshrined in an international treaty," said Najib.