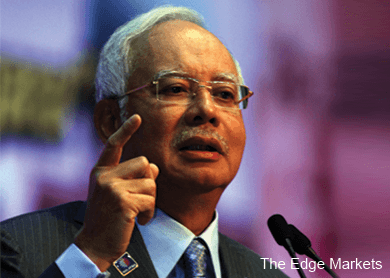 KUALA LUMPUR (March 2): Prime Minister Datuk Seri Najib Razak cannot disassociate himself from 1Malaysia Development Berhad (1MDB) and its financial scandals, DAP MP Tony Pua said today.
He said that if the documents and email communications between businessman Low Taek Jho or Jho Low and his cohorts, exposed by whistleblower site Sarawak Report, were genuine, Putrajaya must answer for the abuse of power in siphoning money from the wholly-owned Ministry of Finance subsidiary.
"Under such circumstances, Datuk Seri Najib Razak, who is also the Chairman of the 1MDB Advisory Board must be held ultimately responsible because '1MDB' was his baby project from the very start.
"The prime minister certainly cannot disclaim responsibility by claiming that he 'was not involved in the day-to-day operations of 1MDB'," said Pua in a statement today.
The Petaling Jaya Utara MP was referring to Sarawak Report's claims that the US$700 million (RM2.5 billion) loan 1MDB repaid to PetroSaudi International (PetroSaudi) in 2009 had been channelled to a company allegedly controlled by Low.
Citing documents and email correspondence, Sarawak Report said Low had orchestrated the entire joint venture between 1MDB and PetroSaudi in 2009.
In a response to The Sunday Times, which had also published the story, the Malaysian government said Najib was not involved in the day-to-day operations of 1MDB, which it said is "run by a professional and experienced team?".
"Instead of confirming or denying the veracity of the documents and emails published, and the information contained in them, it appears that Datuk Seri Najib Razak is more concerned about distancing his ties to the now scandalous company," said Pua.
He said the government, in its response to The Sunday Times, even attempted to negatively taint the whistleblowers' report by stating that "views expressed by certain quarters concerning 1MDB should be examined in light of political motivation".
"The prime minister, who also happens to be the finance minister must realise that whether there was 'political motivation' or otherwise is irrelevant to the matter at hand," said Pua.
"I, for example, would seek to expose all corrupt activities of the ruling government, to remove them during the next general elections.  What is more important is whether the documents and email communications are genuine."
He said even if Najib did not play a direct role in 1MDB, the prime minister was guilty of gross negligence and incompetence in managing 1MDB under his ministry.
Najib was guilty because he and his colleagues in the Cabinet constantly defended 1MDB despite the irregularities raised by the media and the opposition, said Pua.
"They would shamelessly boast that 1MDB is in 'sound financial health', 'backed by quality assets' and managed by 'a professional and experienced team'.
"All that flies in the face of the facts we have today – that 1MDB could not repay a RM2 billion without begging for a loan from local billionaire, Ananda Krishnan, that 1MDB had to request for a RM3 billion emergency bailout fund from the Cabinet and that 1MDB has been unable to show proof that it had cash of US$1.1 billion (RM3.9 billion) parked anonymously overseas after disposing of its Cayman investments.
"How can the finance and prime minister allow the 1MDB shenanigans to sink to the current level of RM42 billion in debt while becoming practically insolvent?"
Pua said DAP fully supported the call by the party's parliamentary leader,? Lim Kit Siang, for Najib to set up a Royal Commission of Inquiry into the RM42 billion "mother of the mother of the mother of all scandals".
He said this would allow Malaysians to discover the complete truth, while the crooks behind and abetting the scams will be punished and put behind bars.
Yesterday, PetroSaudi denied reports that funds from 1MDB went to third parties, adding that its subsidiaries had received the entire cash for a joint-venture company, while 1MDB confirmed that it received back its investment in full from the deal besides making a profit.
The privately owned oil exploration and production company in a statement said that upon 1MDB's exit, PetroSaudi had paid the Malaysian strategic investment fund in full and both parties no longer had any financial or legal relations.
"We wish to state categorically that all funds from 1MDB went to PetroSaudi owned entities, any other inference is false," said the company in a statement.
PetroSaudi said that it was seeking legal advice on the appropriate course of action to take against "these malicious and slanderous allegations."
It said that its subsidiary received the full US$700 million. It added that the company paid US$2.3 billion to 1MDB and the Malaysian company exited the investment.
1MDB's audited accounts as at March 31, 2014, shows that the company received the US$2.3 billion and made a profit of US$488 million.
In a separate statement, 1MDB president and group executive director Arul Kanda Kandasamy also said the firm "notes with concern" the claims reported about its business arrangements with PetroSaudi.
"1MDB exited the relationship in 2012, and received back its investment in full, with a profit of US$488 million.
"These facts, and all details related to this transaction, may be verified by reference to our audited accounts, which are publicly available on the Suruhanjaya Syarikat Malaysia website," he said.
Arul Kanda on February 21 also said the same, in response to earlier criticism about 1MDB's joint venture with PetroSaudi.