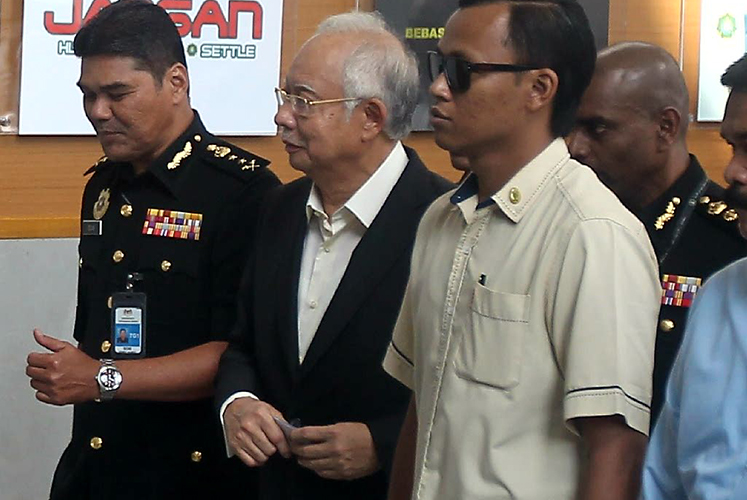 (Oct 11): Former Prime Minister Datuk Seri Najib Razak denied all charges of money laundering, abuse of power and criminal breach of trust and appeared unrepentant about his reign of power in an interview with Financial Times.
When he was asked about 1MDB and the piles of cash and luxury designer items including Hermes handbags seized from condos and homes linked to him by police, he conceded that nearly US$700 million had been deposited into his personal bank account — but the money was not from 1MDB and not for his own use.
According to Financial Times, Najib insisted that the money was for politics and came from the Saudi government.
"I wouldn't describe it as a slush fund, but I would describe it as a donation to ensure the government of that day continued to be in office," Najib said in the interview held in a Kuala Lumpur hotel.
Referring to the 2013 election that returned him to power, he added: "I received a certain amount of US$681m but four months after the election, before the 1MDB issue which came so much to the public attention I returned US$620m back to the source and we have documents, wire transfers to prove this."
He told Financial Times he had needed a "contingency fund" to stop Government MPs from defecting to the Opposition.
"The money was basically from the Saudis and it was used for election purposes. What happened outside, in terms of the other monies, will be subject to further investigation. I am on record to say that I don't condone any wrongdoings. I had no intention of spending it in a lavish way."
The main regret expressed by Najib was that he failed to appreciate the extent of disaffection among Malaysians. "I was shocked. We didn't expect such a catastrophic result," he said.
Asked about the RM116.7 milion in 26 currencies seized after the May 9 election, Najib said he had stored it in strongrooms for Umno and simply continued the electoral practices of previous Umno Prime Ministers such as Tun Mahathir, the current Prime Minister of the Pakatan Harapan Government.
"What I did was nothing different from what my predecessors did because, as I said, election funding is not regulated," said Najib.
However, he agreed with Financial Times that the seized jewellery and the 567 handbags — some made by Hermès, Prada and Chanel — would not be much good for elections. He said that the luxury items were largely gifts from rulers in the Middle East and Brunei or from his Kazakh in-laws, following his daughter's marriage to Daniyar Nazarbayev, nephew of Kazakh dictator Nursultan Nazarbayev.
Najib said he was looking forward to clearing his name in a trial early next year and would welcome international observers. "I have to face trial," he said. "In a way, I welcome it because it will give me an opportunity to clear my name. Nobody wants to go to jail, obviously."