This article first appeared in The Edge Financial Daily, on November 23, 2018.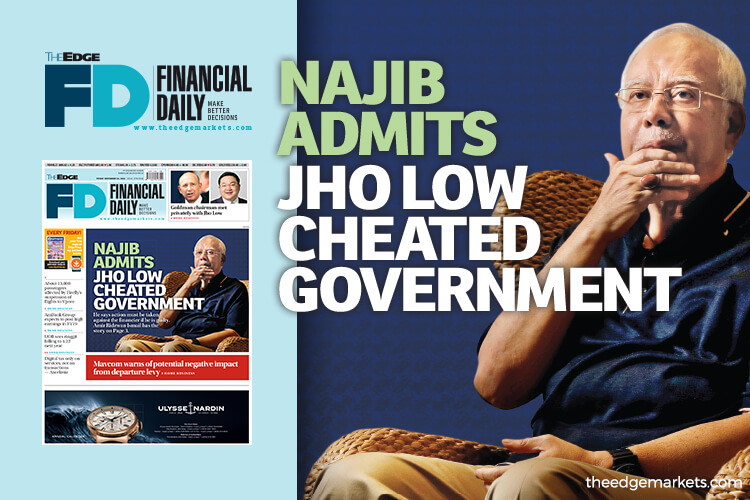 KUALA LUMPUR: Former prime minister Datuk Seri Najib Razak admitted in an interview yesterday that the Malaysian government has been cheated by Low Taek Jho, also known as Jho Low, in the 1Malaysia Development Bhd (1MDB) scandal.
"If we take into account what we know today, then that's the truth" he said in reply to a question by Karangkraf editorial adviser Datuk Abd Jalil Ali in the live interview on Sinar Harian's Facebook page.
Najib said action must be taken against Jho Low if he is found guilty of criminal breach of trust. "If he had committed an offence, or a criminal breach of trust, then he has broken the law and so action must be taken against him," the former premier said.
Najib accused Goldman Sachs Group of failing to discharge its responsibility in safeguarding Malaysia's interests with regard to 1MDB's investments.
"We had appointed lawyers, auditors and Goldman Sachs, which is a leading global investment bank. The bank's responsibility is to safeguard Malaysia's interests. If they failed to safeguard Malaysia's interests, how should I know?
"They should have informed me if something is not right," he said, adding that the bank, auditors and lawyers had all failed to play their roles.
On his relationship with Jho Low, Najib said it was on a professional basis, stressing that he did not know the Penang-born financier personally.
"What I know about Jho Low is that he started with the Terengganu Investment Authority as a special adviser upon being invited to serve them.
"Prior to 1MDB, he had a close relationship with Middle Eastern countries, especially the UAE (United Arab Emirates) and Saudi Arabia. He managed to bring in investments with the cooperation of related parties. For instance, the Abu Dhabi Commercial Bank investment in RHB Bank," he said.
"I looked at him from that point of view ... if we could use his relationship with those countries, we will be able to enhance our diplomatic and economic cooperation.
The Pekan lawmaker claimed that he was not aware of Jho Low's private lifestyle.
"I didn't know what he did privately. I only came to know about it later. If they say he has a superyacht, a jet ... or if he likes to party, I have nothing to do with that. I absolutely did not know what we all know now," he said.
On Sept 20, Najib pleaded not guilty to 21 counts of money laundering and four counts of abuse of power involving the 1MDB fund of RM2.3 billion.