This article first appeared in Forum, The Edge Malaysia Weekly, on December 31, 2018 - January 06, 2019.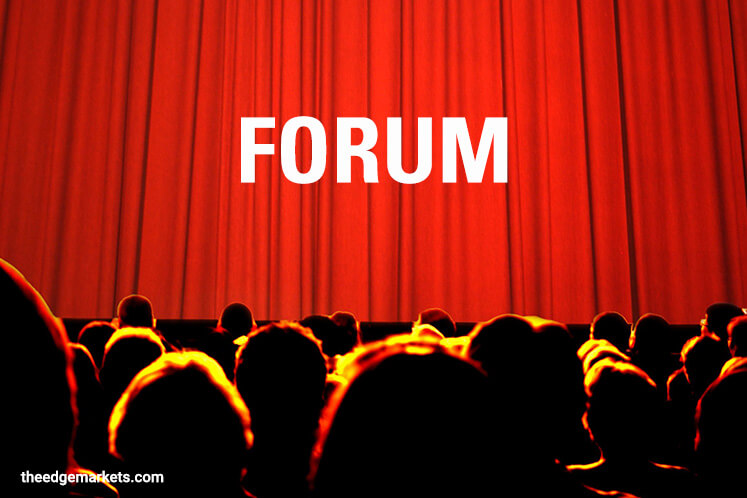 Slightly more than two years ago, I was a panellist in a discussion on integrity organised by the Employees Provident Fund (EPF). It revolved around the importance of integrity in life and in an organisation's corporate culture.
My participation seemed awkward at first. This was still Old Malaysia, where dissent was not tolerated, and it was just slightly more than a year following the suspension of The Edge, ironically for trying to tell its readers the goings-on at 1Malaysia Development Bhd (1MDB) and for stressing the need to get rid of corruption and uphold integrity and governance in corporate Malaysia. The Edge was then seen as an anti-establishment media organisation, but maybe the EPF wanted someone with a contrarian view.
Another panellist was government apologist of the day and staunch supporter of ex-prime minister Datuk Seri Najib Razak — Ahiruddin Attan aka Rocky Bru, whom I refer to simply as Din.
Din was a college mate of mine and we both spent many years as journalists with The Business Times, which was part of The New Straits Times Press (M) Bhd and the country's first and, at that time, only financial daily. We might differ in our political leanings but remain good friends. Our favourite band is The Beatles and we have every single one of the Fab Four's albums. (I wonder if Din bought the White Album 50th anniversary edition, which was released in November).
The third speaker was well-respected academician, writer, national laureate and wise old man, Professor Dr Muhammad Salleh. He has a poetic way with words and wrote these lines: "Ask for a leaf, and a leaf I'd give you; In the leaf the veins concourse; Ask for a pantun and a pantun I'd give you; In the pantun there is a discourse."
During our discourse, the moderator reminded us while we were free to present our views, it would be preferable to avoid contentious issues like 1MDB. This was October 2016. after all. But the discussion veered towards that direction when Din brought up the subject. Naturally, I had to defend The Edge's position, and today, we have been vindicated for every story we have written on the issue.
My definition of integrity, I told the participants, is not the typical dictionary meaning of the word, such as honesty, truth or uprightness, but rather, a simple understanding of it as "doing what is right, and when we know that it is the right thing to do, then we must also be brave enough to say 'no'". And if everyone, from the janitor and tea lady to the CFO and CEO practised this, then the organisation is in safe hand.
It should have been management philosophy for dummies but in Old Malaysia, it was easier said than done. As the old Umno-led Barisan Nasional fell this year, we now know for sure that there were many who did not do what is right, let alone be brave enough to say "no" to their superiors. They included secretaries-general of ministries, the chief secretary to the government, politicians and ultimately, the man running the country — the prime minister.
In cases like 1MDB, FELDA, Tabung Haji, Mara and the many inflated construction and infrastructure jobs, some of which were unnecessary, the chairman, board members, CEO, CFO, senior management, internal auditor and external auditors, including the multinationals, failed us Malaysians big time. The janitor and the tea lady have bigger hearts and more honour than some of these highly paid professionals.
To give the younger audience at the panel discussion a better perspective, I related how the government, after the racial riots on May 13, 1969, decided to be an active participant in managing the economy so that it could restructure society and Corporate Malaysia in a more equitable manner.
The government then created off-budget agencies and non-financial public enterprises — the precursor to today's government-linked companies. To manage these organisations, many of which have a strong social responsibility component, the government seconded some of the best professionals in the civil service. Although they had bigger responsibilities, these professionals were not paid private sector salaries, but paycheques that were just a bit more than they had been receiving.
They were the right choice then, especially for a nation that was facing a dearth of talent, notably among bumiputeras, to manage government companies and organisations. But these civil servants knew and believed in the national agenda. They served with integrity. That was how Petronas was started way back in 1974, and steadily bloomed into a Fortune 500 company and the oil and gas multinational it is today.
In the meantime, to fill the managerial gap, the government spent billions of ringgit to send the best students to top universities in the UK, Australia, New Zealand, the US and Japan so that they would one day take over from the civil servants. Many of these government scholars were allowed to work and gain experience in Wall Street and City of London before they were recalled to serve the nation.
And when these professionals came back in droves to serve Corporate Malaysia in the 1980s, 1990s and 2000s, they were not only well qualified but were paid private sector salaries, a whole lot more than the civil servants they replaced. Today, many of the CEOs and CFOs earn more than RM100,000 a month, with a few taking home as much as RM500,000.
However, I pointed out, they may be qualified and well-paid but some of them can't even do a simple thing that an organisation requires — to have impeccable integrity, be brave enough to do what is right and say "no" to what is wrong.
I would rather have someone with an SPM qualification, who did not go to university but can say, "Sir, this is not right lah". We don't need a spineless manager with an MBA to run a company.
New Malaysia must not fall into the same trap. New Malaysia should allow healthy discourse to prevail. New Corporate Malaysia and new politics must do what is right and have the ability to say "no" when things are wrong.
Seven months after the new government took over, there are already indications that old habits die hard. We must not let this nation backslide into the wrong moral path once more.
---
Azam Aris is editor-in-chief of The Edge
Save by subscribing to us for your print and/or digital copy.
P/S: The Edge is also available on Apple's AppStore and Androids' Google Play.