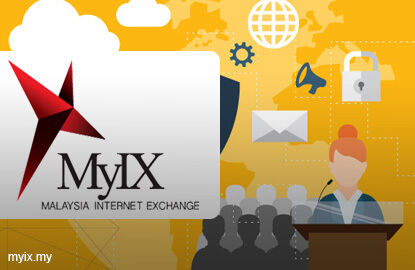 KUALA LUMPUR (March 30): Malaysia Internet Exchange (MyIX), which is operated by the 'Persatuan Pengendali Internet Malaysia' — an initiative under the Malaysian Communications and Multimedia Commission (MCMC), has unanimously agreed to invite more foreign players to join the country's Internet exchange.
In a statement today, MyIX said the move is in direct effort to tap more international content brands and regional Internet service providers to peer directly with MyIX.
It said this will bring about significant benefits for local members as well as ordinary Malaysians.
At present, several foreign companies have already peered with MyIX, namely S.I. Group Ltd (Cambodia), TATA Communications (Hong Kong) and ViewQuest Pte Ltd (Singapore).
MyIX said that with the local market saturated, the exchange aims to increase its foreign membership in 2017.
As at March 14, 2017, it said, total membership comprised 39 ordinary members, 33 associate members and 16 peering partners for a total membership of 88.
MyIX chairman Chiew Kok Hin said the move to admit foreign members will accelerate MyIX's development into a world-class Internet eco-system and Internet peering hub.
"MyIX will continue to drive its local agenda, but given that almost all local Internet Service Providers (ISPs), content providers and other players have peered with us, it is timely to now woo foreign companies.
"This will generate more peering activity to benefit members and the local Internet eco-system, while serving as a catalyst for MyIX to achieve world-class benchmarks and standards. Importantly, we will be taking a major step towards becoming a regional Internet exchange," said Chiew.
In tandem with the decision to increase foreign membership, MyIX also announced a reduction in port fees.
It said the reduction is across the board for all port speeds ranging from 100Mbps to 10Gbps and will save members some 25% to 47% in charges — encouraging them to upgrade their ports to facilitate faster speeds for consumers.
"MyIX remains committed to bringing down port fees for members' benefit, with savings hopefully passed down to consumers. The reduction also enhances our overall value proposition to international players," highlighted Chiew.
MyIX said: "Going forward, in encouraging members to upgrade to faster speeds, only port speeds of 1Gbps and above will be available — effective 2018 as 100Mbps and 200Mbps ports will be discontinued and to allow for a greater number of higher speed ports."