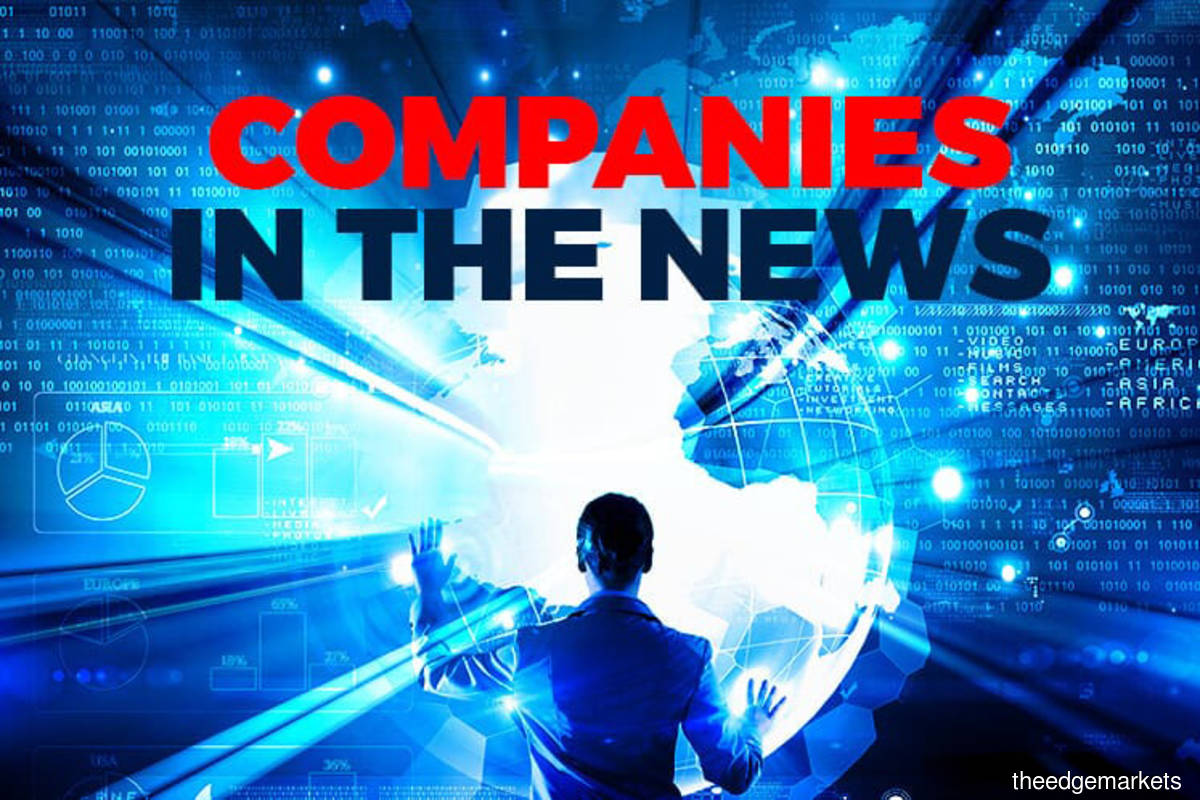 KUALA LUMPUR (Feb 4): Based on corporate announcements and news flow today, companies that may be in focus tomorrow (Friday, Feb 5) include: My EG Services Bhd (MyEG), Solarvest Holdings Bhd, Green Packet Bhd, GHL System Bhd, Solution Group Bhd, Tropicana Corp Bhd, Reservoir Link Energy Bhd, CIMB Group Holdings Bhd and Ranhill Utilities Bhd.
My EG Services Bhd (MyEG) said it will introduce an at-home saliva-based Covid-19 testing service in the Philippines this month — the first of its kind in the Philippines market. The group called the Covid-19 test a safe, fast, convenient and non-invasive method that can greatly enhance accurate detection and subsequent early intervention.
Solarvest Holdings Bhd plans to buy power inverters from Huawei Technologies (M) Sdn Bhd and Sungrow Power Supply Co Ltd. The group today signed an MoU with Huawei and Sungrow for the planned supply of the estimated 100 megawatt inverters to Solarvest.
Green Packet Bhd's shareholders have approved the acquisition of Singapore-based electronic know-your-customer (e-KYC) firm Xendity Pte Ltd for US$10 million (RM40.59 million).
GHL System Bhd said the group is currently investigating e-pay data breach allegations. The group said an unconfirmed report has been circulating in the media, claiming e-pay data has been compromised and that a threat actor is selling customers' personal identifiable information (PII) data and credentials related to their website.
Solution Group Bhd has signed a term sheet agreement with the government to supply 3.5 million doses of the Recombinant Ad5-nCoV vaccine for Covid-19, jointly developed by China's CanSino Biologics Inc and Beijing Institute of Biotechnology under the Academy of Military Medical Sciences.
Tropicana Corp Bhd has promoted Lee Han Ming as group chief executive officer with effect from today. Lee joined Tropicana in 2018 as the group managing director of the Project Division. Lee will join group managing director Dion Tan in the senior leadership team.
Reservoir Link Energy Bhd has proposed a bonus issue of up to 71.25 million warrants on the basis of one warrant for every four existing shares, of which the entitlement date and exercise price of the warrants will be determined later. The bonus issue is not expected to raise immediate funds for the group, as the warrants will be issued at no cost to the entitled shareholders.
CIMB Group Holdings Bhd announced the completion of the sale of its 100% equity interest in CIMB Southeast Asia Research Sdn Bhd (CARI) to the latter's chairman Tan Sri Dr Mohd Munir Abdul Majid. Mohd Munir said he intends to continue with the think tank's research and advocacy work. 
Ranhill Utilities Bhd has been awarded a contract for pipe works in Muar, Johor, worth RM7.54 million. The job entails the supply and installation of 5.3 kilometres of main rising pipe. The contract is part of the infrastructure works being implemented for the development of Muar Timber Industrial Park.