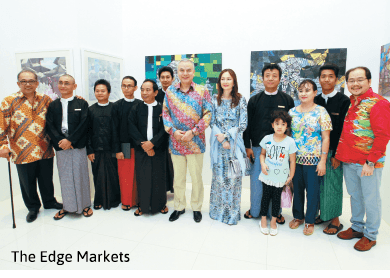 KUALA LUMPUR: Myanmar's art is entering a new phase with the opening up of the country to the outside world, Sultan of Perak Sultan Nazrin Muizzuddin Shah said at the opening of the Masters of Myanmar Art exhibition yesterday.
Officiating at the launch of the month-long exhibition by The Edge Galerie, Sultan Nazrin, who is an ardent supporter of the arts, gave a heartfelt speech about the country's creative talent.
"For decades, sanctions kept tourism to a trickle, and Myanmar was run on cash, not credit," Sultan Nazrin said.
"Expensive paintings rarely sold because the few tourists who visited the country never carried much cash — that kept a lid on prices. But as Myanmar opened up and when sanctions were removed, its art emerged from the shadows and today, gallery owners from across the world are already scouting for talent," he said.
"Art stimulates our senses and encourages us to think and reflect beyond what we see in front of us. Each country's art invariably features distinct characteristics that tell us something about the hopes and aspirations of the nation. Great art reflects and reveals elements that transcend time, space and physical boundaries," he said.
Sultan Nazrin's remarks captured the mood of Myanmar, which has infamously been associated with military coups, the struggle of Aung San Suu Kyi, and the frequent clashes between the Buddhist majority and the Muslim Rohingyas. Rarely has Myanmar appeared in news headlines in a positive light. Nevertheless, the political and social turmoil that the country has endured has not dampened its popular and performance arts, which in recent years has gained a new energy.
Largely cut off from the rest of the world for decades, Myanmar's contemporary art was left to develop on its own, free from outside influence. Artists studied Western art on their own, and students learnt from the pioneer artists through apprenticeship rather than at art school.
Recognising the potential in Myanmar's art, The Edge Galerie is featuring a collection from 11 artists in the exhibition. The  Myanmar artists are Zaw Min, Aung Thin Oo, Khin Zaw Latt, Khin Maung Zaw, Moe Nyo, Mon Thet, Pann Kyi, Soe Soe (Laputta), Tin Win, Tin Htay Aung and Zay Yar Aye.
Also present at the opening was ECM Libra Group chief executive officer and chairman Datuk Seri Kalimullah Hassan, who has been an ardent fan of Myanmar's art since he paid a visit to the country. Kalimullah initiated this exhibition of Myanmar art which is hosted by The Edge Gallerie.
The Edge Media Group executive chairman Datuk Tong Kooi Ong in his opening remarks dwelt on the involvement of The Edge in the arts to reflect its belief in social and economic inclusion.
"Art communicates across barriers of language, class and culture. Myanmar has one of the oldest and richest civilisations in Southeast Asia — richness of culture that is reflected in its art," Tong said.
The exhibition showcases 45 works by leading Myanmar artists that highlight the rich cultural and artistic history of Myanmar, ranging from impressionist paintings to photorealistic art. Traditional and modern influences are fused with the strong Myanmar cultural identity to create an eclectic selection of artworks.
Artists such as Paan Kyi are inspired by nature, and he is best known for his signature motif of bamboo forests, while Khin Zaw Latt's art reflects ordinary everyday scenes. Moe Nyo and Zay Yar Aye, on the other hand, capture traditional Myanmar architecture intertwined with scenes from nature such as trees and flowers.
The show will run from today to May 22 at The Edge Galerie, G5-G6 Mont Kiara Meridin 19, Jalan Duta Kiara, Mont Kiara, Kuala Lumpur. For inquiries, email [email protected], visit www.theedgegalerie.com or call (03) 7721 8188. Opening hours are Tuesdays to Sundays from 11am to 7pm.
This article first appeared in The Edge Financial Daily, on April 22, 2015.