This article first appeared in Forum, The Edge Malaysia Weekly, on November 26, 2018 - December 02, 2018.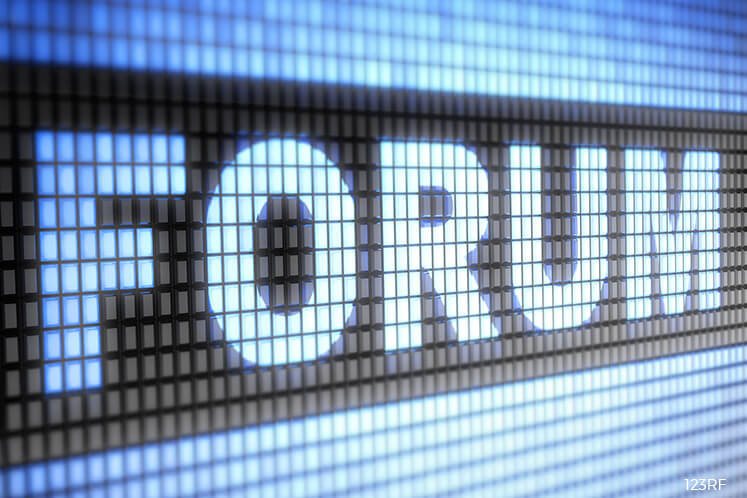 I read with great interest the article by Azam Aris titled "Umno can die but Utusan must live on" (Issue1241, Nov 19). After all, the two organisations have dominated the consciousness of the Malays and the nation for so long, and continue to do so.
I generally agree with Azam on most of the matters he raised but while I welcome Utusan Malaysia's sudden change of heart in its editorial policy and direction, I remain guarded about its ability to sustain the change and its capacity to remain commercially viable in the current challenging business environment.
On Umno, Azam takes the position that it could be allowed to die. I perfectly understand his nonchalant and indifferent attitude to Umno as that is very much in line with the general sentiment of people on the ground.
Since its shocking loss at the 14th general election, Umno has been struggling to come to terms with the grim reality of losing the seat of government and the power that comes with that. It has to wake up from the nightmare and deal with an entirely new world, a new political equation and narrative now.
Datuk Seri Najib Razak has already exited as its president to assume responsibility for its debacle in GE14. The leadership of Umno has now passed on to its other senior leaders, namely Datuk Seri Zahid Hamidi, Datuk Seri Mohamad Hasan and a few others who were previously with Najib in the old government. Has the new leadership succeeded in steadying the ship, motivating and imbuing the members with a new sense of purpose and mission since then? Well, developments at the party seem to suggest otherwise with many political observers suggesting that the Umno ship is sinking from leakages and mutiny within.
There has been an exodus of members of parliament (MPs) from Umno over the last few months — Mas Ermieyati (Masjid Tanah), Syed Abu Hussin (Bukit Gantang), Noor Azmi (Bagan Serai), Mustapa Mohamed (Jeli), Anifah Aman (Kimanis) and Rozman Isli (Labuan) — and many more are expected to abandon ship. Mustapa has joined Bersatu.
Umno, which had 52 MPs after GE14, is now left with 46. Rumours are rife that at least 40 more are set to leave Umno to join Bersatu while the rest (except for the top leaders who are deemed undesirable and persona non grata by Pakatan Harapan) are said to be joining Parti Keadilan Rakyat (PKR). If that happens, what will be left of Umno? A ship destined to sink to the bottom of the sea and consigned to oblivion?
Not surprisingly, there has been talk of late to dissolve Umno. Apparently, Prime Minister Tun Dr Mahathir Mohamad had told Zahid that the dissolution of the party appeared inevitable given its present state of affairs. It is also under the real threat of a forced dissolution by the Registrar of Societies on account of its failure to convene its annual general meeting within the permitted time.
Meanwhile, the party's members seem to have lost their sense of purpose and direction. They were so used to patronage and money politics that once deprived of their regular sustenance, they find it difficult to survive now.
To make matters worse, not only are they seeing their local warlords and leaders in total disarray and scrambling for safety but their top leadership too appears clueless about charting a new political direction.
Plans for a tie-up with PAS remain vague and raise more questions than answers. The conflicting views and stands taken by the top leaders on such a cooperation as well as on Mahathir and Bersatu, Datuk Seri Anwar Ibrahim and PKR, Najib and Zahid, 1MDB and a host of other big issues only serve to confuse Umno members on the ground.
New president Zahid is walking a tightrope with 45 criminal charges hanging over his head. He will have his hands full for the next one or two years dealing with the cases but despite mounting pressure from within on him to go on leave pending the disposal of the cases, he is adamantly staying put as president. Deputy president Mohamad is also in a precarious position as the court has nullified his GE14 victory in the state seat of Rantau on account of procedural irregularities. There is no guarantee that he will win the re-election.
Nevertheless, I am hopeful that Umno will find a way to reinvent itself and continue to remain relevant to Malaysia Baru. Perhaps the best way forward for the party is to collaborate with PAS.
I am also fascinated by the poem penned by National Laureate Usman Awang titled Utusan Melayu, which Azam reproduced at the end of his article. The poem succinctly encapsulates what Utusan used to be at one time.
What has become of it could perhaps be surmised by the following poem crafted by me, but which in terms of literary skill is a pale shadow of Usman's fine work.
"Utusan O' Utusan Malaysia
We know your rich legacy
Your struggles and history
From humble beginnings you started
But idealism kept you going
To become the voice of the nation
And conscience of the Malays
We gave you support
And our undivided loyalty
Through difficult and hard times
And in good times too
Together and hand in hand
We navigated the course of history
And the passage of nation building
Alas, over time
You compromised your integrity
You lost your soul
Sold it to the devils
And became subservient
To your political masters
Truth no longer mattered to you
Integrity was no longer of value
Principles became of little consequence
Idealism an inspiration no more
No longer were you serving
A noble cause
Or cause of the nation and people
What mattered to you
Were your political masters
Whom you served
On bended knees
With timid and slavish mind
To make them happy
By hook or crook
No matter what!
And before long
You became an accomplice
And a partner in crime
To suppress, condone
Twist and turn
Acts of crime
And malfeasance
Committed and perpetrated
By your political masters
With such dishonesty
And acts of betrayal
You lost our trust in you
No longer could we look up to you
To protect the nation
And our interests
With great dismay
And much disappointment
We left you
Yes, in droves we did
To find new avenues
And seek new directions
Now under Malaysia Baru
With your political masters
Safely ousted from seats
of power and government
You want to win us back
To restore our faith
And confidence
With new narratives
And with idealism
Like days of old
But it is not going to be that easy
To stem the rage
When love had turned to hate
With trust and faith destroyed
We need much more than just a restatement
Of good intents and renewed purposes
After all, a swallow
Does not a summer make
Prove to us
That you deserve our trust and faith
And a second chance!
Utusan O' Utusan
Only time will tell!"
---
Wan Haron Wan Hassan is a senior practising lawyer and is active in civil society movements. He is also a former treasurer of the Umno Kota Baru division (2004-2008).
Save by subscribing to us for your print and/or digital copy.
P/S: The Edge is also available on Apple's AppStore and Androids' Google Play.