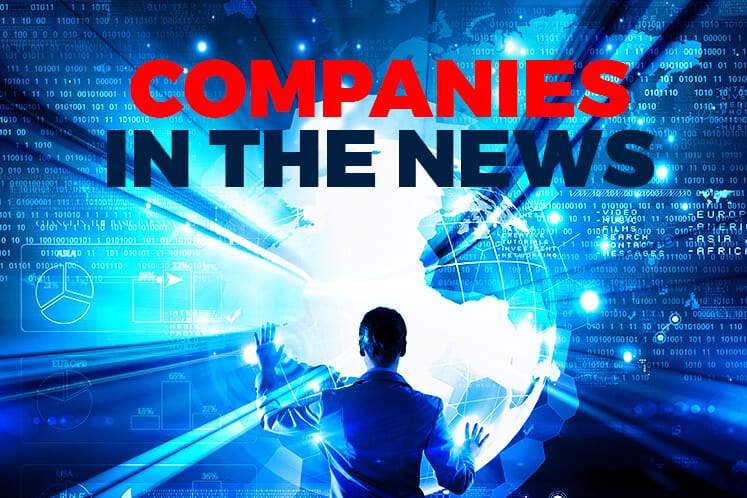 KUALA LUMPUR (March 16): Based on corporate announcements and news flow today, companies that may be in focus on Monday (March 19) may include the following: MWE Holdings Bhd, Berjaya Sports Toto Bhd, Wah Seong Corp Bhd, Vizione Holdings Bhd, Priceworth International Bhd, PRG Holdings Bhd, Bina Darulaman Bhd and Golden Land Bhd.
MWE Holdings Bhd received a privatisation offer of RM1.75 a share from tycoon Tan Sri Surin Upatkoon, via his company Pinjaya Sdn Bhd. Pinjaya proposes to undertake the privatisation via a selective capital reduction and repayment (SCR) exercise.
Pinjaya and parties acting in concert in the offer already owns an estimated 32.62% stake in MWE comprising 75.1 million shares. Surin is the ultimate offeror under the SCR.
Berjaya Sports Toto Bhd's (Btoto) net profit rose 23.6% to RM59.23 million in the third financial quarter ended Jan 31, 2018 (3QFY18) from RM47.94 million a year ago, on improved performance achieved by Sports Toto Malaysia Sdn Bhd (Sports Toto) and H.R. Owen Plc.
Quarterly revenue grew 2.7% year-on-year to RM1.4 billion from RM1.37 billion, mainly attributed to higher revenue reported by H.R. Owen. The group declared a third interim dividend of 4 sen per share totalling RM53.9 million in respect of FY18, payable on May 3.
For the cumulative nine months, BToto's net profit grew 15.7% to RM195.28 million from RM168.83 million a year ago, though revenue came in largely flat at RM4.26 billion.
Wah Seong Corp Bhd's indirect wholly-owned Wasco Engineering International Ltd has bagged a US$34.56 million (RM135.24 million) contract for the design and sale of gas compressor packages, and associated plant and site facilities in Iraq.
The contract, awarded by Basrah Gas Co, headquartered in Basra, Iraq, is expected to start this month and end by year-end.
Vizione Holdings Bhd announced today a share consolidation exercise which will see seven shares of the company consolidated into one share.
The construction group said the proposal — which is expected to be completed by the second quarter of this year — is aimed at fetching a higher trading price for its shares, and to attract more investors, research houses and fund managers.
Priceworth International Bhd has revised its proposed rights issue with bonus shares due to the new no-par-value regime under the Companies Act 2016.
The two-for-one rights issue will now consist of a single call of five sen per share, payable in cash, instead of a two-call exercise.The proposed bonus issue of one share for every two rights shares subscribed remains unchanged.
PRG Holdings Bhd's Hong Kong-listed manufacturing arm, Furniweb Holdings Ltd, reported a 28.6% y-o-y rise in net profit for the year ended Dec 31, 2017 (FY17) to RM8.57 million from RM6.67 million, mainly due to a gain on the disposal of a subsidiary.
Revenue grew 12.1% y-o-y to RM109.75 million from RM97.94 million, as sales volume grew at both its elastic yarn and webbing segments.
PRG booked in a gain on disposal of part of the group's interest in Furnitech Components (Vietnam) Co Ltd of RM6.8 million during the year, besides listing expenses of RM7.2 million.
Bina Darulaman Bhd has reactivated its executive committee (exco) to assist the management in day-to-day operations and other business dealings until a new group managing director is appointed, following the passing away of Datuk Izham Yussof on March 13.
The exco will be chaired by its non-independent and non-executive director Abdul Rahman Abdullah, while the other members are BDB Infra Sdn Bhd executive director Mohd Sobri Hussein and group financial officer Fakhruzi Ahmad.
With the activation of the exco, the formation of the business continuity management working committee (on March 14) is now dissolved.
Golden Land Bhd plans to acquire a third piece of land — measuring 1,625ha — in the Sandaran district in Indonesia's East Kalimantan province, via a 95%-indirectly owned unit.
Golden Land said the unit has inked an agreement with an Indonesian company to assist in obtaining the required documents — including the land use rights — and to help in resolving issues, claims, disputes, and clearing of the land, within 36 months from the signing date.