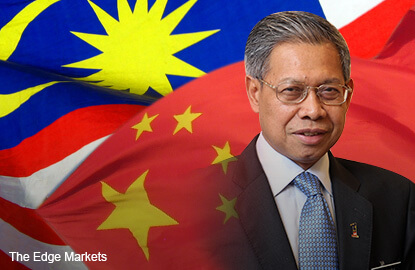 KUALA LUMPUR (Nov 10): Minister for International Trade and Industry Datuk Seri Mustapa Mohamed today explained in Parliament about the RM144 billion deal between Malaysia and China, upon Prime Minister Datuk Seri Najib Razak's official visit earlier this month.
During the Minister's answering session today, Mustapa explained deals entered between companies from both countries back then can be categoried in three components, namely investment, soft loan and collaboration.
"One of the agreements we entered into is the collaboration between Matrade (Malaysia External Trade Development Corp) and Alibaba Group Holding Ltd — this is important, because as of now, there are already 10,000 Malaysia SME (small and medium enterprises) listed on Alibaba's platform, which enables them to penetrate overseas market. This is collaboration, there is no investment value," he said.
Mustapa was responding to query posted by Langkawi member of Parliament Datuk Nawawi Ahmad, who requested the former to state the benefits that Malaysia can earn in terms of investment, trade and jobs following the RM144 billion deal.
"Secondly is investment, which involve Hebei Xinwuan Steel Group investing US$2 billion into a steel plant in Sarawak. Thirdly is the soft loan that includes East Coast Rail Line, which was about RM50 billion," he added.
Mustapa said the benefits from this rail project is to open up the less-advanced areas in the East coast region in terms of job opportunities and freight industry, given that a large part of the rail capacity is catered for freight usage.
Another project which Mustapa mentioned is the RM30 billion Melaka Gateway — a 1,366-acre mixed development project scattered on four islands at Straits of Malacca.
However, he did not mention its financing structure. 
Melaka Gateway comprises three reclaimed islands and one natural island.
In early September this year, Malaysian Investment Development Authority (MIDA) announced that the project's master developer, KAJ Development Sdn Bhd, has tied-up with China state-owned Powerchina International Group Ltd to construct the project.
Upon signing a memorandum of agreement, KAJ — which was incorporated on Jan 5, 2007 — will partner with Powerchina for the development and construction of three islands which have been earmarked for various tourism, commercial, property and maritime developments.
MIDA said KAJ will remain as the master developer and project partner with Powerchina International on all matters leading to the investment, development and construction of Melaka Gateway.
The fourth island at Melaka Gateway, which has been designated as a container and bulk terminal, shipbuilding & ship repair services — a maritime industrial park, will be developed by KAJ together with Guangdong, China and Chief Minister Incorporated (CMI).
Upon completion in 2025, the project is expected to draw in an estimated 2.5 million visitors per annum to Melaka Gateway, and the creation of 40,000 to 45,000 job opportunities.
Back then, before Prime Minister Datuk Seri Najib Razak visited China, MIDA said Powerchina International had already deployed their technical teams to review the current technical data, carry out initial feasibility studies, as well as consulting and design works at Melaka Gateway.