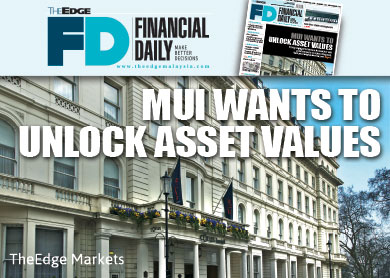 KUALA LUMPUR: Malayan United Industries Bhd (MUI) has announced that it is engaged in "serious discussions" with a potential party to explore possibilities of disposing of certain "substantial assets" to unlock their values.
In a filing with Bursa Malaysia, MUI said it will make a full disclosure of the transaction when the discussions are completed and an agreement entered into. However, the diversified group reminds shareholders that there is no certainty on the outcome of the discussions. 
MUI is the flagship company of tycoon Tan Sri Khoo Kay Peng, who holds a 47.67% stake.
The assets sale, should it materialise, would be a catalyst for MUI's share price, which has been trading mostly below 30 sen in the past five years. MUI shares were last traded at 23 sen before the suspension of  trading for four days. The counter will resume trading today.  
MUI's latest annual report shows that its properties in Malaysia, Australia, the United States, Hong Kong, Singapore and the United Kingdom collectively held a net book value of RM827.3 million as at December 2013.
It is believed that MUI's chain of hotels in the UK have not been revalued for more than a decade and could now be worth more than the current book value.
Its business segments include the retail division, including a 35% stake in London-listed Laura Ashley Holdings plc and Metrojaya Bhd, the food, property as well as financial services divisions.  
In fact, MUI has been disposing of its assets on a smaller piece-meal basis to help "support" its bottom-line performance. 
Last year, MUI disposed of a piece of leasehold land together with a warehouse and office located at Woodlands Link, Singapore for S$15.4 million (approximately RM38.2 million), raking in a gain on disposal of RM21.5 million.
Its crown jewel is said to be the freehold Corus Hotel Hyde Park in London. The Edge Financial Daily reported two months ago that MUI could be looking to sell this hotel for £200 million (about RM1.05 billion) and has appointed Debutesq Group, a luxury real estate firm, to do so.
However, the group has a debt-laden balance sheet with total borrowings of RM863.41 million against cash of RM275.1 million and total equity of RM1 billion. MUI's total outstanding receivables as at June 30 stood at RM427.7 million, of which RM392.9 million has an ageing period of more than 10 years.
Earnings-wise, MUI has nothing to shout about. Yesterday, it announced a net loss of RM2.31 million in the third quarter ended September (3QFY14) compared to a net profit of RM15.9 million in 3QFY13 .
Earnings in 3QFY13 were boosted by gains on the disposal of a leasehold property and other investments of RM21.5 million and RM346,000 respectively, resulting in a positive RM20.5 million recorded under the group's "exceptional items" in its profit and loss statement, thus boosting its bottom line. 
Revenue in 3QFY14 fell 7.5% to RM150.76 million from RM163 million in 3QFY13.
For the nine months ended September, MUI reported a net loss of RM3.1 million against a net profit of RM17.3 million in the previous corresponding period. Revenue came in lower at RM441.2 million compared with RM470.2 million.
This article first appeared in The Edge Financial Daily, on November 26, 2014.