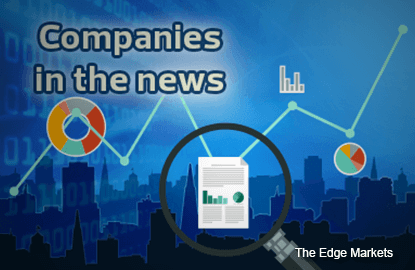 KUALA LUMPUR (July 30): Based on corporate announcements and news flow today, companies that may be in focus tomorrow (Friday, July 31) could include the following: Muhibbah Engineering, BTM Resources, Unisem, Public Bank, CCM, Tenaga, Luxchem, Yinson, MAHB, Seacera, Gadang and Pestech.
Muhibbah Engineering (M) Bhd has bagged a contract worth RM158.2 million from Toyo Thai Malaysia Sdn Bhd for civil, concrete and buildings works for offsite areas of the steam cracker complex for the refinery and petrochemicals integrated development (RAPID) project in Pengerang, Johor.
In a filing with Bursa Malaysia today, the oil and gas (O&G) services provider said it has accepted the award from Toyo Thai Malaysia, a wholly-owned subsidiary of TTCL Public Company Ltd.
It said the job is scheduled to commence in August 2015 and targeted to be completed by November 2017.
It added the contract is expected to contribute positively to its earnings and net assets for the current and future financial years.
BTM Resources Bhd, which saw its share price hit a five-year intra-day high of 36 sen yesterday and was slapped with an unusual market activity query by Bursa Malaysia earlier today, said it has no knowledge over the recent surge in its share price and volume.
Yesterday, BTM shares closed at 35.5 sen after rising to a high of 36 sen, with some 26 million shares done. This compared to 27.5 sen, with about five million units, on July 22.
Unisem (M) Bhd saw its net profit for the second quarter ended June 30, 2015 (2QFY15) surge 189% to RM31.38 million or 4.59 sen per share from RM10.84 million or 1.61 sen a year ago, due to a change in product mix and higher utilisation rates.
The chip maker told Bursa Malaysia that its revenue climbed 18.7% to RM298.79 million from RM251.58 million.
For the cumulative six months (1HFY15), Unisem's (fundamental: 1.25; valuation: 0.6) net profit added 173% to RM54.92 million from RM20.11 million, on the back of a 20.6% on-year revenue growth to RM578.8 million from RM479.63 million.
It also declared an interim dividend of three sen a share, which is payable on September 29.
Public Bank Bhd posted a 13.2% increase in net profit for the second financial quarter ended June 30, 2015 (2QFY15) to RM1.2 billion against RM1.06 billion a year earlier, underpinned by higher net interest income and lower bad loan allowance.
The country's third largest banking group told the exchange today its revenue for the quarter strengthened 16.7% to RM4.74 billion from RM4.06 billion.
For the first half of FY15 (1HFY15), the banking group registered a net profit of RM2.37 billion, up 14.5% from RM2.07 billion in the last corresponding period.
Revenue grew 16.6% to RM9.34 billion as compared to RM8.01 billion last year.
In a statement today, Public Bank founder and chairman Tan Sri Dr Teh Hong Piow said profit growth was driven by healthy growth in loans and deposits aside from its stable asset quality.
Moving forward, Teh said steady domestic demand would continue to be supportive of the banking sector.
Public Bank (fundamental: 2.8; valuation: 1.8) declared a single-tier dividend of 24 sen a share, which is payable on Aug 24. The ex-date falls on Aug 12 this year.
Chemical Company of Malaysia Bhd (CCM) may also be in focus following the resignation of its chairman, Datuk Seri Azalina Othman, who was appointed as Minister in the Prime Minister's Department on Cabinet reshuffle on Tuesday.
CCM (fundamental: 0.35; valuation: 1.2) said the resignation took effect on July 28.
The group said Azalina, 51, was appointed as the non-independent and non-executive director of the company on Nov 13, 2013.
Tenaga Nasional Bhd (TNB) saw its net profit more than halve to RM789.4 million or 13.99 sen per share for its third financial quarter ended May 31, 2015 (3QFY15) from RM1.63 billion or 28.83 sen per share a year ago, due to the recognition of the imbalance cost pass through (ICPT) tariff rebates during the quarter.
In a filing with Bursa Malaysia today, the national utility said its profitability was affected by the recognition of ICPT tariff rebates amounting to RM1.82 billion for the period from Jan 1, 2014 until May 31, 2015.
"The reporting of the over-recovery amount in TNB's financial statements for the first time was done after a thorough review and deliberation between TNB and the relevant parties," it said a separate statement.
Quarterly revenue fell 14% to RM9.91 billion from RM11.5 billion in 3QFY14, despite reporting higher sales of electricity during the period, which was attributed to better sales in Peninsular Malaysia.
For the cumulative nine months (9MFY15), TNB posted a net profit of RM5.3 billion or 93.87 sen a share, 4% higher than RM5.11 billion or 90.56 sen a share in 9MFY14 on the tariff review effective Jan 1, 2014.
Revenue for the period added 2% to RM31.54 billion from RM31.07 billion in 9MFY14.
Going forward, TNB said it remains cautious on its prospects for the remainder of its current financial year ending Aug 31, 2015 (FY15) as the group continues to be impacted by uncertainties in the global economic environment and the depreciating ringgit.
Industrial chemicals supplier Luxchem Corp Bhd's net profit for the second financial quarter ended June 30, 2015 (2QFY15) surged 106.7% on-year to RM9.81 million or 3.75 sen per share from RM4.75 million or 3.65 sen per share driven by higher revenue from its trading and manufacturing segments.
This is despite revenue for the quarter only growing 4.9% on year to RM161.03 million from RM153.5 million in 2QFY14.
It declared a single-tier interim dividend of 2 sen per share for the period, which will be paid on Sept 30.  
For the first half, Luxchem's net profit climbed 11.1% to RM11.36 million or 4.35 sen per share from RM9.7 million or 7.46 sen per share. Revenue rose 12.3% to RM333.57 million from RM296.96 million previously.
Yinson Holdings Bhd has partnered with a Portuguese firm to set up a joint venture company (JVC) to bid for floating production storage and offloading (FPSO) projects to be leased to potential charterers.
Yinson said its unit Yinson Heather Ltd (YHL) today signed a joint venture (JV) deed with Four Vanguard Servicos E Navegacao LDA (FVSN), which will see the JVC acquire a vessel owned by FVSN for €60 million (RM251.5 million).
The O&G services provider said the vessel will be used in bidding for FPSO projects to be leased to potential charterers.
FVSN is an indirect wholly-owned subsidiary of Milan-listed shipping group Premuda S.p.a, Yinson (fundamental: 1.5; valuation: 1.5) said in a filing.
The proposed JV is expected to be completed in the third quarter of 2015.
Malaysia Airports Holdings Bhd (MAHB)'s net losses for the second financial quarter ended June 30 (2QFY15) narrowed to RM19.89 million from RM44.67 million last year.
The airport operator said the better result was due to the gain arising from the disposal of its 10% stake in Delhi International Airport Pte Ltd, recognised in 2QFY15, amounting to RM81.2 million.
Despite this, MAHB has expressed its concerns over the outcome of Malaysia Airlines' restructuring and the cutting of routes and frequencies by the national carrier, as well as AirAsia X Bhd's deferment of the latter's expansion plan.
Quarterly revenue declined by 20% to RM939.96 million in 2QFY15 from RM1.18 billion a year ago, due to the recognised construction revenue of RM540.8 million for klia2 in the previous corresponding quarter.
For the first half (1HFY15), MAHB's net profit came in at RM12.24 million, 85.4% lower from RM84.04 million last year due to the absence of construction profit of RM28.5 million recognised for klia2 a year ago.
Revenue for the period decreased 7.2% at RM1.82 billion from RM1.96 billion in 1HFY14.
Meanwhile, MAHB has also cancelled its proposed Malaysia Airports Academy at the KL International Airport in Sepang, Selangor, said Seacera Group Bhd in its filing with Bursa Malaysia today.
Seacera said MAHB has terminated the RM151.99 million contract with Seacera's 60%-owned subsidiary SPAZ Sdn Bhd, and deemed the unilateral termination as "unlawful and amounts to a breach of contract".
SPAZ was tasked to undertake the proposed design, construction, completion and commissioning of the Malaysia Airports Academy and other associated works.
"SPAZ reserves its rights to claim all loses and damages arising from this unilateral termination," said Seacera, but said it is not able to determine the financial and legal impacts of the project termination at this juncture and that it is seeking legal advice as to the next course of action.
SPAZ had, on April 22 last year, received the letter of award (LOA) from MAHB for the proposed project, works for which was to have commenced in April 2014 and be completed by April 2017.
Gadang Holdings Bhd saw its net profit in the fourth quarter ended May 31, 2015 (4QFY15) almost triple to RM24.55 million or 11.35 sen from RM8.59 million or 4.37 sen a year ago, on higher contributions from its property and construction segments.
Revenue climbed 19.22% to RM170.48 million from RM142.99 million in 4QFY14.
It has proposed a first and final single-tier dividend of 5 sen per share for FY15 (FY14: 4 sen per share).
For the full year, the engineering and construction company's net profit was at RM58.77 million or 27.16 sen per share, up 35.96% from RM43.23 million or 21.98 sen per share in FY14.
Full year revenue grew 7.92% to RM588.12 million from RM544.95 million in FY14.
Looking forward, Gadang (fundamental: 1.7; valuation: 3) expects its FY16 results to be even better than FY15, underpinned by its ongoing construction projects and continuous sales at flagship projects by its property division.
Pestech International Bhd is teaming up with China's Shandong Electrical Engineering & Equipment Group (SDEE) to explore the power infrastructure market in Cambodia.
In a filing with Bursa Malaysia, Pestech said it today signed a memorandum of understanding (MOU) with SDEE for the collaboration.
SDEE is a subsidiary of the State Grid Corp of China (SGCC), which supplies power to 88% of China and serves 1.1 billion people in 26 provinces, autonomous regions and municipalities.
"SDEE intends to work closely together with Pestech to explore various avenues in the establishment of power supply infrastructure market in Cambodia for the development of its power equipment and product sales and distribution, and project procurement and implementation," said Pestech.
The two companies plan to focus on jointly setting up a distribution transformers manufacturing plant in Cambodia, and entering into a collaborative arrangement as equity partners of a special purpose vehicle company, to undertake procurement of power transmission agreement/power systems infrastructure concession projects.
Pestech said its primary role will be project execution and construction, while SDEE's will be the provision of funding and supply of relevant equipment. The two companies will start talks and form a definitive collaboration agreement within 12 months from today.
(Note: The Edge Research's fundamental score reflects a company's profitability and balance sheet strength, calculated based on historical numbers. The valuation score determines if a stock is attractively valued or not, also based on historical numbers. A score of 3 suggests strong fundamentals and attractive valuations.)