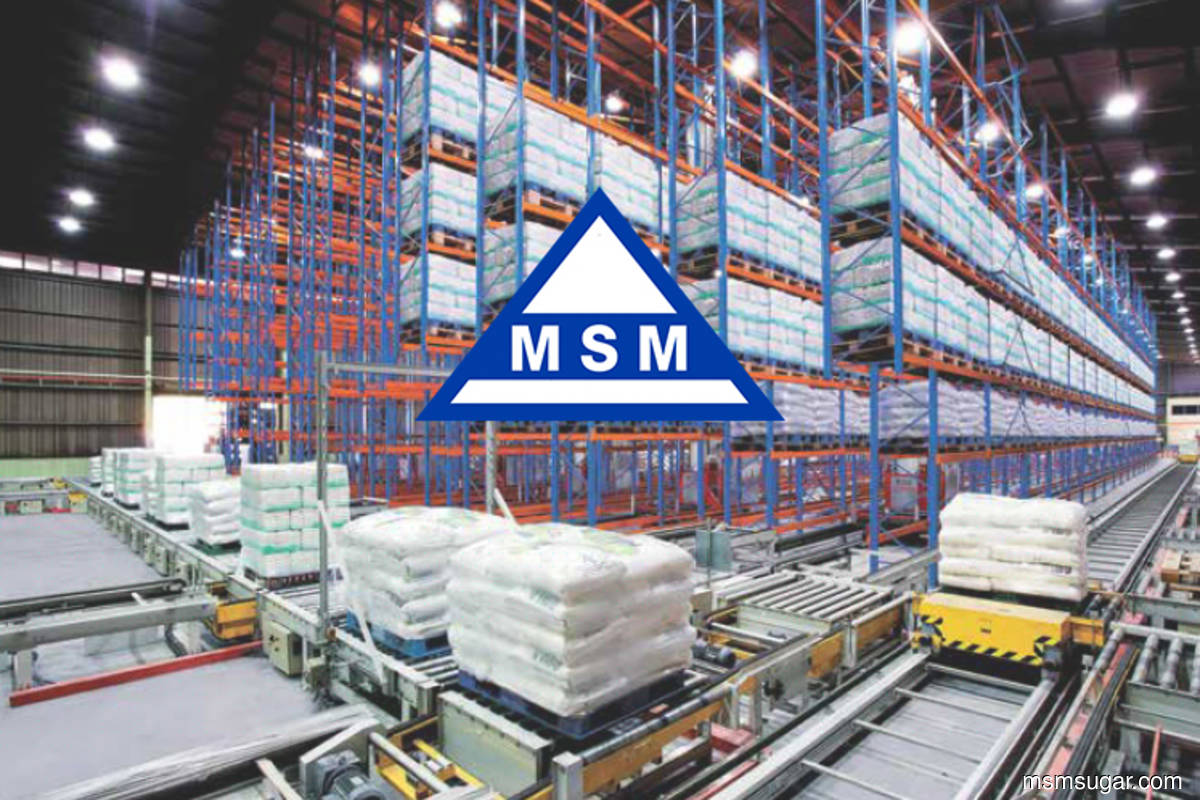 KUALA LUMPUR (Sept 15): Sugar refiner MSM Malaysia Holdings Bhd (MSM) said its shareholders have approved the disposal of the entire equity interest in its wholly-owned subsidiary MSM Perlis Sdn Bhd to FGV Holdings Bhd's unit FGV Integrated Farming Holdings Bhd for an initial consideration of RM175 million cash.
In a statement today, MSM said this comprises 11 parcels of agricultural and industrial land, subject to adjustments for net working capital and net debt at completion of the proposed disposal.
According to the group, the disposal of the entire equity interest in MSM Perlis is estimated to result in a gain of RM91.6 million after completion.
The approval of the disposal is in view of the share sale agreement entered between both parties in June 2021, said MSM, adding that it is part of the group's turnaround strategy to divest its non-core assets towards optimising its operational assets and strengthen its capital expenditure.
The entire plantation sector of MSM Perlis has ceased operation since Sept 15, 2019 due to the high operating cost for maintenance that resulted in unsustainable financial commitment.
Meanwhile, its refinery operation was discontinued on June 30 2020, following the group's operation rationalisation strategies to consolidate the production capacity to the new refinery MSM Sugar Refinery (Johor) Sdn Bhd (MSM Johor).
The discontinuation of MSM's non-strategic operations was mutually deliberated by the company's board of directors after taking into consideration cash flow adjustment and other operational determinants towards ensuring sustainable growth in delivering fair and reasonable value to the shareholders, said the group.
MSM group chief executive officer Syed Feizal Syed Mohammad said this strategy has reflected the group's progressive financial performance since the fourth quarter ending Dec 31, 2020 (4QFY20) partly attributable to the improved operational reliability.
"Strategically, the discontinuation of non-strategic operations consolidated up to 200,000 tonnes of production volume, along with the redeployment of qualified manpower and experts to MSM Johor and our refinery in Penang, MSM Prai Bhd (MSM Prai) to accelerate production momentum and further optimise capacity utilisation (UF).
"The group's UF is expected to achieve up to 65% with MSM Prai and MSM Johor reaching UF of 80% and 50% respectively by end of the year," he said in a statement after the group's extraordinary general meeting today.
For the second quarter ended June 30, 2021 (2QFY21), MSM posted a net profit of RM13.28 million versus a net loss of RM19.42 million a year earlier on improved margin from higher average selling prices and lower finance cost.
The group said its revenue from continuing operations rose 23.48% to RM554.1 million from RM448.74 million a year ago.
For the half-year ended June 30, 2021, the group returned to the black by posting a cumulative net profit of RM44.65 million, compared with a net loss of RM56.26 million previously. Meanwhile, revenue for the period grew 11.41% to RM1.07 billion from RM959.58 million.
MSM said given its steady financial position, it remains cautiously optimistic and seeks to realign all the necessary resources with the highest value of opportunities for the rest of the financial year and stage a sustainable profitable year for 2022.
"Moving forward, MSM will continue to accelerate its turnaround strategy, leveraging on the anticipated economic recovery in enhancing domestic market leadership and growing the export footprint.
"In addition, as a sugar refiner of choice and global premium quality, a new brand reinforcement campaign has been launched as our way of thanking consumers for making Gula Prai top three most popular FMCG Food & Beverage in Malaysia," the statement noted.
At the 12.30pm break, shares of MSM were two sen or 1.18% up to RM1.72 with some 1.35 million shares changing hands. This brought the group's market capitalisation to RM1.21 billion.
The stock has surged 202% year-to-date from 57 sen.
Read also:
MSM's Johor refinery expected to be profitable by early 2022