This article first appeared in The Edge Financial Daily, on May 24, 2019.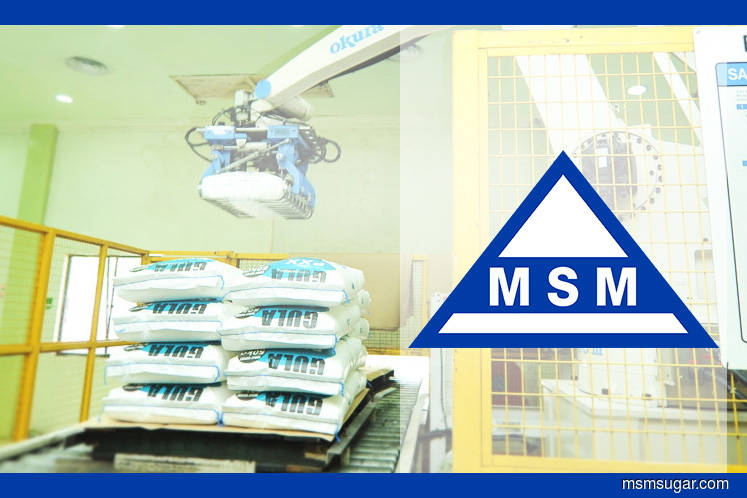 KUALA LUMPUR: Lower sugar prices, a 15% increase in the issuance of approved permits (APs), together with a sharp drop in export volumes kept MSM Malaysia Holdings Bhd in the red for the second consecutive quarter in the three months ended March 31, 2018 (1QFY19).
It recorded a net loss of RM7.06 million in 1QFY19, compared to a net profit of RM15.81 million in the previous year's corresponding quarter, it said in a statement yesterday.
Revenue fell 11.6% to RM485.62 million from RM549.06 million, following an 11% fall in average selling price in its domestic sector and a 15% fall in the industry sector.
"The Malaysian market was disrupted by the significant increase in the number of APs issued to industrial users which, compounded with increased smuggling of sugar into Malaysia, resulted in reduced prices in the domestic market.
"Additionally, an 81% decline in exports during the period affected revenues further. This decline was largely due to heightened competition in the export market as a result of sugar glut globally. The group's financial performance was also affected by the decline in the ringgit to 4.1209 against the greenback, compared with 4.0008 in the previous quarter," MSM said.
In addition, while its refined sugar production in 1QFY19 contracted 1% to 217,880 tonnes from 218,976 tonnes a year ago, production cost rose 12% in the same period as a result of scheduled operational maintenance, higher packing material costs, increased in gas price and lower production volumes.
"As expected, 2019 has started on a difficult note, presenting challenges on multiple fronts, not just for us, but for all sugar players around the world. Since MSM's operating cost is highly dependent on global raw sugar prices and foreign exchange rates, we are vigilantly monitoring the situation and have implemented strategic hedging mechanisms to mitigate our exposure to price and currency volatility," said MSM's newly appointed group chief executive officer Datuk Khairil Anuar Aziz.
"Against the backdrop of increased production in producer countries and far greater competition in both the domestic and international markets, MSM managed to maintain strong financial management values, as a result of which our cash balance increased by 12%. This allowed for more efficient capital management and the implementation of other cost saving initiatives to mitigate the impact of high gearing. Efficient capital management will remain a key focus in 2019," said Khairil Anuar.
The group said the ringgit may continue to weaken against the US dollar for the next few months, though the situation is expected to improve in the 4Q of 2019. On top of that, the planned imposition of excise duties (soda tax) for sugared beverages of 40 sen per litre beginning July 1, and the possible issuance of even more APs, may affect MSM's bottom line negatively.
MSM shares slipped one sen to RM1.42 yesterday, for a market capitalisation of RM1.01 billion.