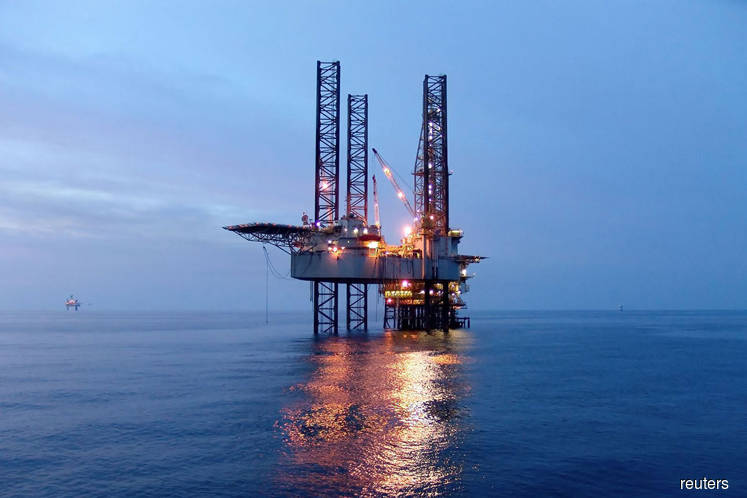 KUALA LUMPUR (Sept 18): Malaysia is likely to benefit from higher oil prices following Saturday's drone attack on two oil processing facilities in Saudi Arabia — with additional government revenue and better performance from the FBM KLCI and upstream oil and gas (O&G) counters on the cards.
In a strategy note today, Hong Leong Investment Bank (HLIB) Research said that assuming oil prices average at US$68 a barrel in 2019, as compared to the current year-to-date average of US$65 a barrel, the government would see some RM900 million in oil revenue enter its coffers.
"However at US$68 a barrel, this is still below the Ministry of Finance (MoF)'s average assumption of US$72 a barrel for 2019, indicating a possible budget shortfall of RM1.2 billion. In addition, assuming the government maintains fuel price of RON95 at RM2.08 a litre, our back-of-envelope calculations suggest an additional RM1.8 billion subsidy bill in the fourth quarter of 2019 (4Q19)," noted the research team.
With the above in mind, if the oil price averages at US$68 a barrel in 2019 and RON95 is kept at RM2.08 a litre, the budget shortfall for 2019 could be RM3 billion, with RM1.2 billion shortfall coming from the US$68 a barrel oil price and RM1.8 billion shortfall from RON95 being kept at RM2.08 a litre.
That being said, the research team noted it is still possible for 2019's budget deficit target of 3.4% to be achieved, as additional government revenue measures such as the voluntary tax disclosure and increased sales and service tax revenue are estimated to give an additional RM3.6 billion to RM4.9 billion buffer.
On the FBM KLCI, the research house noted that over the past six years, there has been a 67% correlation between Brent oil prices and the local benchmark index.
HLIB Research observed that if one were to look at the past 60 days, the correlation between oil prices and the FBM KLCI tends to be higher during periods of oil price decline.
"Simplistically, there is a higher tendency to observe market (i.e. KLCI) weakness during periods of oil price decline than there is market strength during an oil price rise," the research team noted.
It said upstream O&G counters such as Reach Energy Bhd, Hibiscus Petroleum Bhd and Sapura Energy Bhd are key winners from higher oil prices.
In addition, Petronas Chemicals Group Bhd is also set to benefit from higher oil prices, and possibly higher petrochemical prices given its integrated cheap gas feedstock model from Petroliam Nasional Bhd.
Meanwhile, the higher oil price is set to have a neutral impact on MISC Bhd as weaker demand for very large crude carrier tankers in the Middle East could be offset by higher spot charters from their export lightering segment as shale producers are expected to ramp up production and exports.
That being said, the aviation sector is a definite loser as a result of the higher oil price, as jet fuel prices will increase. The research team understands that AirAsia Group Bhd has hedged 85% of its jet fuel requirements for 4Q19 and 73% for 2020.
Glove players are also adversely impacted, as butadiene and nitrile prices are set to increase following an increase in oil prices.
For example, Hartalega Holdings Bhd has 95% of its product mix in nitrile gloves, Kossan Rubber Industries Bhd's nitrile gloves constitute 77% to 78% of its product mix, while Top Glove Corp Bhd has at least half of its product mix concentrated in nitrile gloves.
Even wood-based manufacturers are also impacted, as glue prices may increase following higher oil prices. For furniture companies such as Lii Hen Industries Bhd and Homeritz Corp Bhd, glue makes up approximately 15% of raw material costs.
"For the particleboard players (Heveaboard Bhd [SELL, TP: 40 sen] and Evergreen Fibreboard Bhd [SELL, TP: 22 sen]), it is higher at c.60%," the research team said.