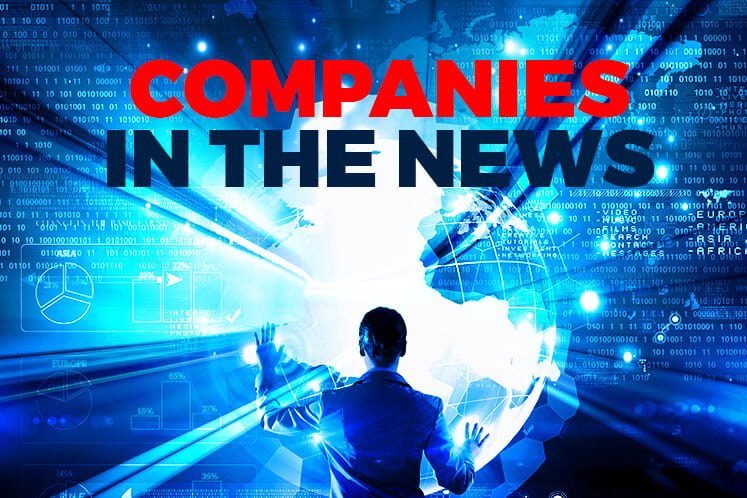 KUALA LUMPUR (April 5): Based on corporate announcements and newsflow today, stocks that could be in focus tomorrow (April 6) include Malaysian Resources Corp Bhd, Gamuda Bhd, YTL Corporation Bhd, Perak Corp Bhd, Protasco Bhd, GHL Systems Bhd, Dialog Group Bhd and China Ouhua Winery Holdings Ltd
MyHSR Corp Sdn Bhd has appointed the consortia of Malaysian Resources Corp Bhd – Gamuda Bhd (MRCB Gamuda Consortium), and Syarikat Pembenaan Yeoh Tiong Lay Sdn Bhd – TH Properties Sdn Bhd (YTL-THP) as its project delivery partners (PDP) for the Kuala Lumpur–Singapore High Speed Rail (HSR) civil works portion.
MyHSR said the MRCB Gamuda Consortium has been selected for the northern portion of the alignment, while YTL-THP has been selected for the southern portion. The contracts will be awarded upon the conclusion of negotiations between MyHSR Corp and the PDPs.
Syarikat Pembenaan Yeoh Tiong Lay is a subsidiary of YTL Corp.
The PDP tender was called on Nov 22, 2017, open to parties with experience in railway design and construction, familiar with Malaysian railway construction practices and regulatory requirements.
Perak Corp Bhd's subsidiary Lumut Maritime Terminal Sdn Bhd (LMT) has inked three operation & maintenance (OM) agreements with Lekir Bulk Terminal Sdn Bhd (LBT), which are expected to contribute RM800 million over a period of 26 years.
The agreements are deemed as related party transactions as LBT is an associate company of LMT, by virtue of 50% minus one share held by Pelaburan Lumut Sdn Bhd in LMT. Pelaburan Lumut also owns 80% in LBT.
The first agreement is an addendum to an existing agreement between LMT and LBT which was signed in June 2000, for a 10-year extension following the expiry of the 15-year term ended May 2017.
Perak Corp also inked two new OM agreements which will contribute RM266.74 million and RM205.93 million respectively over a period of 26 years. These contracts are for provision of OM services for two new jetty terminal user agreements.
Protasco Bhd has been awarded an eight-year extension of its concession to maintain Federal Roads in central and eastern Peninsular Malaysia until 2026, and two other road maintenance concessions in Perak.
The group's subsidiary Roadcare (M) Sdn Bhd signed the concession agreement with the government today, Protasco said in a statement. The concession covers federal roads in Selangor, Pahang, Terengganu and Kelantan commencing from Feb 17, 2018 till Feb 16, 2026.
Additionally, its other subsidiary Empayar Indera Sdn Bhd has been awarded two concessions by the Perak state government for routine and periodic maintenance works.
The first concession is a five-year extension for an existing concession which expires in December 2019. "This agreement for routine and periodic maintenance includes a two-year extension which would mean the contract duration ends on Dec 31, 2026," the group said.
The second concession is also a five-year extension for both routine and periodic maintenance works for agricultural roads in Perak, worth RM90.1 million in the first two years. The contract sum will be subject to review every two years during the contract period of five plus two years.
GHL Systems Bhd via its wholly-owned subsidiary S Capital Sdn Bhd is acquiring payment solutions company Paysys Communications Sdn Bhd for RM80 million, which will give it an opportunity to solidify its presence as a payment solutions provider in Malaysia.
It added that the consideration will be satisfied via RM40 million cash and an issuance of up to 33.5 million new GHL shares to be issued at RM1.1927.
Dialog Group Bhd will build common tankage and dedicated deepwater marine facilities at Pengerang Deepwater Terminal (PDT) in Pengerang, Johor at an initial cost of RM2.5 billion, in a joint venture with the Johor state government and the State Secretary, Johor (Inc) (SSI).
This forms the third phase of PDT (PDT3).
The business activities at PDT3 will be undertaken by Pengerang CTF Sdn Bhd (PCTF), where Dialog will hold an 80% stake and the rest by the Johor government via its investment arm Permodalan Darul Ta'zim Sdn Bhd.
China Ouhua Winery Holdings Ltd has yet to receive the transfer of land title ownership from a local authoritiy in China for its purchase of a piece of 40-acre land, more than four years since the acquisition was proposed.
The group said it was informed by the Land Commission office in Yantai City that the company's application for the land title ownership transfer is in the process of getting final approval, and should be completed within the next one month.
On Dec 18, 2013, the group announced that its subsidiary, Yantai Fazenda Ouhua Winery Co Ltd, has proposed to acquire from Huangwu Subdistrict Office, Zhifu District a piece of land that Yantai Fazenda had been renting since 1997, plus all buildings and ancillaries on it, for about 132 million yuan.