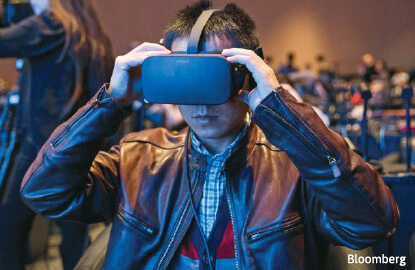 SINGAPORE (Jan 13): A paramedic is attending to a heart-attack patient who collapsed by the sidewalk 10 minutes ago. While one of the medics prepares to give him an aspirin tablet to chew on, the patient suddenly loses consciousness.
Nearby, his superior watches the action through live video, data feeds and real-time maps and is able to give treatment advice and direct the ambulance driver to take the quickest route to the hospital.
But instead of all observing the action from a command centre stacked with multiple monitors, he is seeing this through a virtual reality (VR) headset he is wearing.
This is one possible scenario that could take place through the Virtual Command Centre, a future concept by Motorola Solutions which combines eye interaction technology and virtual reality (VR) for public safety agencies to navigate, share, and collaborate on critical information.
On Thursday, the company's chief technology officer (CTO), Paul Steinberg, was present at the company's Singapore offices to conduct a live demonstration of the concept for the first time in Asia Pacific.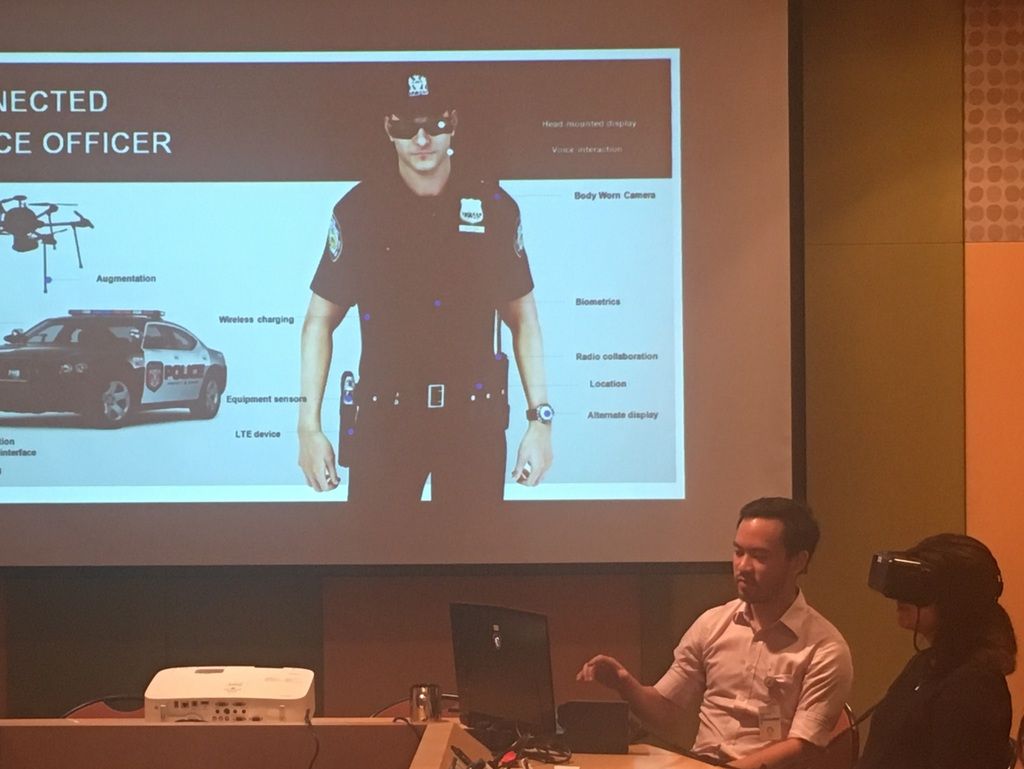 Live demo of Motorola Solutions' Virtual Command Centre on the Oculus Rift headset
The communications platform comprises an interconnected network of body-worn camera video feeds; live videos captured by drones; 360-degree cameras mounted atop vehicles; interactive maps; and radio push-to-talk features. These are accessible from a VR environment that is integrated with eye interaction software developed by Eyefluence, a California-based start-up in which Motorola Solutions has a venture capital stake in.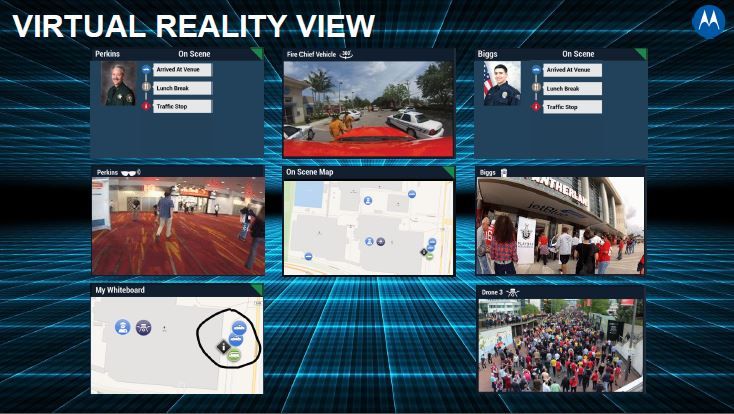 VR view of the Virtual Command Centre
This means public safety experts, such as incident supervisors, are able to almost instantly and remotely obtain a variety of real-time information and live video feeds from the perspective of first responders, by simply looking at visual cues presented to them in VR – instead of having to retrieve them via face-to-face or verbal communication.
This way, the user is able to grasp a better and more complete view of the situation, which in turn enhances safety and makes it easier to get the job done.
"If you think about the command centre that we know today, it is made up of walls of monitors and screens. It's pegged to a fixed location, and is a shared experience. What if we could take that entire command centre, reduce it down to a package for the viewer? It becomes personalised and more affordable," explains Steinberg.
He adds that with the involvement of Eyefluence, the experience is further taken to a natural and intuitive level.
"You can do anything you can do with a mouse, and more, simply by moving your eyes. That's the ultimate in 'eyes-up, hands-free' because now all I have to do is move my eyes for command and control. By piecing [VR and eye-tracking technology] together, we've created what we call a natural command centre [as opposed to a physical one]."
While the Virtual Command Centre remains in its conceptual phase and given the current limitations of VR technology, Steinburg is optimistic that this approach to public safety could very well materialise within the next few years, possibly even as early as 2018.
Motorola Solutions corporate vice president (APAC), Iain Clarke, comments: "Public safety is a top priority in Singapore and Motorola Solutions is taking steps towards creating safer cities… With our research, we look to present solutions to public safety agencies that can assist them in their operations."
Motorola is better known for producing the first mobile phone for the man in the street -- although it came in the size of a brick and ciould have weighed as much. In its heyday in the early 2000s, Motorola also made a name for itself with the iconic series of clamshell Razr handphones, this time much smaller and lighter.
Following the 2011 spinoff of its mobile phone division into Motorola Mobility, which was acquired by Lenovo three years later, Motorola Inc. was renamed Motorola Solutions and has since stepped out of the mass-market consumer limelight to focus on mission- and distance-critical communications products, services and solutions, particularly in a workgroup environment.