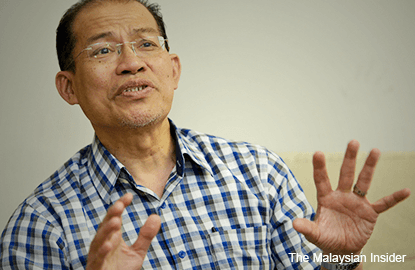 (Aug 19): The Selangor assembly today heard a motion by Hulu Kelang assemblyman Saari Sungib to halt the operations of newly formed state investment firm, Darul Ehsan Investment Group (DEIG).
He proposed that DEIG's operations be stopped for six months until a White Paper could be tabled in the assembly, adding that it must also explain the need for the company which was set up by Menteri Besar Mohamed Azmin Ali.
Saari also said that all strategic investments related to government-linked companies should proceed under Menteri Besar Incorporated (MBI), which is Selangor's investment holding firm.
"We want transparency and accountability.
"Our concern is that DEIG is set up by the same person heading the MBI and chaired by the menteri besar.
"We are worried that there might not be sufficient check and balance measures," Saari told reporters outside the assembly today.
He said the concern was shared by a majority of the assemblymen.
Azmin, who is also PKR deputy president, is under fire for setting up a state investment firm which legislators say does not have to report to the state assembly. Critics include lawmakers from PKR's ally, DAP, who have said that MBI's operations should be improved first.
The menteri besar said DEIG would not have any impact on the state since the entity was only responsible for investment matters, while its policies would be decided by MBI and the state government.
He also said that DEIG would not be the same as debt-laden investment firm 1Malaysia Development Bhd (1MDB), which is owned by the Finance Ministry and the focus of ongoing financial and political turmoil in the ruling Barisan Nasional.
DAP assemblyman for Damansara Utama, Yeo Bee Yin, said the state government should restrict its involvement in business, redefine the role and jurisdiction of DEIG and focus on having proper accountability mechanisms for MBI.
She expressed worry that DEIG would be involved in private developments to develop MBI's 2,000ha land bank without tight governance.
Yeo, a member of the state committee on statutory bodies and GLCs, added that while Azmin had promised that DEIG would not take any loans, a promise alone was "not sufficient" and called for proper laws and institutions to govern the entity.
"The DEIG's ability to control 74 Selangor GLCs, the absence of law preventing DEIG from making borrowings as well as the lack of independent experienced directors in DEIG board is a worrisome combination.
"Such centralisation of power without proper check and balance will leave leeway that will lead to DEIG making investments, worse still, taking loans to make investments that do not benefit the state," Yeo said in a statement today.
The state government's 74 GLCs which are under MBI are to be restructured and consolidated through DEIG as Selangor's new investment company.
It will be fully owned by MBI and will manage a land bank of more than 2,000ha of state lands and a combined asset value of RM6.3 billion, Yeo said, citing from the new company's website. – The Malaysian Insider