This article first appeared in The Edge Financial Daily, on March 27, 2020.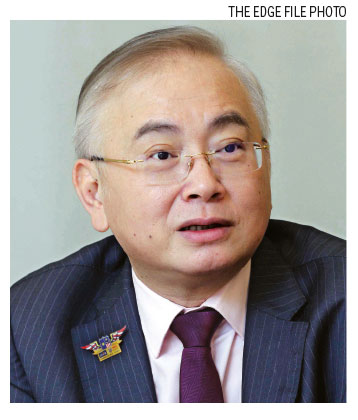 Wee says all export activities will be allowed to continue to ensure that supply chains are not severed.
KUALA LUMPUR: The government has allowed goods stuck at Port Klang, Port of Penang and Johor Port to be removed and delivered to their final destinations promptly to ensure that the movement of incoming essential goods is not impeded.
Minister of Transport (MoT)  Datuk Dr Wee Ka Siong, said in a statement that following Wednesday's Cabinet meeting and yesterday's National Security Council (NSC) special ministerial meeting, he has instructed that special exemptions to clear non-essential goods are given to the affected ports, which are expected to be filled to maximum capacity this week.
"It is important to clear the congestion currently experienced at these ports so that imported essential goods are not impeded during the MCO [movement control order]," he said.
Wee added that the aforementioned ports will develop and implement action plans to immediately expedite the movement of goods currently congesting their warehouses.
To ensure that goods are delivered to their ultimate destinations smoothly, the police will facilitate the movement of vehicles belonging to freight forwarders and haulier companies which will be allowed to remove these items from the ports for 24 hours a day between today (March 27) and Sunday (March 29).
"In doing so, the freight forwarders and hauliers sending goods must adhere to conditions stipulated in the media statement issued by the National Security Council on March 18, 2020. The transportation sector had been identified as one of the essential services under the movement control order period and plays a key role in ensuring the nation's households will have access to their daily necessities," he stressed.
Wee added that all export activities will be allowed to continue as it is necessary to ensure that supply chains are not severed and that countries requiring Malaysia's exports continue to receive them.
In response, the Federation of Malaysian Freight Forwarders (FMFF) told its members in a circular Northport and Westports had waived storage fees from March 16 to 29.
The federation also told its members that, among other requirements, only a minimum number of staff should be present to receive goods, and that exports may continue as usual, with proof of contract or export commitment.
Meanwhile, the Port Klang Authority (PKA) said it will waive storage and removal charges for non-essential goods stuck at its port.
In a circular on its website, PKA general manager Captain K Subramaniam said sending agents and importers are required to contact their shipping companies to waive demurrage and detention charges.
Wee's announcement came as the FMFF had warned that containers were piling up at ports as the movement of non-essential goods had been restricted.
FMFF president Alvin Chua told The Edge Financial Daily the government needed to consider allowing the transportation of containers bearing non-essential goods to warehouses, so that costs to freight forwarders would be reduced.
"This will ease the congestion at the ports and save costs for shipping players," he said.
Chua highlighted that when a container is stuck at a port, storage, demurrage and removal charges are incurred and that if the situation is not alleviated, the added costs would ultimately be passed on to consumers.
He highlighted that such costs can average between RM75 and RM100 a day, and when combined can easily climb to RM3,000 a month per 20-foot container.
While some importers and exporters have applied for permits from the relevant authorities to transport containers, those dealing in non-essential goods for small and medium enterprises that are unable to procure such permits will have to continue to pay for these charges at the port.
Malaysiakini reported yesterday the FMFF had warned that containers were now stacking up at Port Klang, and that this was a "potential time bomb".
PKA chairperson Ean Yong Hian Wah was reported as saying that the port authority will look into reducing storage fees for containers, and that it has submitted a list of supporting essential goods to the transport ministry, hoping the NSC will allow the transport of such goods on the road.