This article first appeared in The Edge Financial Daily, on July 18, 2019.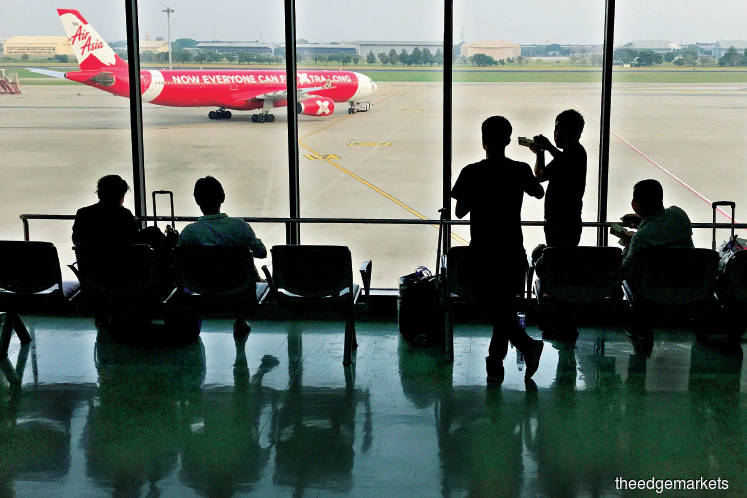 AirAsia Group Bhd
(July 17, RM2.90)
Maintain buy with a higher target price (TP) of RM3.29: Recall that the group recorded a first quarter of financial year ended 2019 (1QFY19) normalised net profit of RM104.6 million (-72.9% year-on-year [y-o-y]), missing our and consensus expectations by a variance of more than 10%. The negative variance was due to a substantial increase in finance costs following the Malaysian Financial Reporting Standards 16 (MFRS 16) adoption. Nevertheless, it is noteworthy that the impact of combined depreciation and interest will be more than the amount of operating lease (based on pre-MFRS 16 adoption) during the earlier portion of the lease. As such, we expect AirAsia Group Bhd will benefit from lower amount of combined depreciation and interest beyond the fifth year of the lease term.
Post-MFRS 16 adoption, higher standard of return obligation increased as more of AirAsia aircrafts undergo a sale-and-leaseback transaction. As a result, overall maintenance and overhaul expenses increased by +63.8% y-o-y in 1QFY19. Looking ahead, AirAsia's digitalisation strategy is expected to propel cost rationalisation via various alternatives. Operationally, AirAsia has partnered with Airbus and Palantir to establish an integrated Big Data platform which includes forecast of predictive maintenance and efficient scheduling of parts with a potential saving of US$40,000 (RM164,800) per aircraft per year.
Teleport, AirAsia's logistics arm recorded a revenue of RM101 million for the quarter, staying on track to meet its annual revenue target of RM400 million. We opine that this would be achievable due to the arrangement with Oman Air to provide customers with access to Oman Air's network covering Africa, the United Kingdom and Europe. Meanwhile beyond FY19, we believe that the US$10.6 million (roughly 2.5% of AirAsia's retained earnings as of March 31, 2019) investment by Teleport and its venture capital firm, Gobi Partners in EasyParcel will further increase the utilisation rate of its aircraft belly space to around 20%. This would be made possible via the expansion of EasyParcel's offerings for SME customers through Teleport's network of more than 100 cities and cargo capacity exceeding one million tonnes. We opine that the full accretion of this investment will be realised in FY21.
Recall that the impact from rising Brent crude oil price in 1QFY19 was moderated by AirAsia's increase in its average hedge ratio of about 54% in FY19, compared to just some 15% in FY18. We expect more benefits of AirAsia's hedging policy to be realised in 2QFY19 following the average -8.0% y-o-y drop in the Singapore jet kerosene price during the same quarter, effectively bringing the Singapore jet kerosene price lower by -6.1% y-o-y on average for 1HFY19. In addition, Brent crude prices have been hovering around US$60 per barrel (pb) to US$70pb in the recent months while we have revised downwards our FY19 forecast from US$75pb to US$70pb. This coincides with the International Energy Agency's cut in 2019 global oil demand forecast and the expectation that Opec demand will fall to 28million barrels per day in 1QCY20. Therefore, we have imputed a lower jet fuel price assumption than the USD90pb previously.
We revised our TP to RM3.29 per share (from RM2.92 previously) following the upward revision in our earnings forecast. Our TP is also derived via pegging our financial year ending 2020 forecasts (FY20F) earnings per share of 29.9 sen at a target price-earnings ratio (PER) of 11 times (previously 10.0 times) which reflects the 12-month trailing PER of AirAsia's regional peers. However, we must note that our TP will be adjusted 90 sen lower after the ex-dividend date of July 29, 2019, which will be in line with the adjustments made to its share price then.
We continue to like AirAsia as the company continues to enhance its cost structure, along with its efforts of rationalising revenue and cost via digitalisation efforts. Our positive outlook on AirAsia also hinges on: i) its more prudent hedging policy; ii) stable operations with added capacity; and iii) continuous improvement to derive higher values per kilometre flown. Based on our previous analysis for Malaysia Airports Holdings Bhd ("buy"; TP: RM9.43) in our report dated April 15, 2019, we opine that the proposed international departure levy does not have much impact on AirAsia's passenger growth. All in, we maintain our "buy" call. — MIDF Research, July 17