This article first appeared in The Edge Financial Daily, on July 22, 2019.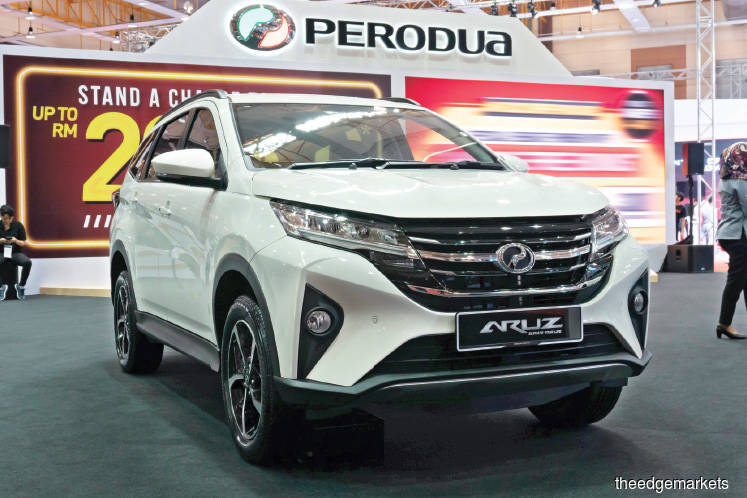 Higher delivery of the Aruz contributed to Perodua's market lead in the January to June period.
KUALA LUMPUR: Perusahaan Otomobil Kedua Sdn Bhd's (Perodua) more aggressive production and sales plan, laid out last week, is expected to benefit major stakeholders UMW Holdings Bhd (UMW) and MBM Resources Bhd, which hold 38% and 22.58% respectively in the national carmaker.
Perodua, which registered record sales of 227,243 units last year, is expecting to surpass that this year, with a target of 235,000 units, 4,000 units or 1.73% more than its original target of 231,000 at the start of the year. The more ambitious target was set after the group saw strong demand for its vehicles in the first half of this year, when it sold 121,800 units — 4% more than the 117,100 units recorded in the same period the prior year.
To help it achieve the higher sales target, the group wants to halve the average waiting period of up to two months for its top-selling Myvi, Bezza and Aruz by accelerating production. It is targeting 12.9% more to increase its annual output to 249,000 units, versus last year's 220,600.
The higher sales volume should definitely translate into higher associate contributions for UMW and MBM, said Affin Hwang Capital's analyst Brian Yeoh.
Aside from car sales, MBM also stands to benefit from the production ramp-up as it supplies auto parts to Perodua, as will other Perodua suppliers like Pecca Group Bhd, Oceancash Pacific Bhd and APM Automotive Holdings Bhd, Yeoh told The Edge Financial Daily. Perodua bought RM2.7 billion worth of auto parts in the first six months of the year. It expects the tally to reach RM5.4 billion by year end.
An analyst who declined to be named is forecasting MBM's earnings to see a low single-digit annual growth, while UMW would achieve an average 10% growth, driven by Perodua's impact. UMW, which also makes and distributes Toyota cars, has also seen strong demand for the updated Vios and Yaris models.
This is despite analysts' expectation of a slowdown in total industry sales volume in the third quarter of this year, due to accelerated purchases earlier as consumers take advantage of attractive deals during last month's Aidilfitri festive period.
But in the short term, the bigger winner of the two will be MBM, the analyst said, as UMW has to contend with higher capital expenditure (capex) due to the expansion of its Shah Alam manufacturing plant, which is essentially "an investment for the future".
However, Kenanga Research's Wan Mustaqim Wan Ab Aziz, in his sector update last Friday, made no changes to the research house's expectations of associates' earnings for MBM and UMW, saying he has already factored in sufficient sales expectation (in terms of average sales per vehicle) as he believes the extra sales composition is largely skewed towards lower-priced models like Axia and the lower-spec Myvi.
Nevertheless, Wan Mustaqim said MBM is Kenanga's sector top pick — with a target price (TP) of RM3.45 — because he likes the stock not only for its 22.58% stake in Perodua, but its dual-income streams as the largest Perodua dealer and a parts supplier for most of the popular marques, as well as an expected improvement in earnings with the recent cessation of its alloy wheel business.
MBM shares closed unchanged at RM2.93 last Friday, giving it a market capitalisation of RM1.15 billion. In the past year, the stock has climbed 30.5%. All nine research houses covering the stock have it on "buy", with a consensus TP of RM3.89.
UMW, meanwhile, slipped 0.19% or one sen to settle at RM5.35, valuing it at RM6.25 billion. The stock has retreated 13.2% in the past 12 months. It has five "buys", nine "holds" and three "sells", with an average TP of RM5.77.
Is Perodua's pole position secure?
Interestingly, according to Kenanga, while total industry volume eased in June to 38,513 units from 57,709 units in the previous corresponding month, Proton was the only marque to buck the declining trend to register a 23% year (y-o-y) growth. Perodua, on the other hand, saw an 18% y-o-y decline in its June sales.
Still, Perodua maintained its market lead in the January to June (1H19) period by sustaining its market share at 41%, driven by higher deliveries of its all-new Myvi and Aruz. This was followed by Proton — whose market share jumped to 15% from 9% a year ago as 1H19 sales rose 61% to 43,518 units — and Honda, whose market share was trimmed to 15% from 18% previously, as its YTD sales fell to 14% to 44,260 units.
Yeoh, in a note last Friday, said Proton and Perodua's sales grew at the expense of Japanese car brands. In 1H19, both held a combined market share of 56% of the total car market, from 50% a year ago.
"Proton stood out as the champion — [its] June 2019 car sales rose by 23% y-o-y to 7,615 units, as the Proton X70, as well as the recently-facelifted Iriz and Persona, continued to captivate Malaysians' interest," Yeoh wrote. Still, he forecasts that Perodua's key models will sustain demand volume going forward.
"So long as Perodua introduces new and updated models, it should be able to maintain its market share," the analyst who do not wish to be named said. Perodua has said it is planning to spend RM667.6 million on capital expenditure this year — 21.6% more than last year's RM549.1 million — mainly for research and development and the acquisition of new safety and connectivity technologies.
Yet, the advances Proton has made to expand its market share cannot be denied, given the success and interest generated by its latest sport utility vehicle X70. It also raises the question: will Proton erode Perodua's market share?
"Proton is aimed more towards the export market and the premium segment, which is likely to eat up the market share of non-national cars rather than Perodua's," the analyst said, adding that Proton and Perodua's offerings occupy different segments of the car market.
"Even between the X70 (Proton) and Aruz (Perodua), they are different as they are offered at two different price points," said another analyst who declined to be named. The Aruz retails from RM66,500, while the X70 starts at RM99,800.
Still, if all else remains, Proton could trim some of Perodua's market share if Proton continues to build on its current sales momentum, the second analyst added.