This article first appeared in The Edge Malaysia Weekly, on September 10, 2018 - September 16, 2018.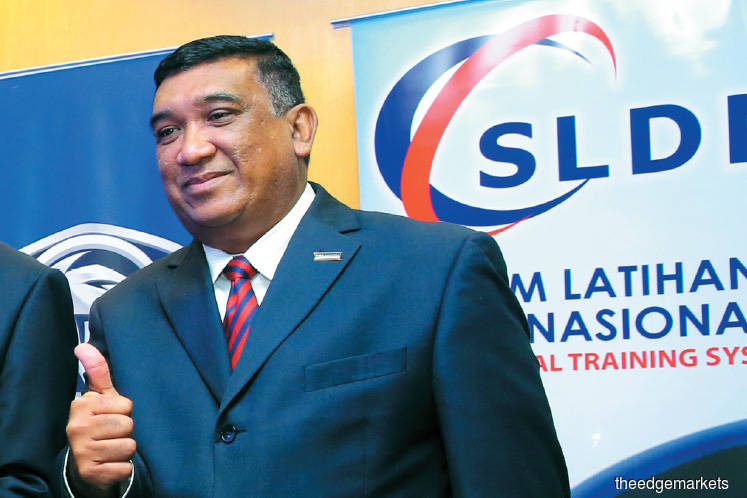 IN a maiden address via email to the staff of Prasarana Malaysia Bhd, new president and CEO Datuk Mohamed Hazlan Mohamed Hussain said, "Improved passenger and operational quality as well as sound financial management of infrastructure will be the pillars of Prasarana's excellence."
Prasarana — the asset owner and operator of Malaysia's two light rail transit (LRT) networks (Kelana Jaya Line and Ampang-Sri Petaling Line), KL Monorail, Sunway-BRT and bus services in Kuala Lumpur, Penang, Kuantan and Kamunting, and the operator of mass rapid transit (MRT) services in the Klang Valley — has been in the spotlight for a variety of reasons, none of them flattering.
In his email, Mohamed Hazlan touched on how he has returned to Prasarana when there are huge financial challenges and there is a need to take drastic action or implement changes to make it a relevant institution to the country and people.
To recap, Mohamed Hazlan was chief operating officer (COO) of RapidKL (Rangkaian Pengangkutan Intergrasi Deras Kuala Lumpur, a public bus transport system built by Prasarana and operated by its subsidiaries, covering Kuala Lumpur and the Klang Valley) and group director of the bus and commercial divisions between August 2009 and March 2012.
The email also talked about an impending restructuring, the appointments of Ang Yoke Yee as COO of strategy and transformation and Muhammad Nizam Alias as COO of operations, and the need for all 10,000 Prasarana employees to be responsible in carrying out their tasks.
Mohamed Hazlan summed up by quoting Greek philosopher Heraclitus: "The only thing that is constant is change."
And things have to change at Prasarana — drastically.
Weak financials
Market sources say Prasarana is likely to be transferred from the Ministry of Finance (Prasarana's sole shareholder is the Minister of Finance Inc) to the Ministry of Transport, and the Ministry of Finance is not opposed to the move due to the number of problems faced by the company.
To put things into perspective, for its financial year ended December 2017, Prasarana suffered an after-tax loss of RM2.47 billion on the back of RM846.35 million in revenue. In FY2016, it suffered an after-tax loss of RM2.11 billion from RM570.65 million in revenue. Its finance cost was a whopping RM1.06 billion, up 64.54% from RM643.63 million in FY2016. This indicates that Prasarana has cash flow problems.
It was also shocking that in FY2017, Prasarana paid out RM614.46 million in staff costs, up from RM524.53 million in FY2016. Based on Mohamed Hazlan's email, in which he said the company has 10,000 employees, the average remuneration per employee is RM61,446 per year or RM5,120.5 per month.
Checks reveal that a bus driver's pay ranges from RM1,200 to RM1,300 per month, with a daily allowance of RM30 and overtime of RM8 per hour, which makes the RM5,120.50 figure seem high.
Nevertheless, the Ministry of Finance has approved the issuance of bonds to enable Prasarana to pay salaries for September and the coming months.
Prasarana's administrative expenses for FY2017 totalled RM119.16 million, down 8.49% from RM130.22 million in FY2016.
Its depreciation of property, plant and equipment for FY2017 was RM767.13 million, a 20.2% increase from RM638.2 million in FY2016.
The Edge understands that attempts are being made to reduce costs at LRT3 and MRT2. While some headway is understood to have been made at LRT3, MRT2's costs are still being scrutinised.
Looking to monetise some of its land bank, Prapsarana teamed up with Crest Builder Holdings Bhd, Naza TTDI Sdn Bhd, Bina Puri Holdings Bhd and TRC Synergy Bhd to build transit-oriented developments.
Crest Builder has built Latitud8, a 43-storey mixed-use tower with a gross development value of more than RM1 billion in the Dang Wangi LRT station area, with Prasarana taking a 21.2% share of the GDV. However, the launch of the project has been postponed to later this year because of the soft property market.
Prasarana and Crest Builder are also looking at the redevelopment of the Kelana Jaya LRT station, with the rail operator getting a 24.8% share of the GDV.
In Taman Tun Dr Ismail, Prasarana has teamed up with Naza TTDI on a one-acre residential project on a 30:70 profit-sharing basis.
At the Ara Damansara LRT station, TRC Synergy and Prasarana are looking to build a mixed-use development comprising a hotel, serviced apartments, a retail mall and an office block with a GDV of RM1 billion.
Meanwhile Bina Puri, Prasarana and Titijaya Land Bhd are developing a residential and commercial project on an 11.2-acre parcel adjacent to the monorail depot in Brickfields.
None of the plans have made an impact on Prasarana's bottom line yet.
Lack of governance
It is understood that Prokhas Sdn Bhd (previously known as Danaharta), an in-house restructuring outfit controlled by the Ministry of Finance, will start working on Prasarana soon.
It is also understood that the Malaysian Anti-Corruption Commission (MACC) has opened a file called "Issues at LRT3".
The Edge understands that areas MACC is looking at include the increase in project cost from the original estimate of RM9 billion in 2015 to RM31.45 billion by the middle of this year and the procurement strategy, where the project delivery partner MRCB George Kent Sdn Bhd (a joint venture between Malaysian Resources Corp Bhd and George Kent (M) Bhd), was supposedly not involved in the tender process.
Other areas are also being scrutinised by the MACC but details are scarce.
In a nutshell, Mohamed Hazlan will likely be very busy with the many issues at Prasarana.
Save by subscribing to us for your print and/or digital copy.
P/S: The Edge is also available on Apple's AppStore and Androids' Google Play.