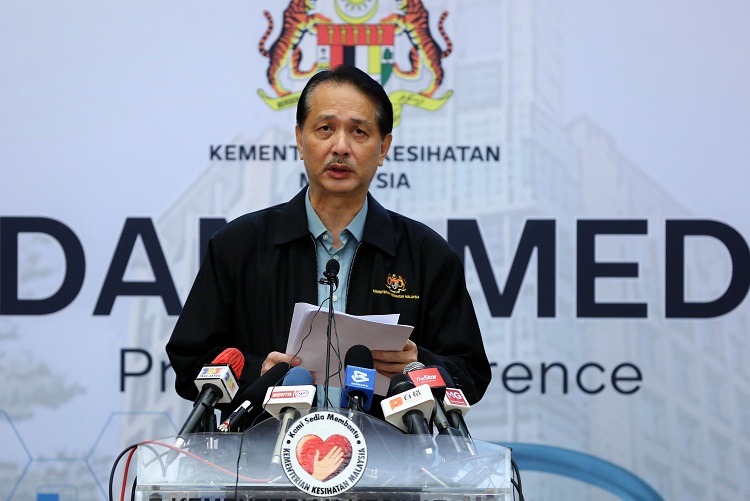 KUALA LUMPUR (April 6): The Ministry of Health (MoH) is looking into the possibility of empowering communities to safeguard their respective areas, instead of enforcing an enhanced movement control order on red zone areas. 
MoH director-general Datuk Noor Hisham Abdullah said the move is a community empowerment approach to curb the spread of the Covid-19 virus. 
"Likewise, we can see that the Orang Asli communities as well as in the longhouses, they have already implemented this in terms of making sure that the high-risk groups are not allowed to enter into their community," Noor Hisham told a press conference today. 
"So, this is a form of community empowerment. You take care of your home, you take care of your community. If we can do this, then probably we can review back how we implement this MCO," Noor Hisham added. 
Noor Hisham was commenting on a question by theedemarkets.com at the press conference on whether there will be other red zone areas that will be enforced with the enhanced MCO. 
So far, the enhanced MCO has been enforced in three areas — Kg Lui in Hulu Langat, Menara City One in Jalan Munshi Abdullah, Kuala Lumpur, as well as Kampung Datuk Ibrahim Majid and Bandar Baharu Datuk Ibrahim Majid in Simpang Renggam.
However, it is worth noting that areas such as Lembah Pantai in Kuala Lumpur and the district of Petaling in Selangor have recorded a higher number of cases. 
Meanwhile, Noor Hisham reiterated that the purpose of the MCO is to help manage and reduce the number of infections so as to not overburden the country's healthcare system.
With the enforcement of Prevention and Control of Infectious Diseases Act 1988, he said the efforts to manage the outbreak in the country have brought cooperation from many ministries, as well as public-private initiatives. 
"Every day we have an inter-ministry meeting to see how best each ministry can complement to achieve one goal, that is to reduce the number of infections in the community," he said. 
#dudukrumahdiamdiam. We will deliver the news to you at theedgemarkets.com.