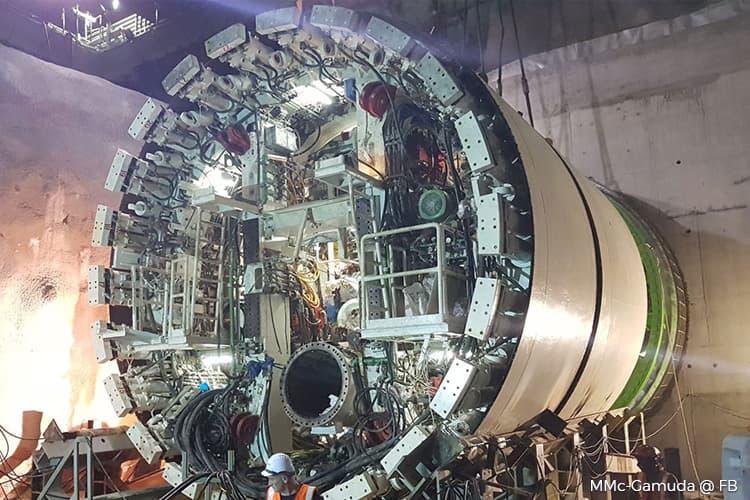 KUALA LUMPUR (Oct 26): The Ministry of Finance has announced that MMC-Gamuda KVMRT (T) Sdn Bhd will remain the contractor for the underground works portion of the MRT Sungai Buloh-Serdang-Putrajaya line (MRT2) – now at an even lower cost of RM13.11 billion.
This is after the consortium agreed to give a larger cost cut of 21.5% or RM3.6 billion, which is RM1.47 billion more than the reduction of RM2.13 billion it previously offered, following a renegotiation between the consortium and the Ministry of Finance (MoF) on Oct 22. 
"Today, the cabinet has agreed to MMC-Gamuda's new offer and the cost-rationalisation exercise," said MoF in a statement today. 
"All above-ground stations will continue to be built as planned earlier, while two underground stations – Bandar Malaysia (North) and Bandar Malaysia (South) – will be postponed, bringing the total number of stations from the original 35 to 33 now," said the statement. 
MMC-Gamuda had previously agreed on Oct 3 to reduce the construction cost of the above-ground portion of the MRT2 by RM5.22 billion or 23% to RM17.42 billion, from its original RM22.64 billion. While the MoF agreed to and confirmed MMC-Gamuda's continuation as the contractor for the above-ground portion, it also terminated the consortium's underground contract at the same time, as it was dissatisfied with the proposed RM2.13 billion cost reduction for the underground portion, and said a new tender would be re-opened.
The two parties went back to the negotiation table on Oct 22, after an appeal by MMC-Gamuda, said MoF in the same statement. 
With the agreed cost reduction for the underground portion now, the overall MRT2's construction cost would be reduced by RM8.82 billion or 22.4% to RM30.53 billion, from RM39.35 billion previously. 
MoF, in the statement, said the MRT project "will fulfill the needs of Klang Valley residents who are not yet connected to the rail network", as it offers the service to a "highly-populated corridor" linking Sungai Buloh to Serdang and Putrajaya.
"The government is committed to getting value for money for all its government expenditures, especially when the projects involve large amounts of debt," MoF said.
"The final cost savings of RM8.82 billion or 22.4% for MRT2 will reduce future fares that need to be paid by MRT users, which would inadvertently increase the usage of public transportation in the Klang Valley," it added.