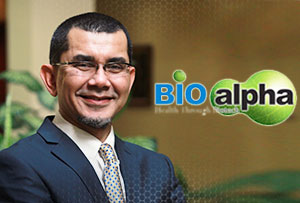 KUALA LUMPUR (Oct 2): Bioalpha Holdings Bhd, a pharmaceutical company controlled by the Ministry of Finance (MoF) and helmed by William Hon, and Datuk Seri Syed Zainal Abidin — former chief executive officer of Proton Holdings Bhd, is planning for a listing on the ACE-market of Bursa Malaysia.
According to a draft prospectus submitted to the Securities Commission, Bioalpha has interests in manufacturing and sales of semi-finished and finished health supplement products. Its health supplement products comprise of processed herbs, formulated ingredients, functional foods, as well as herbal and non-herbal supplements.
The company reported a net profit of RM6.29 million in the financial year ended December 2013, on revenue of RM24.57 million.
Recently, Bioalpha and Angkatan Koperasi Kebangsaan Malaysia Bhd had signed a memorandum of understanding (MoU) to establish a joint venture company to manage the MyAngkasa Pharmacy network in Malaysia.
Bioalpha's current shareholders include the MoF with a 51.4% stake (22.4% held through Khazanah Nasional Bhd), William Hon (33.6%) and Syed Zainal (1%).
William Hon is currently the managing director and chief executive officer of Bioalpha. Hon, who was trained as an auditor, used to work as vice president of business development in Country Heights Holdings Bhd from year 2000 to 2005, when he left and founded Bioalpha.
Meanwhile, Syed Zainal has recently been making a comeback in the automotive sector through a 70% stake in CMS Consortium Sdn Bhd — a company that is promoting the country's first electric vehicle (EV) car-sharing programme, through creating a network of charging stations nationwide.