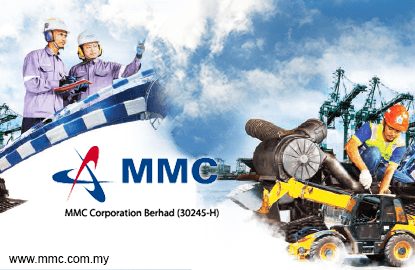 This article first appeared in digitaledge Weekly, on September 21 - 25, 2015.
Diversified MMC Corp Bhd could be dropped from its role in constructing part of the RM27 billion Pan Borneo Highway, industry sources say.
MMC (fundamental: 1.10; valuation: 2.40), in partnership with state-controlled UEM Group Bhd, was supposed to get as much as 60% of the construction work for the Sabah section of the highway, with the remainder to be shared by local contractors.
The highway will stretch for 1,663 km, of which 936km will be in Sarawak, linking Tanjung Datu to Lawas, and the remaining 727km in Sabah, with the cities to be connected yet to be decided.
MMC CEO Datuk Sri Che Khalib Mohamad Noh did not reply to SMSes sent to him over the past few weeks. Other officials close to the company say they are unaware of the matter.
Nevertheless, industry players believe MMC either has been or will be dropped.
With the Sabah portion estimated to cost RM12 billion, it would be a big gain for Sabah-based construction players if MMC is no longer in the picture.
"The structure in Sabah will be UEM partnering a consortium of companies in the state on a 50:50 basis, or thereabouts ... more like in Sarawak," one source says.
Two other industry players had heard about MMC being dropped but did not know why, and were not aware of a new structure for construction companies.
News that MMC was being dropped had been making the rounds for the past three to four weeks.
Prime Minister Datuk Seri Najib Razak had said during the National Integration Seminar in Sabah on Sept 16, that "just last week, the Economic Council approved the new order structure of the Pan Borneo Highway in Sabah." He went on to list the many merits of the highway at the seminar, held during National Day.
It is not clear if the new order structure leaves MMC out of the multi-billion ringgit highway.
Initial reports were that MMC and UEM would each have about 30% of the consortium, while the Sabah companies would take the rest.
In Sarawak, Lebuhraya Borneo Utara Sdn Bhd has the mandate to build the state's 936km portion of the highway.
Lebuhraya Borneo is 55% controlled by Maltimur Resources Sdn Bhd, and 45% by Jalinan Rejang Sdn Bhd — both linked largely to a Sarawakian politician and businessmen.
Sabah-based construction companies have been angling for a larger slice of the Pan Borneo highway.
In mid-July, the Sabah Builders Association, led by its president Cheong Kwee Ming, and the Sabah Bumiputera Contractors Association, by its president Jolius Jawai,  paid a visit to Deputy Works Minister Datuk Rosnah Abdul Rashid Shirlin. They asked her to help to safeguard the interest of Sabah's contractors and submitted a plan for the design, construction and maintenance of the Sabah section.
UEM, owned by Khazanah Nasional Bhd, could partner a consortium of Sabah-based companies. UEM played a key role in building several highways in Peninsular Malaysia, including the North-South Expressway (NSE), which runs for 772km from the borders of Thailand all the way south to Johor Baru.
Unlike Sarawak that has home-grown listed companies such as Cahya Mata Sarawak Bhd, Hock Seng Lee Bhd, Zecon Bhd and Naim Holdings Bhd, Sabah does not have any large publicly traded construction companies.
This could indicate that UEM will end up playing a key role.
Being dropped from the large project may just be a small blow for MMC, which has interests in utilities and infrastructure, ports and logistics, energy utilities and engineering and construction, among others.
Some of the assets under MMC include port operators Port of Tanjung Pelepas Sdn Bhd, Johor Port Bhd, airport operator Senai Airport Terminal Services Sdn Bhd, power generator Malakoff Bhd, water treatment company Aliran Ihsan Resources Bhd, and Gas Malaysia Bhd.
The group's construction order book as at mid-July stood at an impressive RM5 billion. It received a shot in the arm with the award of the project delivery partner (PDP) role for the MRT2, linking Sungai Buloh to Putrajaya, which could boost its  order book by an additional RM6 billion.
For its six months ended June this year, MMC registered a net profit of RM1.4 billion from RM3.4 billion in revenue, mostly attributed to an exceptional gain of RM1.3 billion from Malakoff's May 2015 listing on Bursa Malaysia.
MMC's largest shareholder with 51.8% equity interest is Seaport Terminal (Johore) Sdn Bhd, the vehicle of businessman Tan Sri Syed Mokhtar Albukhary.
At its close of RM2 last Thursday, MMC had a market capitalisation of RM6.1 billion.