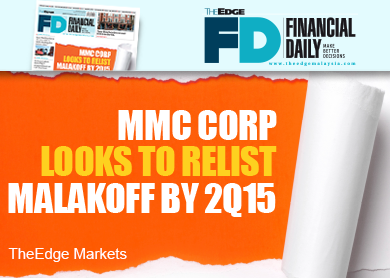 KUALA LUMPUR: After several delays, tycoon Tan Sri Syed Mokhtar Al-Bukhary's flagship company MMC Corp Bhd has decided to proceed with the plan to relist its energy unit Malakoff Corp Bhd in the second quarter of next year.
The diversified group targets to submit the proposed application to the relevant authorities by year-end, according to an announcement to Bursa Malaysia yesterday.
However, the timing of the relisting exercise has raised eyebrows. The mega initial public offering (IPO) of 1MDB Energy Bhd, which is said to raise at least RM8 billion, is expected to be in the first quarter next year, ahead of Malakoff's.
For investors, there will be another investment choice available. On the flip side, that will be competition for liquidity.
In terms of asset size between the two independent power producers, government-linked 1MDB Energy is much bigger. However, corporate advisers noted that bigger does not necessarily mean better as the dividend yield from power assets is a key attraction.
The two IPOs would be a way for the two companies to pare down their borrowings, but there are doubts whether the two independent power producers can afford to pay out generous dividends.
"Malakoff's cash flow is healthy, but a large bulk of it has to be used for servicing debts," said an analyst who declined to be named.
In the filing, Malakoff said it intends to offer 1.52 billion shares or 30.4% of its enlarged share base in its upcoming IPO, of which 521.74 million of those shares are held by its existing owners.
MMC did not mention how much it plans to raise from the IPO. However, previous reports stated that the energy unit was seeking about US$1 billion (RM3.35 billion) from the public.
MMC said it will use the listing proceeds to pare down debts and for working capital.
The existing shareholders are MMC's wholly-owned subsidiary MMC Anglo-Oriental Annuities Sdn Bhd (AOA), the Employees Provident Fund, Kumpulan Wang Persaraan (Diperbadankan), Seasaf Power Sdn Bhd and Standard Chartered IL&FS Asia Infrastructure Growth Fund Co Pte Ltd.
A total of one billion new Malakoff shares will be offered to the public. However, the retail portion will only comprise 242.5 million shares or 4.8% of Malakoff's enlarged issued and paid-up share capital.
Of those, 150 million shares will be offered to the Malaysian public. The bumiputera portion takes up half of this.
Previously, Malakoff intended to have its shares floated this year. But it allowed the Securities Commission Malaysia's approval for its proposed listing on the Main Market of Bursa Malaysia, which was valid until Sept 6, 2013, to lapse.
Both IPOs are advised by Maybank Investment Bank Bhd. It will be interesting to see how the investment bank will structure both the IPOs so that they will be attractive enough for the investing community, more so with cornerstone investors.
This article first appeared in The Edge Financial Daily, on November 28, 2014.