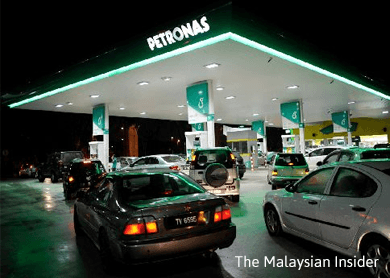 (Jan 12): Domestic Trade, Cooperatives and Consumerism Minister Datuk Hasan Malek has held an emergency meeting with oil firms and Petrol Dealers Association of Malaysia (PDAM) last Friday following pressure over Putrajaya's fuel price management system, PKR lawmaker Rafizi Ramli said today.
According to the agenda of the meeting, Rafizi said the minister discussed the managed float system for RON95 and diesel, the losses PDAM allegedly incurred from the plunge in petrol and diesel retail prices, preparedness to meet increased demands for RON97, and preparation on the possibility of a more frequent retail price announcements.
"After my statements criticising the fuel price setting system currently carried out, the minister called for an emergency meeting last Friday, a day after I urged that a system based on consignment stock be implemented and that fuel prices be reduced each week," said Rafizi in a statement today.
"I urge the minister to immediately reveal to the public the outcome of the emergency meeting. Has Barisan Nasional finally agreed to reduce prices each week so that the people can enjoy lower petrol and diesel prices?"
Rafizi, who is PKR secretary-general and vice-president, also said that the price of RON95 had fallen to RM1.62 per litre on January 9, based on the formula the Barisan Nasional government used to determine fuel prices.
"This trend will continue and it is not impossible that by the end of January 2015, the price of RON95 (according to the formula set by Barisan Nasional itself) will fall to RM1.50 per litre," said the Pandan MP.
"Unfortunately, because the price is only set once a month, Malaysians will continue to pay RM1.91 per litre even though the price is much lower."
Rafizi said that the extra 30 to 40 sen the rakyat paid for each litre of fuel became Barisan Nasional's "hidden taxes".
"I urge the Minister of Domestic Trade, Cooperative and Consumerism to discuss these issues in the Cabinet meeting this week and to announce a decision as soon as possible to prevent the rakyat from becoming victims."
A day before the alleged meeting, Rafizi had issued a statement urging Barisan Nasional to revise the fuel price on a weekly basis, claiming that it had collected an estimated RM633 million in hidden petrol and diesel tax.
In a press conference on Wednesday, he had said petrol station operators were at risk of closing down under the automatic price mechanism Putrajaya used to fix the retail price of petrol and diesel.