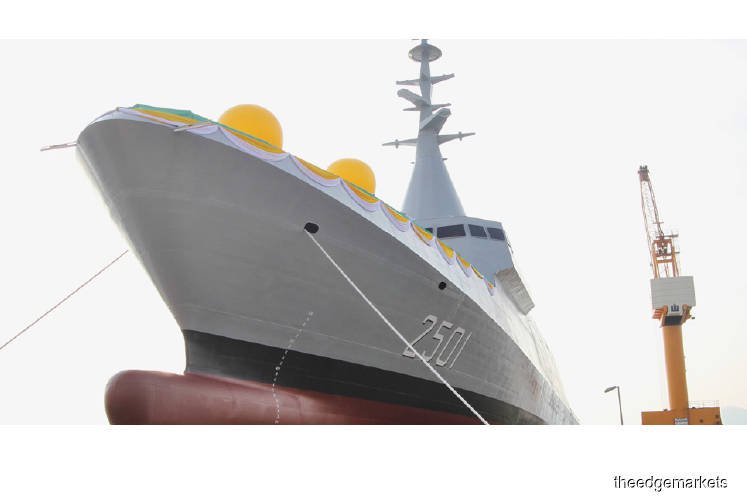 This article first appeared as 'Cost recovery of warships to boost BHIC's turnaround' in The Edge Malaysia Weekly, on June 17, 2019 - June 23, 2019.
BOUSTEAD Heavy Industries Corp Bhd (BHIC) has made a breakthrough in recouping major cost overruns in the littoral combat ship (LCS) programme that contributed to its full-year earnings sinking to a multi-year low last year.
Discussions with the federal government on the matter had previously been slow-moving partly due to a change in government last year, which led to a shake-up of bureaucracy.
The Edge has learnt that after a meeting late last week, the government has agreed in principle to honour the additional claims and that the Ministry of Defence's top brass is focusing on sorting out the matter as soon as possible.
The quantum could not be confirmed at press time but is expected to be significant, say people familiar with the matter. When contacted, BHIC representatives were unavailable for comment. 
This cost recovery would aid BHIC's turnaround efforts after its worst net loss in six years in the financial year ended Dec 31, 2018 (FY2018). The group posted a net loss of RM108 million on revenue of RM169 million last year.
It is worth noting that BHIC was profitable for the first three quarters of FY2018 before it suffered heavy losses in the fourth quarter, which dragged its entire year into the red. The group attributed the losses primarily to impairments and provisions.
"The group's results were impacted by a negative contribution of RM53 million posted by associates in the defence and security division," BHIC's 2018 annual report said.
"The loss was mainly attributed to the revision in costs of the LCS programme arising from variation orders and higher project finance cost," it added.
BHIC's LCS programme involves six warships in a RM9 billion contract, which was first awarded in December 2011. Its first delivery was originally scheduled for 2017, according to a Dec 16, 2011 filing with Bursa Malaysia.
The annual report also said the first four vessels are currently being constructed at the 120-acre Boustead Naval Shipyard Sdn Bhd facility in Lumut, Perak. KD Maharaja Lela, the first vessel, was launched into the water on Aug 24, 2017. The second vessel is expected to be officially launched and named this year while the keel-laying ceremony for the fifth vessel is also expected this year, according to BHIC.
The Edge understands that the variation order for KD Maharaja Lela includes a change in the missile system and its decoy launching system.
Each LCS vessel can accommodate up to 118 crew members and will have four-dimensional combat capabilities against electronic, air, surface and underwater threats in addition to stealth capabilities.
Any income recognised from the additional claims relating to the LCS programme will boost BHIC as it seeks to turn around its finances this year.
Another expected positive contributor is a separate claim for RM90 million, excluding Goods and Services Tax that was invoiced to the government in November last year. The invoice was for out-of-scope works provided for its in-service support (ISS) contract from June 1, 2017 to March 31, 2018.
BHIC's joint-venture company, Boustead DCNS Naval Corp Sdn Bhd, provides ISS to two Royal Malaysian Navy submarines.
According to BHIC, it received a consent letter from the government for the claims on Nov 12, 2018.
In its financial report for the first quarter ended March 31, 2019 (1QFY2019), BHIC said the finalisation of the submarine ISS contracts was received and accepted in March.
The group reported a net loss of RM4.3 million on revenue of RM36.3 million in 1QFY2019 compared with a net profit of RM4.5 million on revenue of RM39.7 million a year ago.
It is understood that the RM90 million sum had not been recognised in its earnings despite booking in the costs in the previous quarters. This could mean an uplift in earnings in subsequent quarters for this year. Higher earnings would bring cheer to shareholders, who saw the group's net dividend per share drop from five sen in FY2017 to 1.5 sen in FY2018.
Prior to FY2017, the shipbuilder had not declared dividends since FY2012, when it sank to a full-year net loss of RM139.1 million on revenue of RM257.7 million.
The group is controlled by Boustead Holdings Bhd, which holds 65% of BHIC's outstanding shares. Another 8.16% stake is held by Lembaga Tabung Angkatan Tentera (LTAT), which is also a majority shareholder of Boustead Holdings.
BHIC shares closed at RM1.27 per share last Friday, having surged 10.43% in the final 20 minutes of the trading session on thin volume traded. Its market capitalisation stood at RM315.54 million. Over the past 12 months, BHIC's share price has been trending downwards, shedding nearly a quarter of its market value up to last Friday's close.