This article first appeared in The Edge Financial Daily, on July 1, 2019.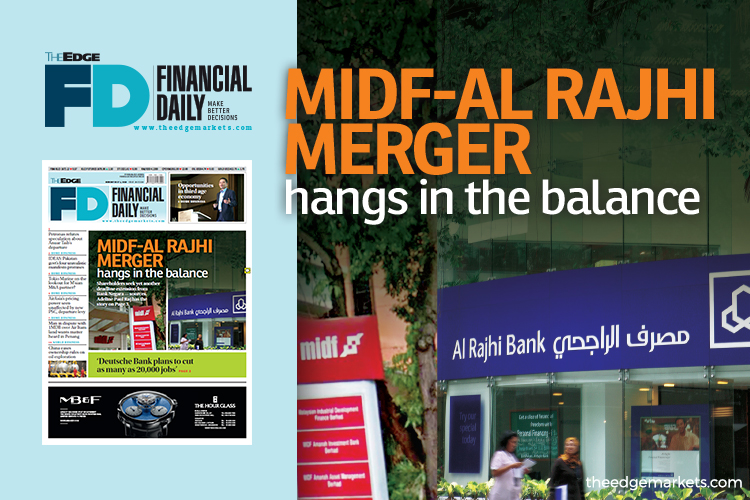 KUALA LUMPUR: A proposed merger between Malaysian Industrial Development Finance Bhd (MIDF) and Al Rajhi Banking & Investment Corp (M) Bhd (Al Rajhi Malaysia) is left hanging in the balance as its shareholders have missed a June 27 deadline to come up with a deal.
According to sources, their respective owners — Permodalan Nasional Bhd (PNB) and Saudi Arabia-based Al Rajhi Bank — wrote in to Bank Negara Malaysia late last week, after missing the deadline, to request for yet more time to negotiate the merger.
It remains to be seen if the central bank will grant their request as it had already extended the deadline once before.
"Both parties remain keen on a merger, so they have written in to ask for more time to negotiate a deal. They have already come up with a business plan, but coming up with the commercial terms will be the challenging part. They are still doing due diligence and haven't arrived at valuation yet," a source familiar with the matter tells The Edge.
It is rare for the regulator to allow merger talks to go on beyond six months, observers say. According to the source, however, the parties remain hopeful as the merger is seen a positive development for the Islamic banking industry.
Bank Negara had originally given MIDF and Al Rajhi Malaysia a period of three months to late March this year to hold discussions for their proposed merger. Unable to come up with a deal by then, they requested for an extension and were given another three months to June 27.
Six months on, the parties are still in the process of conducting a due diligence.
"One of the reasons it is taking longer than usual is that MIDF is not a fully Islamic financial institution. The parties need to see what [assets] can, and cannot, be converted to become syariah-compliant. From a financial perspective, it has an impact on their financial projections," one of the sources say.
From a business perspective, the proposed merger makes sense as it is complementary to both parties, the source says. Al Rajhi Malaysia has commercial and retail banking as well as wealth management operations which MIDF does not, while MIDF has investment banking and research operations which Al Rajhi Malaysia does not.
Hence, duplication and redundancies are not expected to be a big issue, the source says.
"Given that, and the fact that it will consolidate the Islamic banking industry, Bank Negara may be amenable to allowing them an extension of time," the source adds.
JP Morgan is PNB's adviser for the merger while Al Rajhi Malaysia is being advised by Hong Leong Investment Bank in Singapore.
The merger is expected to be an all-share deal as Al Rajhi Bank, the world's largest Islamic bank by assets, wants to stay on as a shareholder of the enlarged entity. It is not looking to exit. PNB is widely expected to be the largest shareholder of the merged entity.
The merger will help MIDF, a development financial institution, become an Islamic bank. MIDF already does some Islamic financing but there are limits to what it can do without a licence. For example, it cannot collect retail deposits — one of the cheaper sources of funding for regular banks.
Neither MIDF nor Al Rajhi Malaysia are public-listed entities, but it is believed that MIDF may be keen to return to the stock market. It used to be a listed entity before PNB took it private.
If merged, the two financial institutions would have combined assets of about RM14.09 billion — still small, by industry standards. As a matter of comparison, Bank Islam Malaysia Bhd, the largest stand-alone Islamic bank, has RM59 billion in assets.