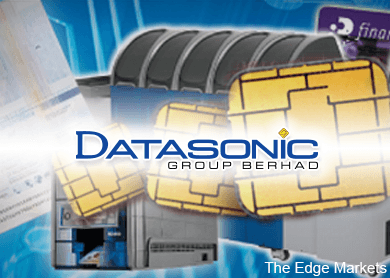 KUALA LUMPUR (June 8): MIDF Research believes that smart card solutions provider Datasonic Group Bhd (DGB) would benefit from the contract works pertaining to the migration exercise of payment multi-purpose cards (PMPC) and ATM cards to Malaysian chip card solutions (MCCS) beginning second quarter of this year.
MIDF said the migration requirement was a result of Bank Negara Malaysia (BNM)'s imposition on banks to change from PMPC and or ATM to MCCS as part of a measure to enhance security of e-payment transactions while educating consumers on safe e-payment practice.
BNM had indicated in a 2013 financial stability and payment systems report that measures would be taken to further enhance the security of e-payment, and one of the steps included the migration from current signature-based credit cards to chip and pin-based security.
"Based on this requirement, it is expected that there are more than 10 million cards to be migrated from July 2015 to Dec 2016," MIDF said.
Whilst BNM also encourages the utilisation of debit cards instead of credit cards, the exercise is expected to involve the replacement of more than 30 million cards in the market by Dec 31, 2017.
Hence, MIDF opined that DGB, the main credit and debit card vendor in the country which services Citibank Bhd, RHB Bank Bhd, Hong Leong Bank Bhd, United Overseas Bank (M) Bhd, Affin Bank Bhd and Al Rajhi Bank, would benefit largely.
DGB is also involved in the smart card programmes including the Malaysian identity card, Europay, Mastercard and Visa cards.
"In addition, the group has recently shifted its credit card processing factory to bigger premises (from 5,000 sq ft to 30,000 sq ft) to accommodate the additional processing requirements," it said.
MIDF also believes that DGB (valuation: 0.9; fundamental: 2.2) could be a frontrunner in securing projects that involve strengthening the infrastructure for smart cities, an initiative proposed under the eleventh Malaysia Plan.
It would involve the usage of "high-definition" closed-circuit television (CCTV) cameras which DGB was familiar with following its contract to supply and install 350 CCTV cameras in Penang in 2013 and 2014.
MIDF values DGB with a fair value of RM1.42 based on earnings per share for financial year 2016 at 7.4 sen against forward price earning ratio (PER) multiple of 19 times.
DGB's shares remained unchanged at RM1.04, giving it a market capitalisation of RM1.4 billion.